After the first day of work I really wanted to explore Chinatown. I had always been fascinated with New York Chinatown and never really took good advantage of it. My father worked for 3 years just outside New York Chinatown. Every time I would visit in the office or go to take your child to work day, I would never try some of the more authentic Chinese food nearby and instead opt for a burger. However, my father frequently brought home boxes of fresh fortune cookies from the factory in Chinatown. You've not had a fortune cookie until you've had one baked that day. But I digress.
San Francisco Chinatown is right next to the Financial District. It is the largest Chinatown outside of China. The architecture, décor and shops of Chinatown are incredible. I got the most touristy thing out of the way first and visited the Dragon Gate. It is not easy to get a good photo at the gate. There is now so much traffic and so many people visiting the gate on tours that one needs to hang out for a perfect opportunity. I got there at the same time as 2 bus tours full of teens from Europe, all holding different signs for their photos. I just managed to get a couple of decent opportunities for photos. I should have visited the gate in the morning for it to be less crowded.
I proceeded to walk through the streets of Chinatown intermingled with other tourists and people trying to get their grocery shopping done. The neighborhood is filled with grocery stores specializing in products from Asia, tea and spice shops, electronics, Asian influenced décor, and other various imports as well as many restaurants featuring regional flavors from all over Asia. It's amazing walking through and being tempted to enter every store, buy so many great items that might be harder to find in Pittsburgh or cheap and questionably legitimate goods. I stopped multiple times to take photos of many buildings.
I did not plan on doing any real shopping as I walked through, but Ten Ren Tea caught my eye. The shop was on a recommended list of stores to visit so I stopped in. I'm a regular tea drinker so this stop could spell trouble. The staff was almost too helpful in convincing me to try some teas and make a purchase. I was offered a sample and purchased (and spent more than I wanted right away) a Yunnan black tea. It's a sweet and flowery black tea. I continued on my walk through the neighborhood. Almost every block had a grocery store with items not found everywhere, an electronics shop claiming the best prices and a shop selling luggage, cheap clothing imports and San Francisco souvenirs. The electronic shops were tempting but I resisted. I also passed many stores selling furniture and décor from Asia. The most amazing thing to me was still seeing shops dedicated to a specific type of item. There were shops selling a variety of ginger and ginseng roots, shops for fabric and imported candy.
My next stop along my walk was the Golden Gate Fortune Cookie Factory. This hole in the wall shop located on an alley serves as a major tourist attraction because fortune cookies. The shop and factory are one large storefront. As you walk in there are two sets of shelves on each side of you lined with fortune cookies to purchase. Standing in front is a woman offering samples. As I said, fresh fortune cookies are the best. Behind the main storefront sat two people at tables surrounded by fortune cookies, placing fortunes in cookies before they harden. It's so refreshing to see they are still using such a manual process. I purchased a bag of the X-rated fortune cookies and before I left snapped a few photos. As another revenue generator for the factory, the charge 50 cents a photo. Reasonable, so I handed over a dollar, took a couple shots and walked out.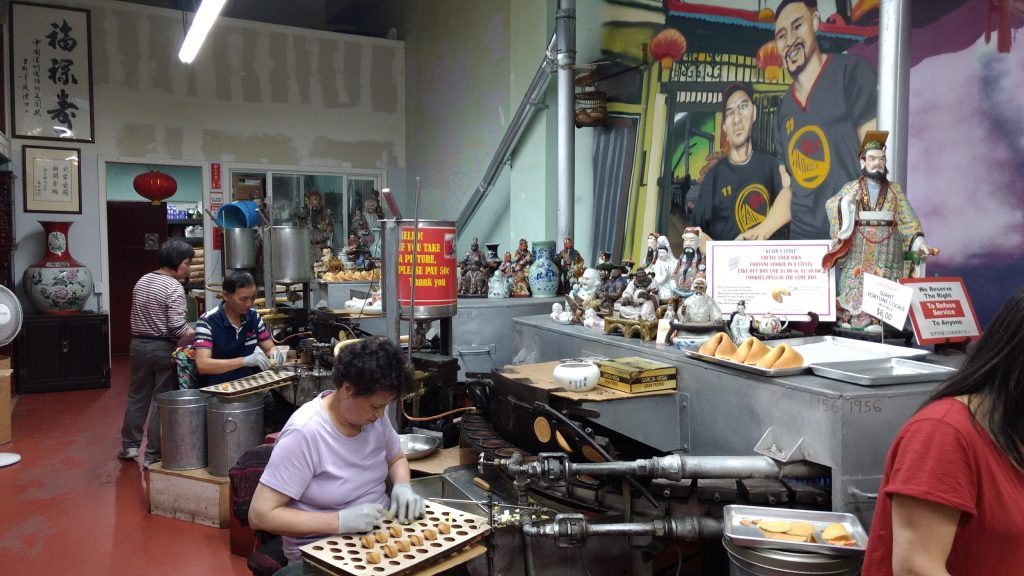 I finally decided I should look for dinner. I headed back towards Jackson Street, which I noticed was lined with restaurants on both sides. At first I wanted to find a Dim Sum place, except I quickly learned most of them closed at 6 PM or earlier. I could probably eat dumplings for hours if given a chance. I settled on Begoni Bistro because they had a bar I could sit at to eat, an interesting menu and they were mentioned in a few guides online. I started off with barbecue pork buns and a pot of tea. The pork inside the buns had a sweet and mildly smoky and spicy flavor. I probably didn't need to eat 3 pork buns, but I did. My main course was Peking Duck; a classic dish even if it's a little more Americanized. Placed in front of me was this giant plate with half a duck chopped apart.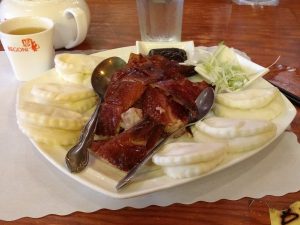 After dinner I walked around a bit more. I first continued up the hill a bit, only to turn around as I realized I was starting to head into more of a red light district. There were many gentleman's clubs and sex shops. Not exactly what I was looking for on a Monday evening on a full stomach. Instead I walked along the Embarcadero back to my hotel.
---
I did get another opportunity to walk around Chinatown about a month later. Unfortunately again it was after a work day. Someone I work with was looking to kill time before his flight back to Pittsburgh and I was looking for dinner. We did a lot of walking past shops and commenting about either the cheap junk being sold or the really fancy decorative items. Many of the shops had going out of sale or clearance signs. I was skeptical about both.
For dinner, I picked Z&Y Chinese. I wanted a restaurant with some more authentic Chinese dishes this time. I ordered a big pot of lamb in chili oil sauce and two orders of dumplings. This was more like what I was looking for. The dumplings were great. The lamb was even better. To me, a sign of a good Chinese restaurant is being able to use hot pepper as a legitimate spice as opposed to just dumping it into the dish to make it a hot dish. In this case, the hot chili is used specifically to flavor the dish and not to just assault the taste buds. It had just enough heat for a kick, but didn't overpower. My shirt really liked it too as I splashed the chili oil all over myself when the lamb fell off the spoon and back into the pot.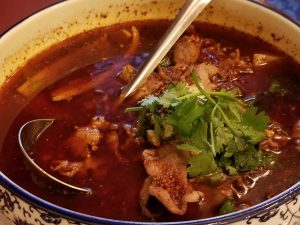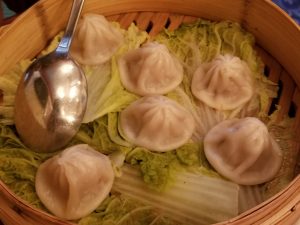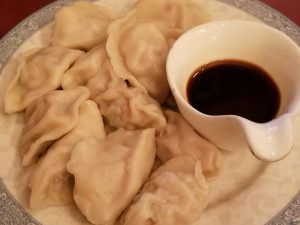 ---
San Francisco Chinatown is a really amazing neighborhood. It makes me wish Pittsburgh had a true Chinatown and not just a couple of buildings. My biggest disappointment with my visits to Chinatown was I only got a limited amount of time there. I really need a whole day to wander around, shop and of course eat more. I would like more opportunity to explore the shops and eat in the hole in the wall Dim Sum restaurants. Hopefully I'll get another trip out there eventually.