I don't drink much wine and I honestly don't remember the last time I drank limoncello. To be even more honest, I don't know anything about types of limoncello or how it is made. However, this summer I attended the Vallozzi's Festa di Limoncello party and I am sold on limoncello and parties filled with delicious Italian food. (Disclaimer: I was already sold on Italian food. It's obviously one of the best food groups.
For those who do not know, Limoncello according to the most accurate source on the internet, Wikipedia, is a liqueur made from lemon zest and simple syrup. It is usually sipped as an after meal digestif. It is regularly flavored with other fruits as well.
Arriving, I feel they really got the atmosphere down for this event. It was all light, summary and festive. Tables with umbrellas outside. Lots of plants inside. Everyone was encouraged to dress up in light summery clothing. Many of the women in attendance had on lemon themed dresses or bags. A lot of the men were in short sleeved button downs and lots of linen. Luckily I had recently purchased my first linen short-sleeved button down so I would be appropriately dressed for the party.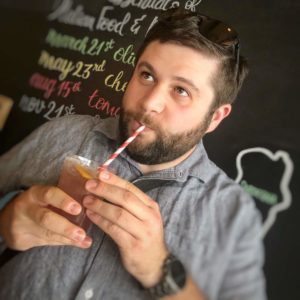 This was the 3rd year Vallozzi's threw their Festa di Limoncello, my first time attending and I had one great time. I arrived to the Vallozzi's Pittsburgh location to see the alleyway blocked off and music playing. Entering the restaurant, there was a tasting station of several different flavors of limoncello. The food offerings inside included a buffet of pizza, salads, ravioli and desserts, including chocolates especially made by A519 Chocolate.
I also took this opportunity to start getting limoncello cocktails. I started off with a raspberry limoncello cocktail and sipped it in the sun while hanging out under an umbrella. They also had ones made with orange, pineapple and watermelon.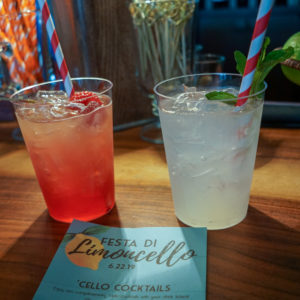 Next, I started into some of the samples of Limoncello. I started with the mango, raspberry, cherry, fig, kiwi and blood orange. I also tried the pistachio, melon and blueberry. They were so sweet. Definitely not what I'm used to drinking, but definitely would be most enjoyable with dessert. The cherry and fig were by far my favorite flavors.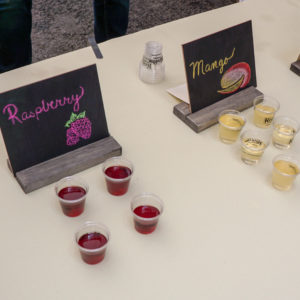 Then moving around the building, Vallozzi's blocked off the alleyway to have more limoncello tastings, a DJ and a full seafood grill with shrimp, octopus and muscles. This was a nice contrast to the pizza and pasta inside. This outdoor space had a much more block party vibe.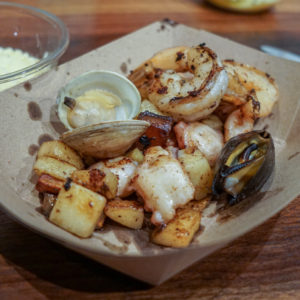 After about 3 hours of food, cocktails and limoncello tastings I was full and probably a little drunk. I loved this event so much and I'm already looking forward to next year.