I felt weird at first that less than a year after my first visit to Jean Louis writing another blog post about the restaurant so soon. I could have just added to my post from last year, but it really didn't seem right. On my recent visit to Jean Louis, located in Dormont in Pittsburgh's South Hills, it was such a great and contrasting experience from the last time I decided this required a completely new write up for a few reasons. First, the new Executive Chef, Vincent Capuano has updated the menu. Second, I had an awesome and different dining experience going solo and talking to staff and other patrons of the restaurant. Third, I'm trying to feature more restaurants in the South Hills closer to where I live.
So let's start with the fact this visit was very impromptu. I live only a few blocks from Jean Louis and I received a message if I wanted to come in that afternoon. Since I was free, I said why not. Most people also may not be aware Chef Vincent was also Executive Chef at Needle & Pin previously located at the same place, and he trained and learned from Chef Gaetano for the last year when it was decided to take the restaurant in a new direction. Now, he is getting the opportunity to take what he as learned and put his own twist on it.
I arrived excited to talk to Chef Vincent and also try out so many new dishes I did not eat the last time. It was nice to get to learn the story of his career path to being the Executive Chef. He is a native to Pittsburgh's Mckees Rocks. It was interesting to hear his respect for different cuts of meats and how to prepare them after he worked as a butcher and then meat buyer for Market District. I really enjoyed talking with him specifically about the processes of sous vide and smoking meat and receiving lots of tips about things I could improve in my own cooking. The most interesting was the number of notes Chef Vincent makes as he is cooking. Everything is about precision. If something worked or didn't go well he marked it down to make sure the next time the dish turns out just as well or better.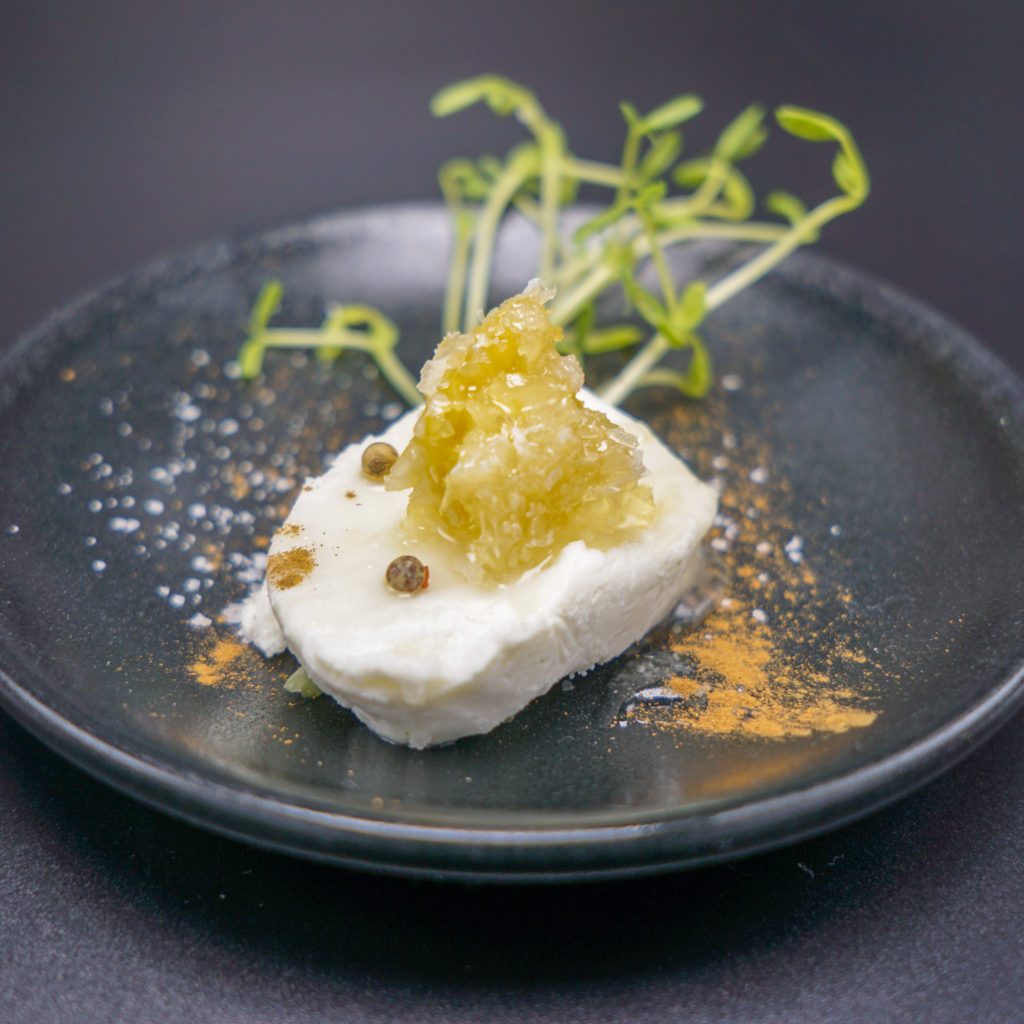 At first, I was sitting at a table alone at the front of the restaurant. I'm pretty sure the only thing I ate at the table was the amuse bouche, which was a piece of goat cheese topped with honey, peppercorns, and cinnamon and it served as a nice tease of the rest of the menu to come.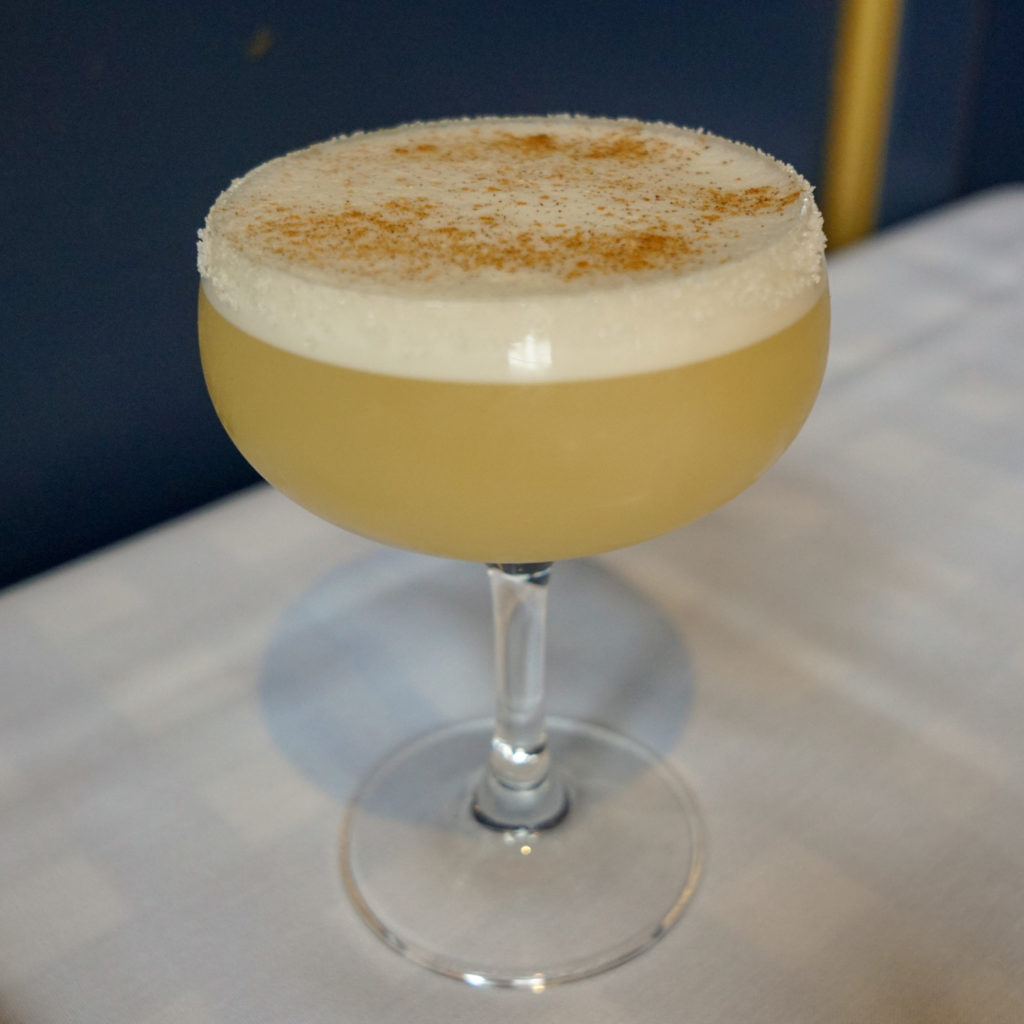 I abandoned my table to sit at the bar to talk to Mike, who is their very talented main bartender who he mixed me up several different creations and I talk to patrons who have become regulars at Jean Louis. The first drink Mike made me was a variation on a whiskey sour making it a little on the sweeter side. My next dish was an incredible Crab Cake made of large lumps of crab and pan-fried enough to hold it together. This really goes back to Chef Vincent's respect for the meat and ingredients. He wants to show off the quality of what is going into the dish. This was one of the best crab cakes I've eaten. It was nice it was not just shredded crab turned into a patty. 
While I'm eating, I'm talking to the first set of diners at the bar; two women who regularly eat at Jean Louis and decided to eat there before going downtown for a show. They couldn't stop raving about how much they love the food and the drinks. They were the first ones to tell me they like the restaurant more now than before. Part of the reason was the atmosphere just seemed more enjoyable. They got the filet and the branzino and both couldn't stop telling me how I needed to order them next time. While we were talking, Chef Vincent brought out the next dish, the Grilled Octopus. He also stopped by to welcome the women back to the restaurant. This was something I noticed he did throughout the night as more people came in for dinner.
Back to the food, the octopus came out at just the right temperature and texture. It has a slight char on the outside and the meat still soft. The dish was served with purple potatoes, baba ganoush, caramelized onions, arugula and tomatoes. It was a nice combination of elevated ingredients and common vegetables as well as a great use of colors in plating.
At this point, I realized Chef Vincent wasn't kidding about me having a lot of food to taste as he brought out the next dish, pan-seared scallops with mashed potatoes and chive olive oil. This was one of Chef Vincent's examples of a classic fancy yet hearty dinner. He described it as a dish one would have commonly seen at a Pittsburgh country club that appeals to many. It is one of the ways he is trying to include a little Pittsburgh style into French cuisine. The scallops were nice and crispy on the outside and could have been cut through with a butter knife.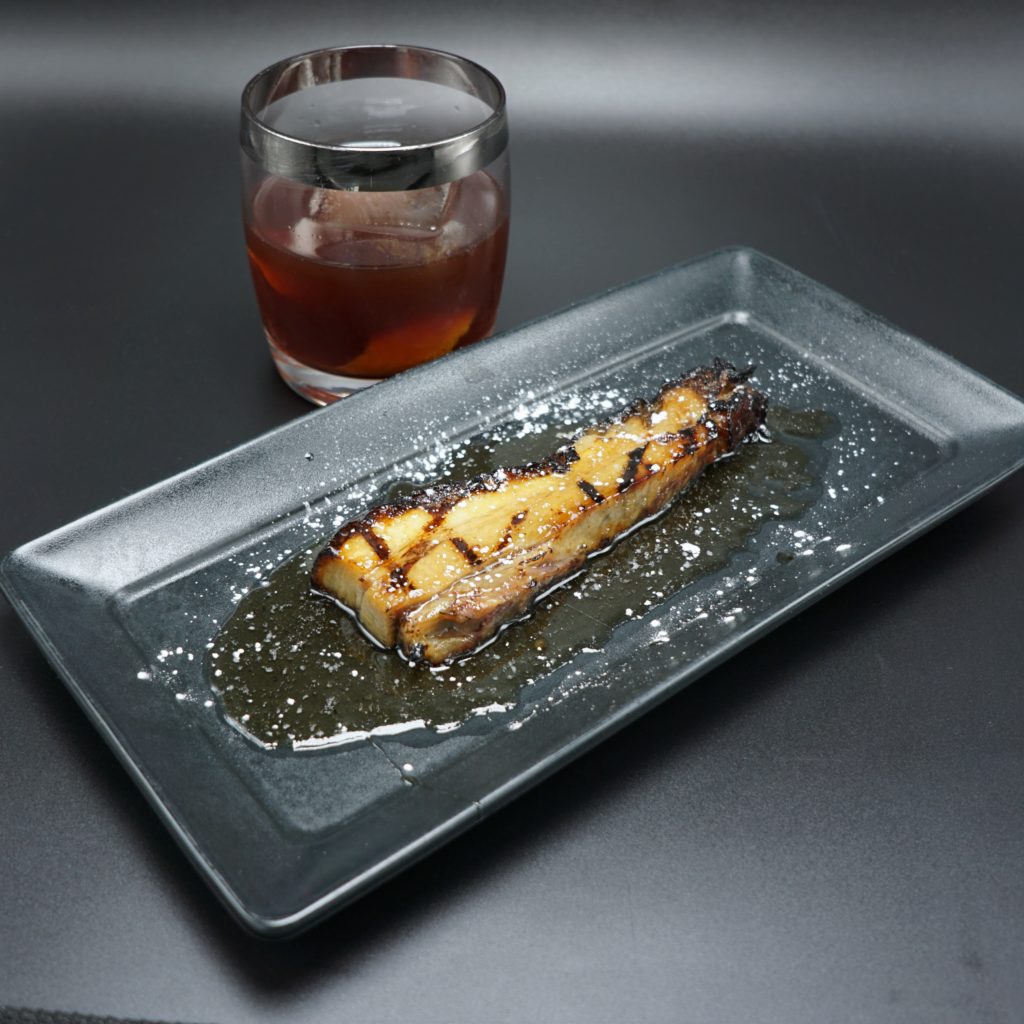 For my next dish to taste, I got to try one of the specials of the night, the pork belly. I had a nice thick cut finished off on the grill then covered in maple syrup and powdered sugar. The soft and savory meat with such a sweet coating was like having pre-dessert and I loved it. I could totally see going to the bar for happy hour to just get that and a cocktail. To which, Mike made me my next cocktail, a smokey old fashion that he unknowingly would pair so well with the pork belly.
At this point, another woman and regular sat down at the bar for dinner. After she ordered, we also got to talking about the fact she has become a regular at Jean Louis due to living nearby and loving the food. She also talked about how a big part of liking to eat at Jean Louis now was Chef Vincent's overall friendly attitude. It goes back to that people are enjoying eating there more.
My last entree dish was one Chef Vincent called his greatest he's made. It was a beautifully plated piece of savory foie gras on puff pastry and a bit of truffle with a medley of fruits and vegetables. When this on the menu as a special, order it. The foie gras had just a light sear on it so it held form, but remained soft. It was so butter and paired so nicely with the puff pastry. The fruits and vegetables with it were a nice palate cleanser after each bite.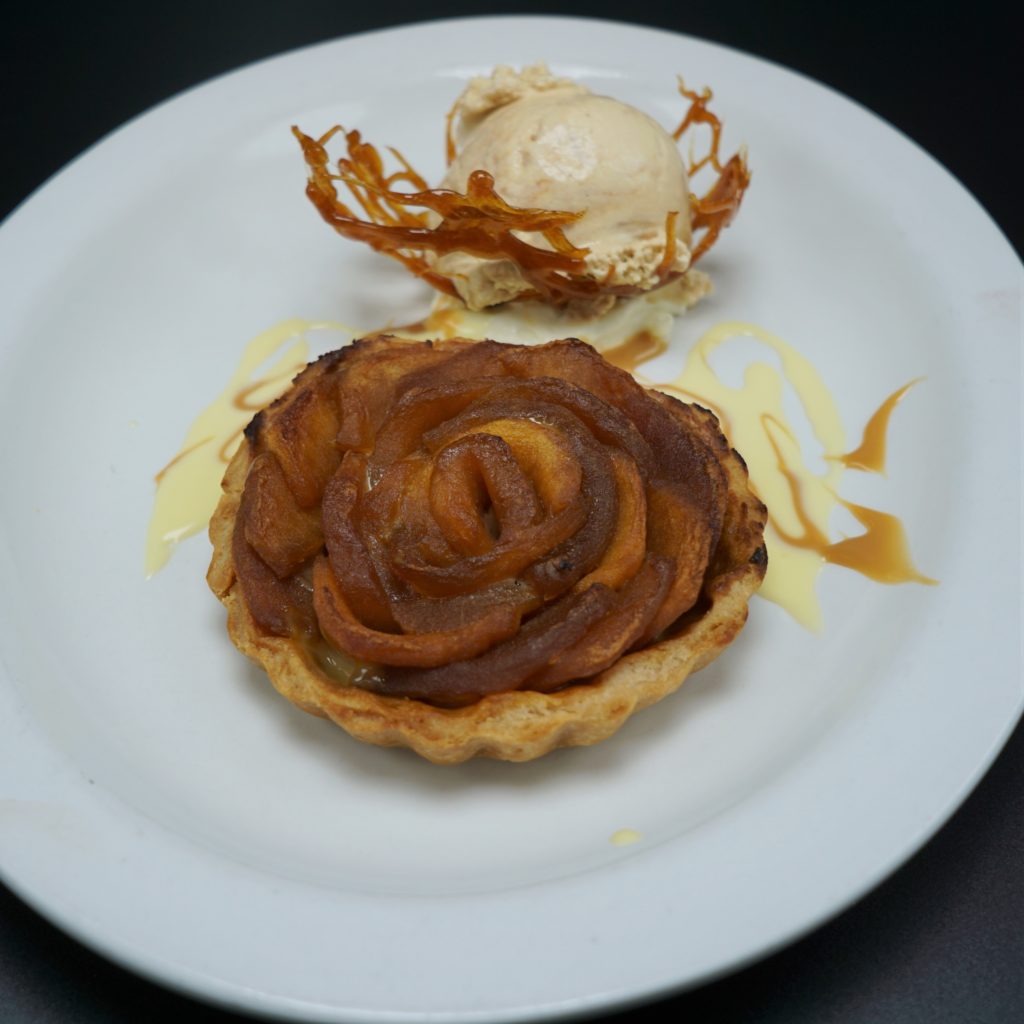 I still somehow found room to keep eating with dessert. One of the exciting parts of Jean Louis is they hired a pastry chef who is still learning and developing her skills. She is super talented with the two desserts I tried. The first dessert was an apple tart that was beautifully prepared to look like a rose with vanilla ice cream and caramel sauce. The second dessert was a plate of eclairs and macarons. This was much more my type of dessert and the type of thing I could again see going to the bar to get just a drink and dessert at the end of the evening.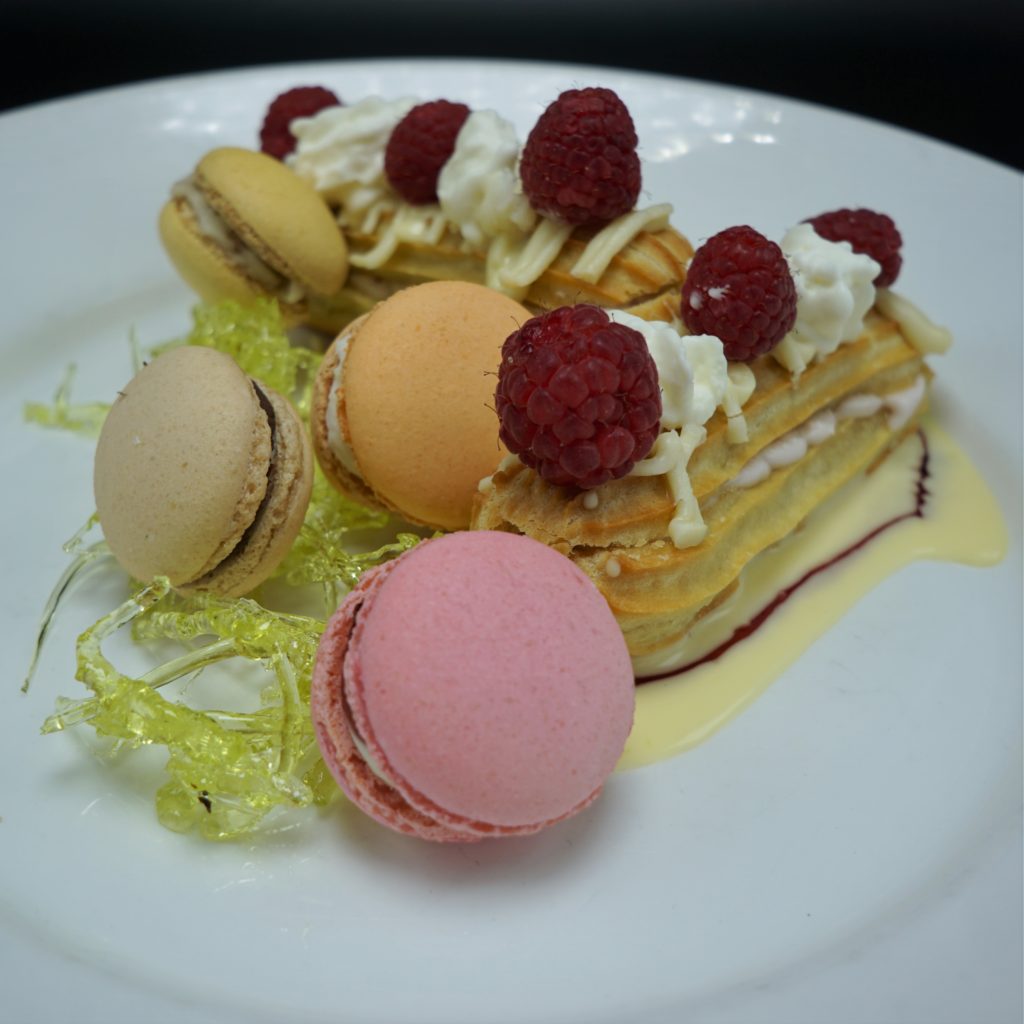 After several hours at Jean Louis eating and drinking and talking, it was finally time for me to head home. I'm so excited this time around to continue visiting the restaurant more regularly. Chef Vincent is doing some amazing things in the Executive role there and I'm glad to see others recognizing and liking it there too. He also plans to continue expanding the menu including pasta and other items. I'm very grateful for this opportunity to hang out for the evening, getting to talk and experience the restaurant and highly recommend the visit.
Jean Louis is located in Dormont, south of Downtown Pittsburgh at 3271 W Liberty Ave.