Last year, I learned about the James Beard Blended Burger Project. For those that do not know, a blended burger is made with at least 25% mushrooms blended into the meat. Each year there is both a professional chef competition for the best-blended burger as well as an amateur chef competition. Last year I entered the competition with this burger. I decided this year to enter again. I went in a little different direction with a pizza-themed burger. One of my favorite pizza toppings is mushroom so I figured why not try to make it as a burger. My recipe is below.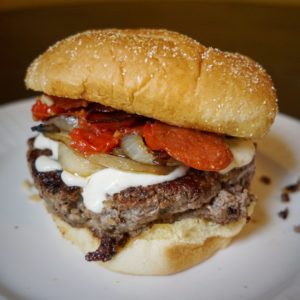 Pizza Blended Burger
Ingredients:
6 oz ground beef
2 oz cremini mushrooms + 2 more cremini mushrooms
1 slice yellow onion
2 oz sliced fresh mozzarella (can substitute shredded)
1 Roma tomato or 8 cherry tomatoes
1 clove of garlic
1 oz sliced pepperoni
Olive Oil for cooking
Salt and pepper for seasoning
1 Sandwich roll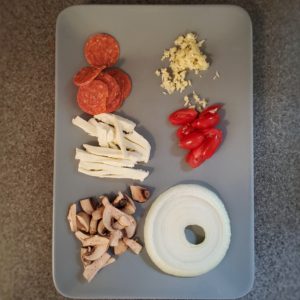 Directions:
Set skillet on the stove at medium heat. Cut the slice of onion. Slice the 2 extra mushrooms. Add oil to skillet. When hot, add onion and sliced mushroom.
Chop the remaining 2 oz mushrooms into small pieces. Combine mushrooms and ground beef until fully mixed. Form into a patty. If patty does not hold together, continue mixing ground beef. Lightly season with salt and pepper. Shift the onions and mushrooms in skillet and, place the patty in the middle.
Cut up the tomatoes into chunks. Chop up the clove of garlic. Add tomatoes to the skillet with the garlic.
Add sliced pepperoni to the skillet to cook and crisp a bit.
Flip burger when the bottom begins to become firm. Top with the mozzarella cheese and cover skillet so the cheese will melt.
Slice and toast the roll.
When the cheese has melted, assemble all items on the toasted roll with the burger first, then the tomatoes and finally the onions and mushrooms. Enjoy!