Over the last 2 months, I been given the fortunate opportunity to spend some time in San Francisco for work. These trips have been mostly on only a couple days' notice and created out of a rather unusual work situation. Since the unusual work situation could complete at any time and each trip could potentially be the last one, I have been trying to take as much advantage as possible doing touristy things on my spare time and eating at some pretty great restaurants. I have been trying to figure out what's the best way to chronicle all my travels for this site. Most of my experiences in San Francisco have been very food centric since food is amazing. I've stayed true to this blogs name too as I my eyes are bigger than (or equal to) my stomach. I've had a few very large meals. I have also done more walking some of the days than I do in some weeks in Pittsburgh.
I've been struggling with how to document all I have done and all I've eaten. Obviously I've been taking lots of photos. I already talked about my normally too large a meal for one person In-N-Out experience. However, I've consumed many other meals in San Francisco, imbibed in many drinks and seen some pretty great sights. So here's what I'm thinking. This post is going to be a summary. I'll just say a few sentences about each really exciting thing here. I'll then write posts for each restaurant or touristy thing I thought was exciting and needed much more detail and link it back to this post. For example, if I ate one really great meal at the hotel restaurant, I might just say a little, post the pic and move on. Now let's say if one evening I completed a self-planned walking brewery crawl, that's going to get a full post.
My first afternoon in San Francisco I decided to visit the Golden Gate Bridge. It's impressive. I can understand why it's such an attraction as opposed to bridges in other cities. See more about my Golden Gate Bridge visit here.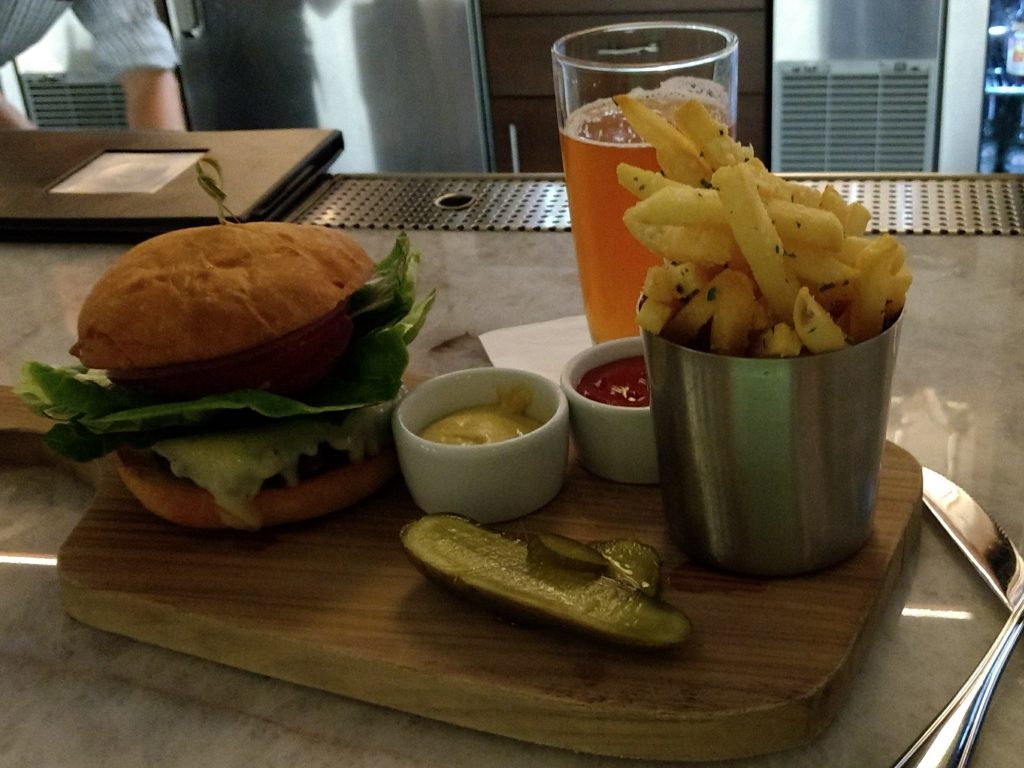 By the time I got back downtown late on a Sunday night, the only thing still open for dinner was the hotel bar. It's now after midnight east coast time. I probably last ate a real meal around 2:30 PM EST. I was so hungry. I was a little disappointed in my open food choices at this late time. The Financial District in downtown San Francisco isn't really a residential or tourist hot spot. Sunday nights aren't exactly heavily populated limiting my choices. I went to the hotel bar and ordered a burger with fries and a beer. It was pretty good. Nothing truly amazing about this burger though.
The first day in the office I just grabbed a breakfast sandwich to go and a lamb shawarma for lunch. Visually, neither of these were anything special. The breakfast sandwich was delicious. It was just bacon, egg and cheese on sourdough, but it was grilled with so much butter. I think I went through a dozen napkins trying to stay sorta clean eating this sandwich. The shawarma for lunch was from Oasis Grill, a San Francisco chain. It did not disappoint either.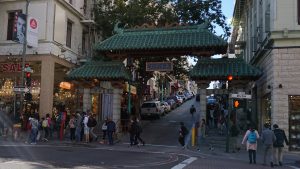 After work, I spent the evening wondering around Chinatown. It's not exactly a secret I love Chinese food. I was so excited to have a chance to go to Chinatown and hopefully try some things. I got to see the Dragon Gate and Golden Gate Fortune Cookie Factory. I bought some loose leaf tea in one of the local shops. I viewed the décor and sights of the neighborhood. I finished off the tour of the neighborhood with dinner. I could spend so much more time in Chinatown and was so happy I could go back another time. See more about my visits to Chinatown here.
After dinner I walked down the Embarcadero and along the piers. It was just really nice walk. It's another very popular tourist spot. There are some great views of the bay and the Oakland Bay Bridge and some really great tourist trap restaurants.
The next day for lunch I got a sushi burrito from Sushirrito. I regret not taking a photo of this thing. The sushi burrito trend still had not hit Pittsburgh when I tried this thing. In San Francisco this had been a popular meal for a while. It's like having one giant hand held sushi roll. The fish tasted fresh and the sauce was rich and spicy. The trend is starting to finally make its way to places like Pittsburgh, but the restaurants here need some work perfecting the sushi burrito rolling process.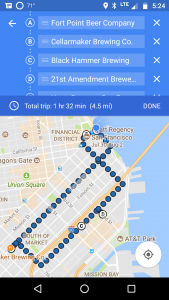 That evening I was at a loss for what to do. I wasn't in town with anyone I knew and I was trying to come up with something touristy for dinner. I sorta failed finding a new sightseeing idea, but I came up with another great idea instead. I took myself on a brewery crawl. I found 4 breweries within 2 miles of where I was staying. The list includes the Forth Point Brewery Taproom, Cellarmaker Brewey, Black Hammer Brewery and 21st Amendment Brewery. I figured out a 4.5 mile walking route to visit all of these breweries. Let's just say by the end of my walk and tasting, I drank some fantastic beers, I was a little drunk and exhausted from walking so much. Follow along on my brewery crawl here.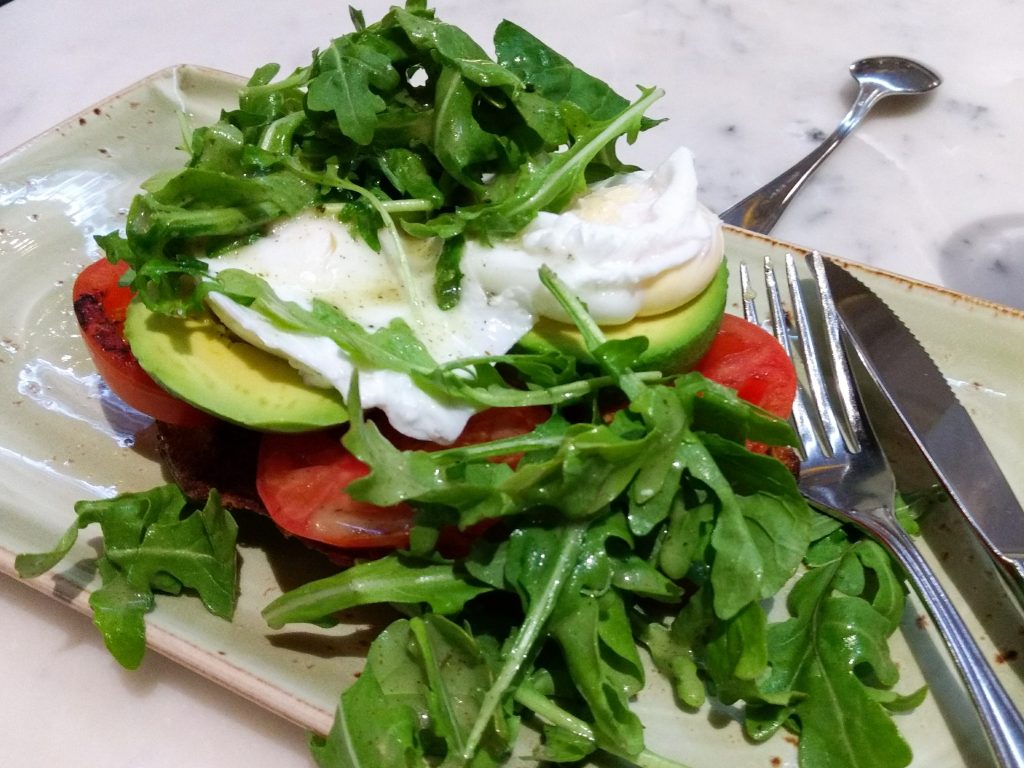 The next morning I needed a hangover cure type of breakfast. Instead I went to the hotel restaurant again and ordered the Avocado Toast. Wow. I don't normally get a breakfast that isn't eggs, bacon, potatoes and pancakes. The restaurant's presentation of the avocado toast was very pretty. It tasted great too. The restaurant obviously used California avocados. It might not have been the breakfast I was looking for but it did the trick.
My second trip included a couple more crazy meal ideas mixed in with some fun tourist ideas.
I made sure to fly in a little earlier so I could get a full Sunday afternoon in the city. This was another very touristy afternoon filled with public transportation detours and delays hat a tourist would not have known about until arriving in the city. I only had two main items on my plan of the afternoon. The first was to walk through as much of Golden Gate Park as I could. Over the course of the afternoon I was also able to see the beach and the famous Lombard Street Hill. I ended the day exhausted and very full. More coming soon…
The second item was to finally try In-N-Out Burger. I made my way over to the only In-N-Out in the area in Fisherman's Wharf. You can read more about that experience here.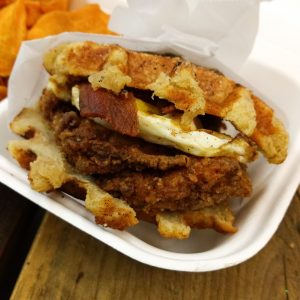 The first day in the office for this trip, everyone took a walk to a street with food trucks. I was so excited about this lunch plan. Pittsburgh, even with changing its ordinances a little, still does not have a good food truck presence downtown during lunch. It's such a shame as Pittsburgh has some great trucks. In San Francisco, there a food truck lots all over the popular downtown areas. I picked a truck that did a chicken and waffles sandwich. The sandwich looked small, but it was dense. I was full after this eating this. I probably could have had more to eat but it was unnecessary.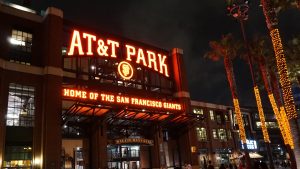 Dinner this night was at AT&T Park. I love baseball. I have also read many times that AT&T Park might be the nicest stadium in the MLB. I might agree. I know my Pittsburgh friends hate me for saying that since PNC Park is an incredible stadium too, but there is a lot to love about AT&T Park. My dinner was a bratwurst and fries with a beer. A very baseball meal. When I arrived at the park, it was ironically Jewish Heritage Night for the Giants. It was cool to see how other teams do their heritage nights, especially one I attend for the Pirates. Giants managed to win the game too. More coming soon…
The second day, I got a great breakfast panini at a shop close to my hotel. It was good, a decent amount of food and reasonably priced. It contained egg, speck and avocado. I'm not a big fan of speck but it was good.
Dinner that night we went all out. It was the only night multiple coworkers were in San Francisco with me. We picked a restaurant in Fisherman's Wharf because we wanted fresh seafood. We picked Scoma's. This was a fancier restaurant with an old school field. Here I devoured a lot of seafood and indulged in a lot of alcohol. While waiting for a table I got a flight of local beers. At dinner, I ordered an Old Fashioned flight with tasters of old fashioned each made with scotch, mescal, and cognac. Dinner itself, I got a seafood mixed grill with salmon, cod, swordfish and prawns. This was easily some of the freshest and most flavorful seafood I've eaten.
My most recent trip, which may or may not be my last, I was only in San Francisco for 48 hours. Not much time to check things out, but somehow had some of the best food on this trip.
That first evening I went back to Chinatown. I did more walking around and settled on getting a Schezuan style meal and lots of dumplings. I also managed to completely destroy my shirt with some splash back from what I ordered. I may or may not be a very messy eater.
I'm terrible at sleeping in hotels. I'm especially terrible at sleeping in hotels with air conditioning that turns off in the middle of the night and stiff beds. However, since I wasn't sleeping well, this gave me plenty of time for breakfast. There are a lot of breakfast sandwich places around the Financial District in San Francisco. The first day I went for a bagel sandwich at Posh Bagel. This is a California bagel chain. I got egg, cheese, sausage and avocado on an everything bagel. It was a great sandwich, but I didn't feel like in was eating a bagel.
I'll get into probably at another time, but I consider myself a bagel connoisseur. I didn't like that this bagel was large and fluffy. It was almost like a role with a hole. The only reason I didn't feel that way was I could tell it was at least boiled a little. I also got to finally try Starbucks draft cold brew. It was cold brew. Nothing too exciting other than it's not available yet in Pittsburgh.
Lunch was really an unexpected treat. I was given a recommendation to go to a Dim Sum restaurant in town, Yank Sing. I didn't not realize this was a fancier Dim Sum restaurant. I thought I was going to a hole in the wall. I was very happy this was the type of Dim Sum restaurant that walked around with carts of food. This might have been some of the best Dim Sum I've ever eaten. Having ordered pork soup dumplings, seafood dumplings, pork buns, green beans and for dessert, sesame balls. This was all incredible. I really wish Pittsburgh had a Dim Sum restaurant like this or even just a Chinese restaurant that served more than just one or two types.
Adding to the amazing meals on this trip, I visited the Wayfare Tavern. This place was cool. It had both a modern and rustic look inside. Lots of old school woodwork. My dinner was great. While trying to decide what to eat I got a cucumber mule made with gin. The cucumber flavor didn't overpower the gin or ginger beer. Everything was well balanced. The special that night was a 32 Oz bone-in ribeye steak meant for 2. I thought about it for a moment as the waiter was telling me someone else got it on their own last week. Instead I decided on their fried chicken, which was rated one of the best in the nation and a side of broccolini. Oh man, this was probably some of the best fried chicken I've ever eaten. It was a half chicken stacked in a pile on the plate served with fresh herbs. The chicken was juicy, but not overwhelmingly greasy. The buttermilk crust was crispy. I was a little disappointed when I was done because I probably could have eaten a full chicken it was so good. I finished this meal with a very large slice of cheesecake. I definitely want to go back to the Wayfare. Other meals being brought out looked amazing like the Tavern Burger. I want to visit again so I can order that then convince someone else to get the fried chicken and I can help them finish their dinner.
Before leaving for the airport in the morning, I went in search of another breakfast sandwich. I found a small shop that made a corned beef, egg and cheese sandwich. This completely confirmed my belief you can add an egg to anything and it's breakfast or brunch. I also got a fancy Lavender Mint Latté from Illy. It was a good way to cap off the trip.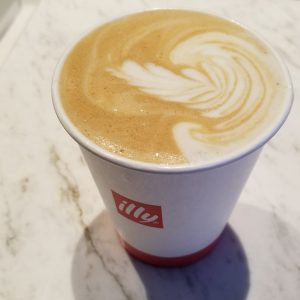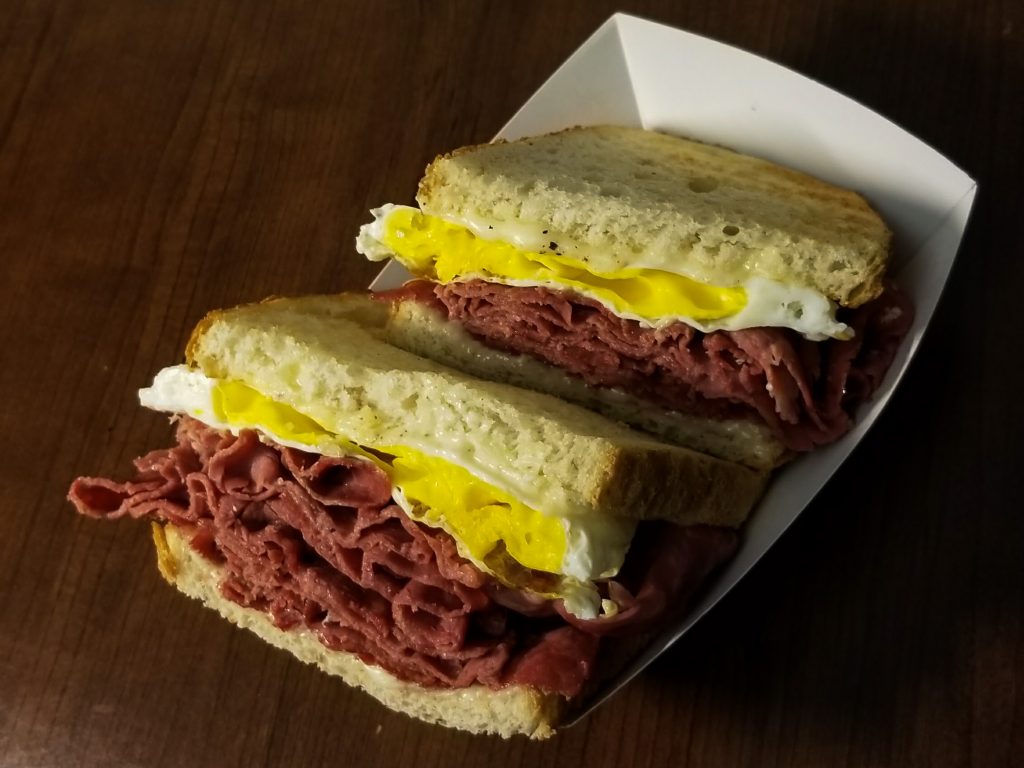 So at this point, I don't know when or if I'm headed back to San Francisco. The project I'm on should be wrapping up. We'll see in the next couple of weeks what's going to happen. If it was my last trip, for now, I think I took pretty good advantage of my non-work hours.