I started 2018 with a set of goals for be a better food blogger. So far I've pretty much missed every one of those goals in 2018. I basically stopped creating new blog posts for almost two months. Hopefully I'll get a little back on track at this point. However, here is a little bit of catch up while I've ignored my blogging.
Pittsburgh Winter Beerfest
I regularly attend festivals that involve a large quantity of food or beer. Every February there is the Pittsburgh Beerfest at the David Lawrence Convention Center. This is one of my favorite events every 6 months because I get to try out a lot of great beers and I get to show of my ridiculous tolerance for alcohol. I make sure before every beer festival to get a good meal so there is a base in my stomach and something to help soak up some of the beer. Winter is best for me as I love stouts and porters. However, this is also the worst because I try sooooo many beers over 3 hours that I can't remember which ones I liked the most. The reasons I can't remember we can just gloss over. This beerfest was also the first time I ever wore the ridiculous pretzel necklace. Yes, you look stupid wearing one, but it sure does help a bit over the course of the night.
Boston
In March, I traveled to Boston to visit some friends, eat a lot of food and drink a lot of beer. I believe the total count was 8 breweries and 1 distillery over the course of 3 days. That's probably pretty average for me. The first was Somerville Brewing Company or Slum Brew, which had a very good collection of different flavored porters. My favorite might have been Porter for Pyros; a porter with hot pepper. The next day, I visited again the Samuel Adams Brewery and tour. This is probably one of the better brewery tours I have done because they do a good job explaining the brewing process and it ends with a pretty hefty tasting process. Then I visited Aeronaut Brewing Company, which had a really cool warehouse space and a lot of IPAs. In between some breweries, I visited Short Path Distillery and got a mojito flight. They specialize in rum and gin right now and it was rather smooth and flavorful. Down the block from Short Path was Bone Up Brewing Company. They were just starting up and expanding their space at the time, but after waiting a bit to get in, I got another nice porter. That evening, after dinner I visited both Cambridge Brewing Company and Lord Hobo Brewery Taproom, both doing interesting things with beer. My last day in Boston I visited Dorchester Brewing Company and Lamplighter Brewing. Lamplighter introduced me to another great porter. Boston, like Pittsburgh, is doing a lot of great things with craft brewing and I was glad I got to try so much.
The standouts for food were primarily all the great brunch meals I ate over the course of the 3 days. The first day was the Neighborhood Restaurant in Somerville. This was a giant breakfast with eggs, bacon, pancakes, orange juice, cream of wheat and cake and coffee. I felt like I was going to need to be rolled out of their after. Brunch the second day was at The Independent in Somerville, where I got corned beef eggs benedict, a dish that looked as beautiful as it was delicious. My last brunch was at Alden and Harlow in Harvard Square. This was probably one of the best brunches I've ever eaten. I shared a bunch of different dishes such as pickled corn pancakes with whipped ricotta and blueberries, quinoa and soft boiled egg, and a dutch baby with date & fig jam.
Dinners were pretty great too. The night after Samuel Adams I had an amazing hot lobster roll from Neptune Oyster and some great cannolis from Mike's Pastry. Saturday was an experience doing Korean BBQ and getting to cook everything right at the table. It was so good and I enjoyed it so much I was hoping to find this again in Pittsburgh without any luck. Sunday night was Pizza and Mac and Cheese at Area Four.
Passover, Pirates Home Opener and OneTable
Lots of cooking for a holiday that restricts my diet. A large part of my diet is pizza, beer and whiskey and they are all things needed to give up over Passover. For the first Seder I made matzo ball soup, a slow roasted beef brisket with vegetables and mandelbrot Passover cookies.
The rest of the holiday I cheated a lot as Pirates Home Opener happened when I had lots of beer, hot dogs and a Primanti's sandwich. I also probably maybe cheated a little bit with tortillas and tacos.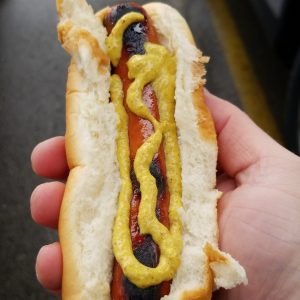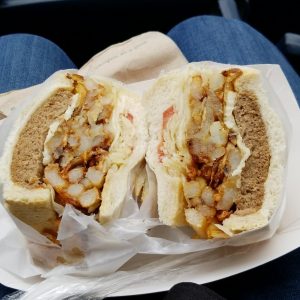 At the end of Passover, I hosted a dinner with OneTable, which can be read about more here.
I have come to a conclusion I will probably stop heavily trying to keep Passover in future years. The food is unnecessarily over priced and unnecessarily not that good. Yeah I'll probably stop having some things sadly like beer and whiskey and bread over passover, but I'm done with some things for Passover.
Louisville
I was in Louisville for a friend's bachelor party weekend of food and bourbon. We picked out a couple of nice restaurants and a couple of really nice restaurants. The restaurant that was the most Proof on Main. This might have been one of the best restaurants I have very visited. The two main highlights were the bison heart pastrami and the pork chop. The bison heart pastrami was part of a charcuterie board, which we opted to replace everything else with the bison heart pastrami. It was so perfectly seasoned, smoked and cured. My main course was the pork chop, which might have been one of the largest and juiciest pork chops I have ever eaten. I also don't eat pork chop very often, but it might now be something I order more often at a nice restaurant. We also way overdid it on the appetizers. We probably got like 7 plates of apps. We were getting close to full before the main course. Proof on Main also had some awesome decor, it was attached to an art gallery and probably one of the coolest restrooms I have ever visited.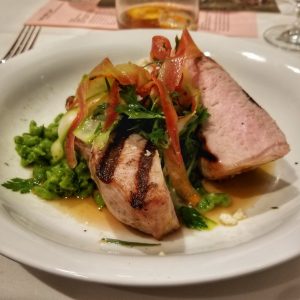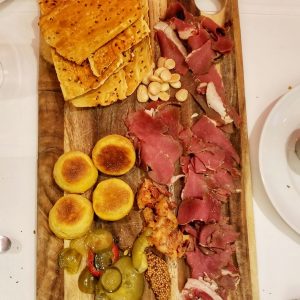 The other fancy dinner was at Brendon's Catch 23, a seafood restaurant that seemed similar to McCormick and Schmick, but supposedly not at all associated. The highlight of my meal was the main course, the seared yellowfin tuna, which had a blackened crust. This was so tender and flavorful.
The other main food highlight of the trip was Royale's Hot Chicken. This was lunch when we first arrived. I ordered a two chicken tender combo with coleslaw and two tacos. I ordered to a medium heat and it was just right. Just enough spice to give it a kick, but not enough to make my nose run. They had like six different levels of heat. I could probably eat fried chicken all the time if possible. I would definitely get this again.
The most exciting parts of the trip were all the tours. We did the Bulleit Bourbon tour, Evan Williams Experience and the Louisville Slugger Museum. Bulleit had the most interesting tour and the best tasting. The Bulleit tour takes place on the old Stitzel-Weller Distillery grounds and they give a very good walk through the history of the brands and the distilling process. Bulleit also offered some good size samples of their rye whiskey, straight bourbon, 10 year bourbon and cask strength. Evan Williams had a very interesting tour and introduces you to history of bourbon distilling in Louisville through many produced videos. Unfortunately their bourbon is still one one of the worst I have drank. Louisville Slugger museum is awesome for any baseball or wood working fan. The factory tour is a must because you watch how bats are crafted. They also have really cool exhibits on different players and the bats they used and you can even handle game used bats of some players.
,center>
—
This is what has been going on the last few months. Hopefully I will start writing again on the regular. However, I'm pretty great at making goals and not keeping them so why start now.