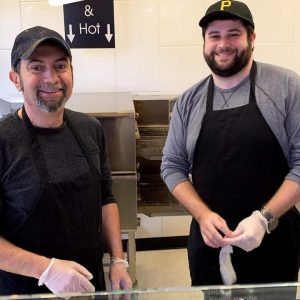 I have great respect for the people who make my food when it's being made well. One of the foods I have a fondness for is pizza. Watching someone craft the perfect pizza is always entertaining to me because of the care placed into correctly stretching to the dough, evenly placing the toppings and baking to perfection. I generally have no interest in taking up such a profession full time, but I love getting an occasional opportunity to step behind the scenes and learn about the food preparation. So I was very excited when V3 Flatbread Pizza invited me into their Lawrenceville location to learn how they make each flatbread pizza and make my own. Since I usually am ordering from the downtown location, this was a nice change of scenery.
First thing was meeting Tony, the manager of this V3. I was excited to get to work with him on my flatbread pizza. The first thing I had to do was prep to get behind the counter. I washed up, got on my apron and hat, and put on my gloves. We started with flattening out my pizza dough. V3 runs the regular dough through a flattening machine. Then we coated the bottom of the dough with cornstarch to give a crispier crust and aerated the dough to allow it to cook through better. They also offer a multigrain and gluten-free crust.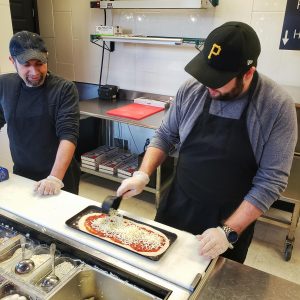 Next was my sauce. For my creation, I went with a spicy red sauce. They have options from a traditional red to buttermilk ranch to garlic and more. I felt the spicy red fit with the topping direction I was headed in, which was everything. At this point, Tony also started to let me do this on my own. I was natural behind the counter spreading my sauce on the flatbread pizza dough. I followed this up with a nice helping of shredded mozzarella and crumbled fresh mozzarella.
After the sauce was the protein toppings. I decided to go with pepperoni, bacon, and meatballs. I had so many options to chose from too. Tony stepped in for a moment to give me some tips about how to lay out the toppings. It was good to know so not only is there even coverage, but also thinking about how the flatbread would slice after baking. If I wanted to go for more of a breakfast vibe, there was sausage and eggs. If I didn't like beef or pork, there was the option of chicken. If I didn't want any of it, I could even do cashews as my protein. I could have done a ridiculous meat lovers flatbread and gotten all of them, but I wanted to leave some room for veggies.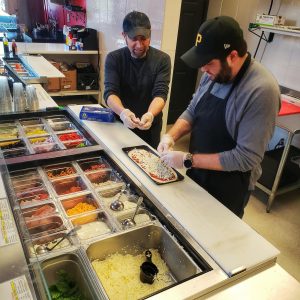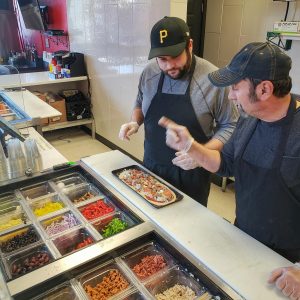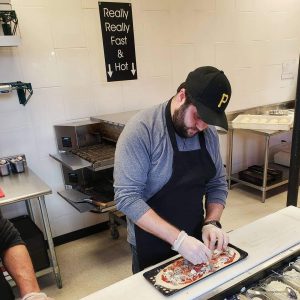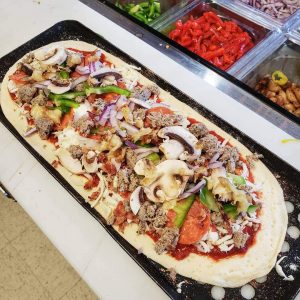 I know, veggies aren't usually something I think about. However, I wanted to make a well-rounded flatbread. Except flatbreads aren't usually round, but you get it. So I added handfuls of green peppers, onions, mushrooms, and roasted garlic to give a wide range of flavor and make sure no one would want to smell my breath the rest of the day. V3 also offers so many veggies that a customer could do a whole flatbread of just veggies if that is their thing.
Now to put the flatbread in the oven. V3 uses a conveyor oven that bakes the flatbread pizza in 2 minutes. On when done, it comes out the other side with a nice crispy and browned crust, bubbly cheese, and cooked toppings. Tony showed me the preferred way to cut one of the flatbreads by cutting once through the middle widthwise, then across lengthwise, and finally two more cuts widthwise.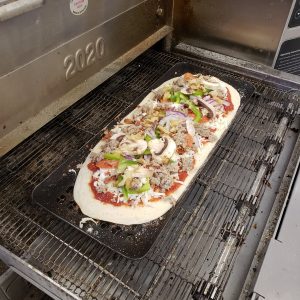 I finished off my flatbread by topping it with more cheese and some red pepper infused olive oil. V3 had so many different finishing toppings I could choose from to give my flatbread one last burst of flavor.
To give the rundown, I made a flatbread with spicy red sauce, shredded and fresh mozzarella, pepperoni, bacon, meatballs, green peppers, onions, mushrooms, garlic, pecorino romano, and red pepper chili oil. My flatbread pizza was delicious and I would order my combination again. However, V3 has so many of their own creations that are great too. It's great for the person who doesn't want to think about what toppings go well together or wants something they know will already be delicious.
I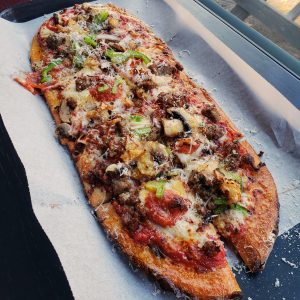 had a great time at V3 Flatbread Pizza learning the process of creating a flatbread. I was a natural behind the counter. Next time I'm there might even just step behind the counter and make my own again. Well not really, but I'll definitely visit again for some fantastic flatbread pizza.
V3 Flatbread Pizza is located in Downtown Pittsburgh and Lawrenceville