Last month I had a completely impromptu opportunity to take the Intro to Macarons class at Macaron Bar in East Liberty. I had recently met Pittsburgh location owners Kyle and Michael and told them about my wanting to get in the kitchen more at different restaurants. A couple of weeks later, I got a message that a spot opened up in one of their classes for the next day. I jumped on the opportunity.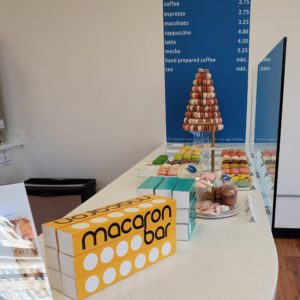 Macaron Bar opened in East Liberty in late 2018 as a grab and go macaron and coffee shop. They envisioned soon after opening using the space for classes and parties. I arrived at Macaron Bar on a Saturday morning with my friend Ross ready to bake. The kitchen space is set up very nicely with 3 large countertops in the center and counter space all around. All of the ingredients and tools needed to make our macarons.
Kyle leads the class in two parts. Our first half of the class is preparing the batter for the meringue cookie part of the macaron. He first shows the class how to prepare the batter and then the class gets the opportunity to make their own. The reason for this is Macaron making is a process which requires perfect timing. If the batter isn't mixed for the right amount of time then the meringue will not have the correct consistency.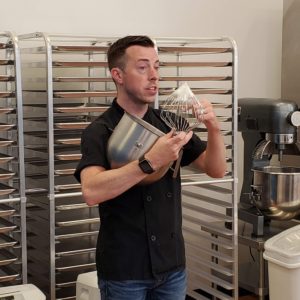 We then got our chance to make our meringue batter. We needed to first grind down the almond flour more to make sure there were no large lumps or particles. Then we blended in powdered sugar. We then added in egg whites and begin to mix until peaks formed on the mixing whisk. Next was transferring a bowl and folding in sugar. This was done by hand. This definitely made my arms tired.
After mixing, we had to move the batter to a pastry bag to pipe out the meringue for baking. We had a template to make sure we had the right size cookies. We also had to pipe and swipe so we didn't create peaks on the top of the cookie. We also slammed the baking sheets down multiple times to try to flatten out the cookies more too. The meringue cookies were now ready for baking.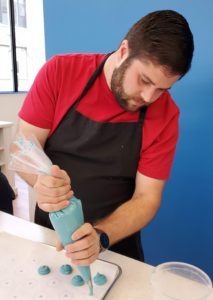 The second half of the class was learning to prepare the delicious ganache to put in between the cookies. This was a little easier but requires some sitting time. We then assembled our macarons. This is the easiest part. Find two cookies similar size and put ganache between them. Once done, packed the macarons we made and we got to eat. I was happy with how ours turned out.

I had a great time with the Macaron Bar Introduction to Macarons class. I can't wait to make macarons at home at some point so I can impress someone at some point. This class is a great activity for an evening or weekend. Something to note, Ross and I were the only men in this class. Baking is not a female-only activity. That said, everyone else in my class was female and there for someone's birthday. This class is definitely a great activity for that type of event. I would totally recommend this for a date night. Most of all I would recommend it for someone who just wants to learn to bake something different. However, it definitely takes patience. So there is also nothing wrong with just visiting Macaron Bar and buying some macarons too.
Macaron Bar main location with classes is at 6101 Penn Ave in East Liberty.