I love Pizza. In the last two years, I've developed an appreciation for Detroit Style pizza. Particularly I was eating a lot of Michigan & Trumbull Detroit Style pizza while they were in residency at Federal Galley on the North Side. The pizza really paired well with the awesome half-off happy hour at the Federal Galley bar. When it was announced they were going to be heading to Detroit, I knew I would need to eat as much pizza as I could before that day happened. And oh did I eat.
While taking in a fantastic happy hour at Federal Galley, I joked with Kristen at Michigan & Trumbull how I wanted to get behind the counter and learn to make the pizza. I was only half-joking. In their last week at Federal Galley, I made plans to visit on a Saturday morning to learn how to make the dough, prep the baking pans, and the different items on the menu.
I arrived at 9 AM to learn they have already prepared and portioned out 2 batches of dough. This is no small task. Each blob of dough is probably the size of a toddler. This is not surprising by the portion sizes of the ingredients. The portions had to be exact too. Not having enough or too much water or flour would cause the dough to not come out correctly. Everything had to be weighed out, including the water. Mixing the dough also needs to be done in an exact order to make sure it mixed evenly. I was excited to learn this process since I love their crust. However, now knowing the secrets of the crust, I just need to figure out if I can size it down from 45 pizzas to 2.
Now that the dough is mixed, it was time to portion it out and place it into pans. Each piece of dough had to be cut to around the same number of ounces and allowed to then rise long enough to get the proper thickness and baking of the crust. It was surprisingly difficult to cut to the right weight every time. Sometimes I was dead on but most of the time I was either way over or way under and needed to adjust. Handling the dough isn't easy either. It will stick to your hands if worked with too much. Spraying your hands with cooking spray helps, but it still won't matter if handled too much. Each portion needed to be balled up to allow for some time to rise. Each ball of dough then needed to be placed in a greased baking pan and spread out. This is misleadingly hard to do too. I had so much trouble getting the dough stretched out to the four corners and sides of the pan. I think I finally got the hang of this after destroying at least 2 balls of dough. After stretching, the dough sits in the pans to raise more until ready to be used.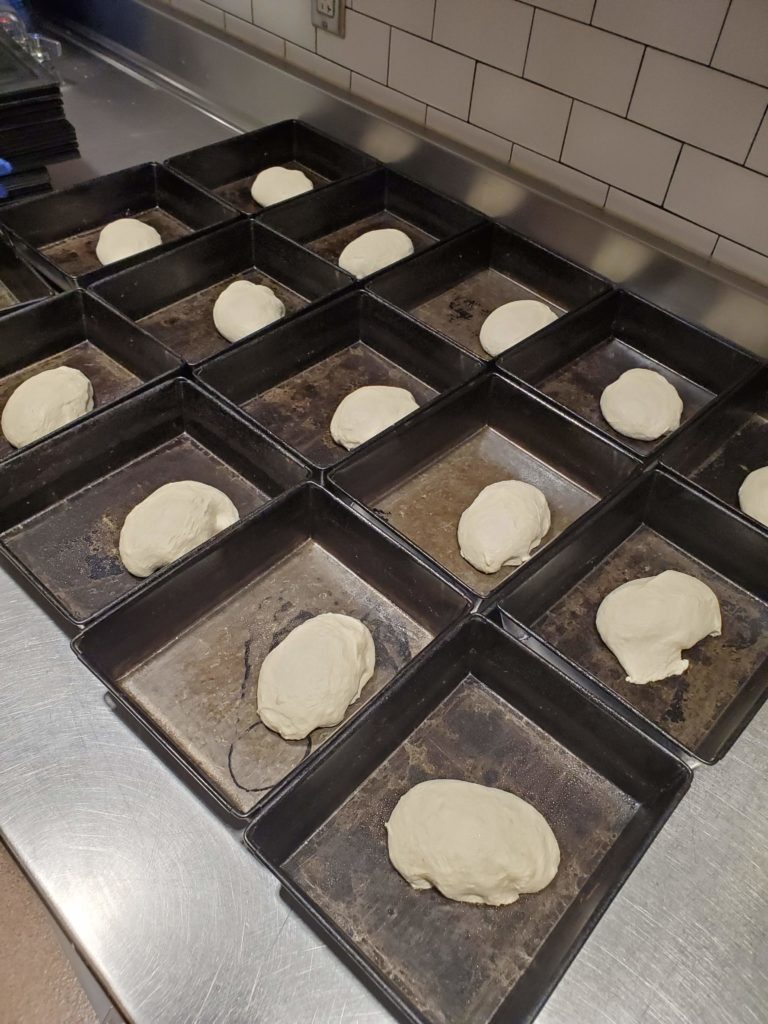 At this point, we hadn't even realized that it was time for Michigan & Trumbull to open for their second to the last service at Federal Galley. I stuck around to see how the pizzas get toppings and baked. It was interesting to see how much cheese was used per pizza and how to evenly distribute toppings so each bite gets a topping. It was also interesting that many of the pizzas do not get sauce until after baking so the cheese melts more evenly. I helped stuck around for about an hour or so just to continue to see the process. At that point, as someone who only had an hour of training, I got out of the way.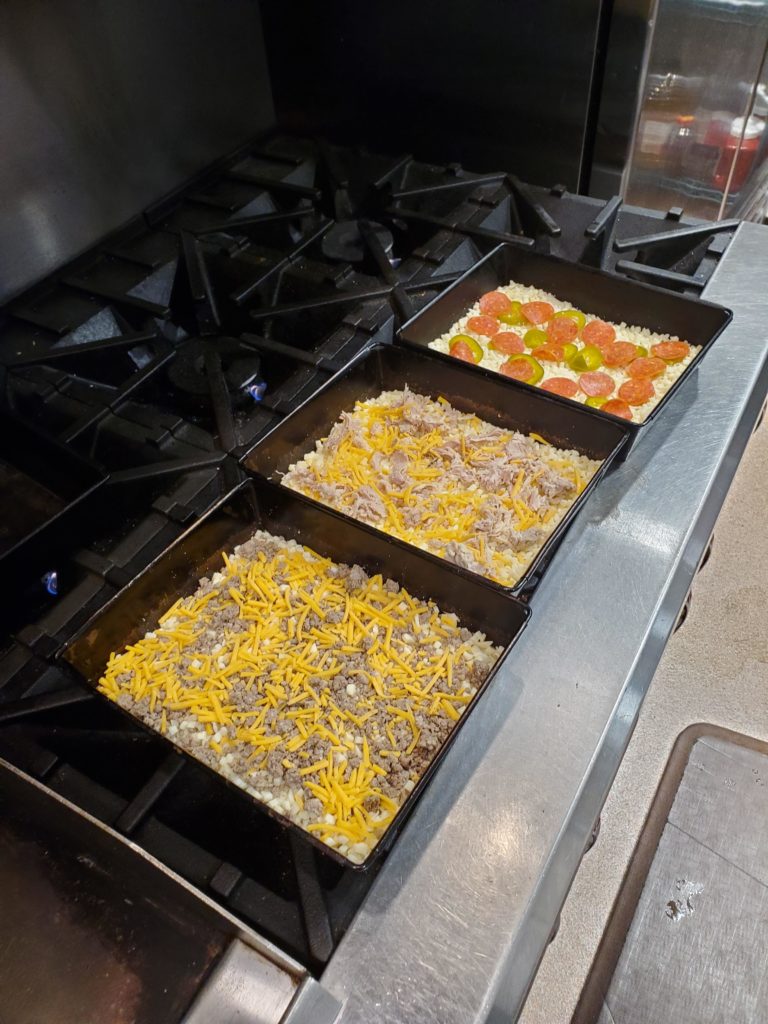 Before leaving, I prepared one last pizza for myself. I made up one last Bagley Chorizo. Then I proceeded to eat the entire pizza over the course of an hour, savoring every last bite. I might be a little late getting this posted, but it was a great experience that needed to be shared. I will definitely miss Michigan & Trumbull and Kristen and Nate here in Pittsburgh. They are so friendly and great to work with on so many food endeavors. I wish them the best in Detroit and hope they one day return to Pittsburgh. Until then, it looks like I'm going to have to get practicing in my kitchen and planning a road trip.