Everyone loves Kennywood. It's such a great hometown Pittsburgh amusement park. I definitely don't get there enough. They have fantastic wooden roller coasters. Unfortunately, I never get there enough. However, Kennywood gave me another great reason to go with the introduction of their new Bites and Pints Food & Drink Festival. Starting May 26 thru June 26, 2022, on Thursday to Sunday, Kennywood will have chef-inspired cuisine from around the world available in the park. I've updated this for 2022 after getting to preview it again before the festival opens.
Full disclosure, Kennywood asked me to come by again in 2022 to try out the food during a special preview event for Bites and Pints.
Kennywood partnered once again with Chef Brian Pekarcik of BRGR and Spoon to create a culinary trip around the world with Asian, Caribbean, French, German, Greek, Italian, Mexican, and Polish flavors. New for 2022 is the Greek and Polish booths. They set up booths around the Lagoon serving food and drinks themed to each of these different types of cuisine. It is encouraged to buy a Bite Card to purchase food at all of these booths. Park visitors can buy a Bite Card with either 8 bites or 12 bites. A supersized 15 bites pass is available for Season Passholders. The passes can be used in one visit or over multiple visits throughout June. All of the food items can be purchased a la carte as well.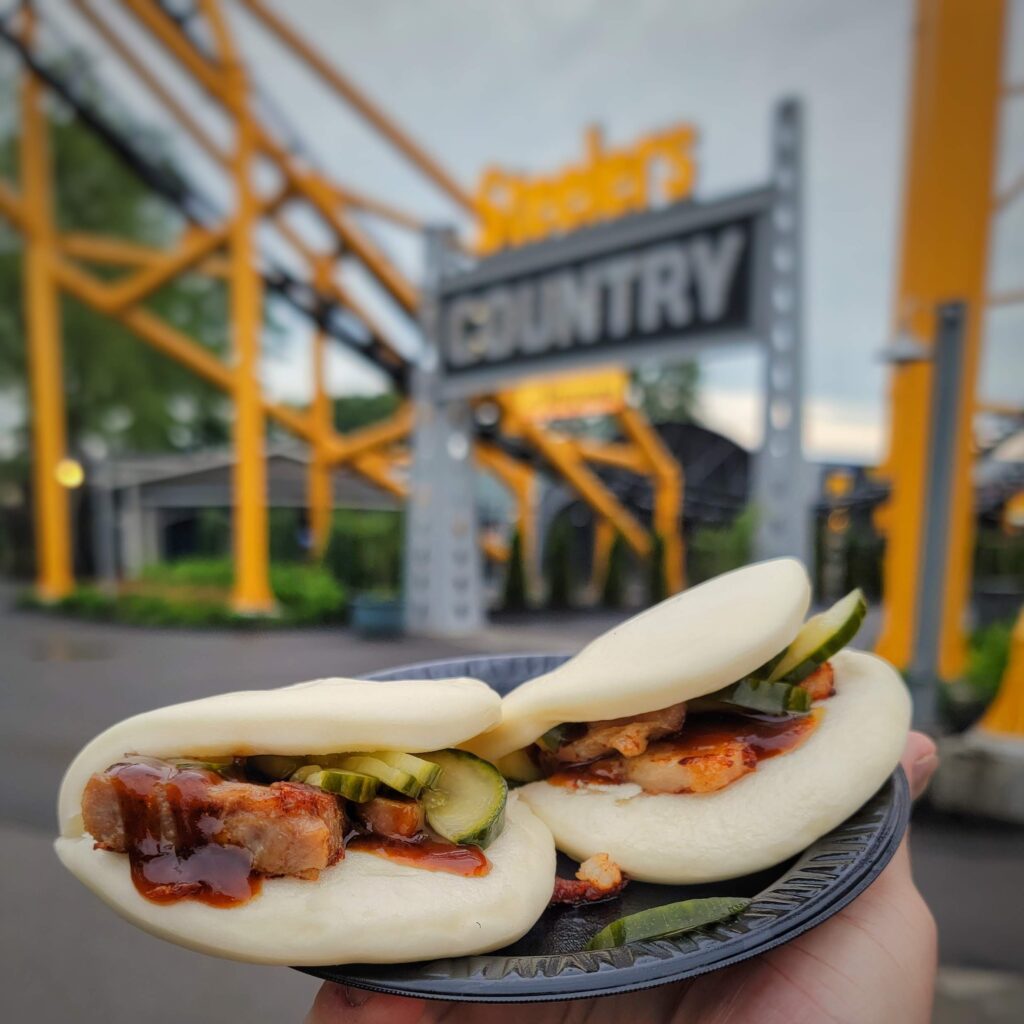 This gave me a great opportunity to visit Kennywood. So with a Bite Card in hand, I got a chance to taste some of the food which is part of the Bites and Pints. I went around the Lagoon tasting different bites from most of the 7 different types of cuisine which are available. Every booth has a few food items, and some specialty drinks and beers. I focused using my Bite Card mostly on food with a couple of sample size beers mixed in. I won't go over all the bites, but I'm going to highlight a few of my favorites.
Porchetta Sandwich – Italian
This was my absolute favorite of the evening. The sandwich was made of shaved pork belly and loin, provolone, and rapini on grilled ciabatta bread. The pork was piled on thick and it was delicious soaked in its own natural drippings. This was a sizable sandwich too. I would highly recommend starting with this sandwich. If you plan to eat a lot, split it with someone.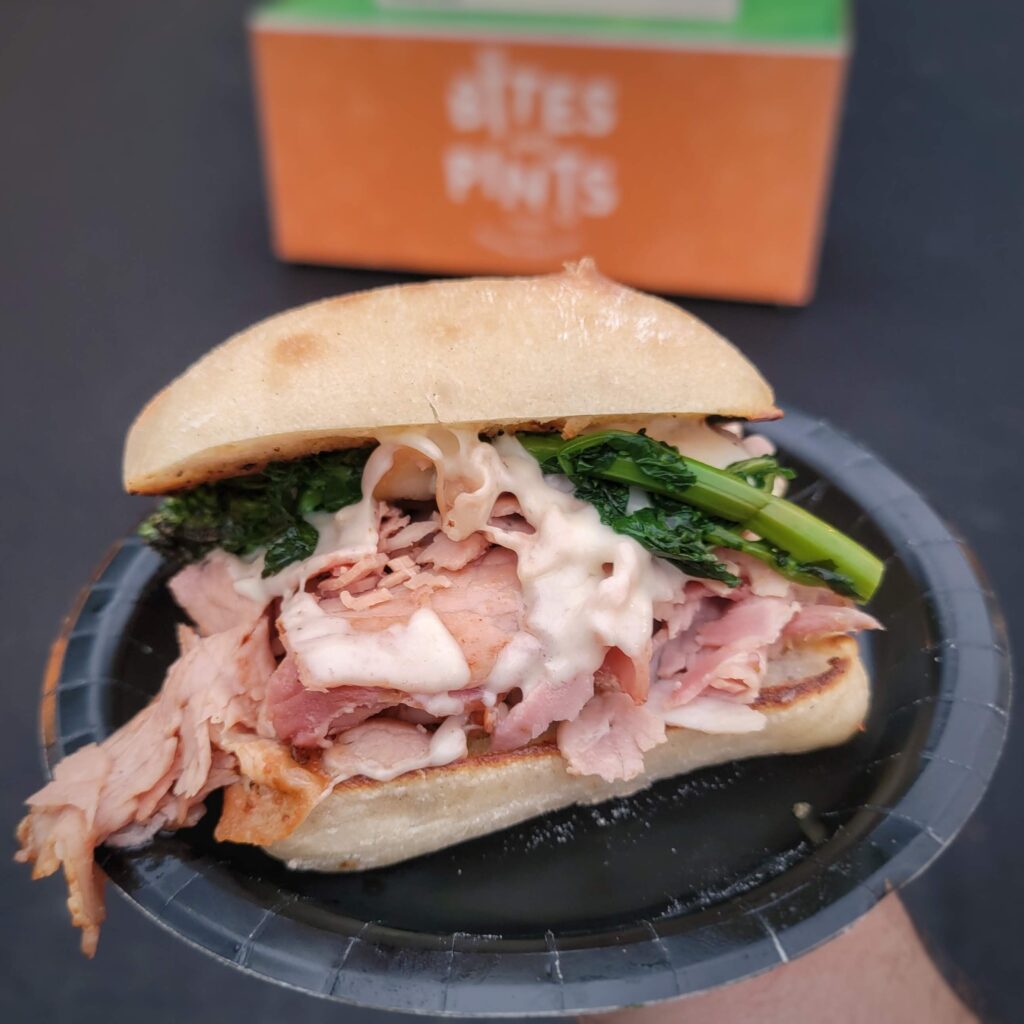 Carne Asada & Grilled Elotes – Mexican
I clearly love the more savory items. The marinated sirloin is shaved and placed on top of refried black beans on a crispy corn tortilla. This was another very filling item and just a little bit of heat. I really liked the combination of different flavors and textures on this one. I also got the grilled elotes so I could eat a vegetable. These were just as expected and delicious.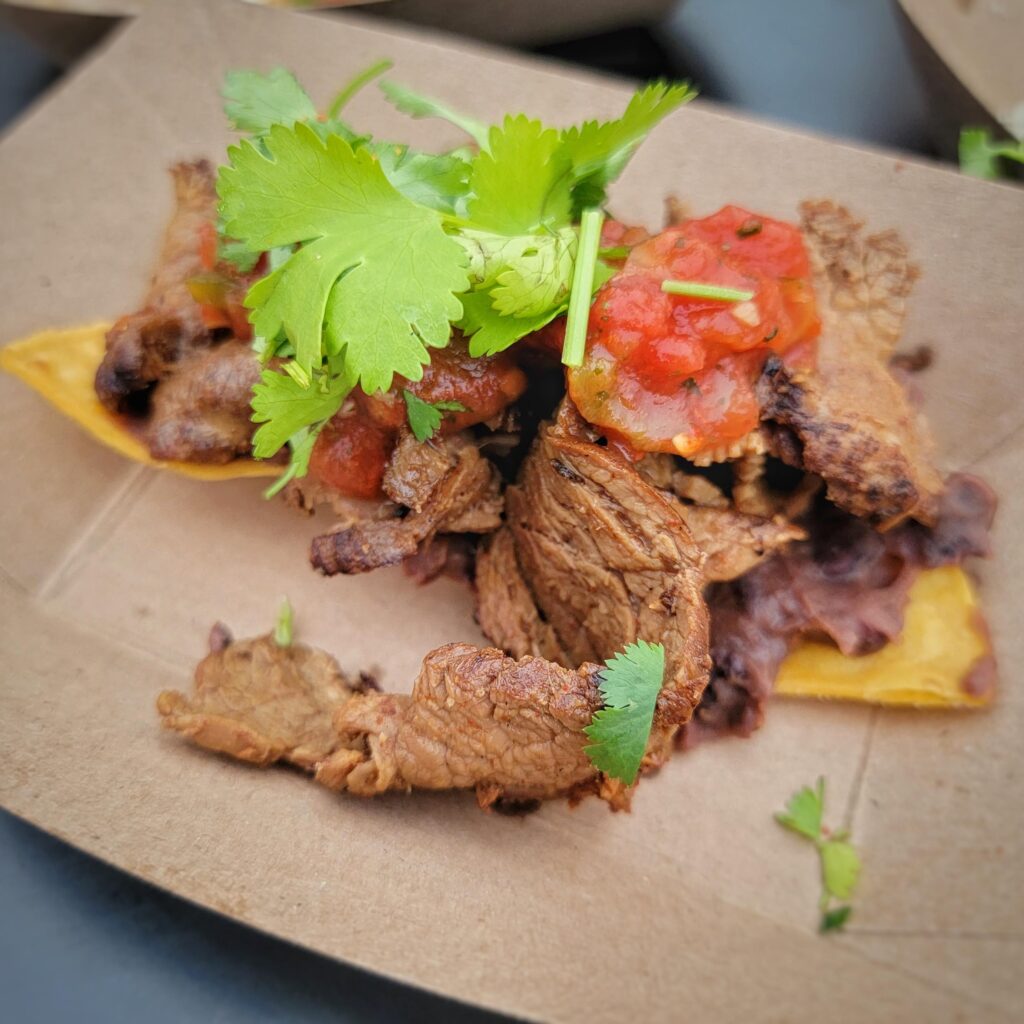 Jamaican Jerk Chicken – Caribbean
These grilled chicken wings were coated in jerk seasoning. The chicken was tender and peeled off the bone easily. They come served on a bed of steamed rice and black beans. This was another quick bite which was also very filling.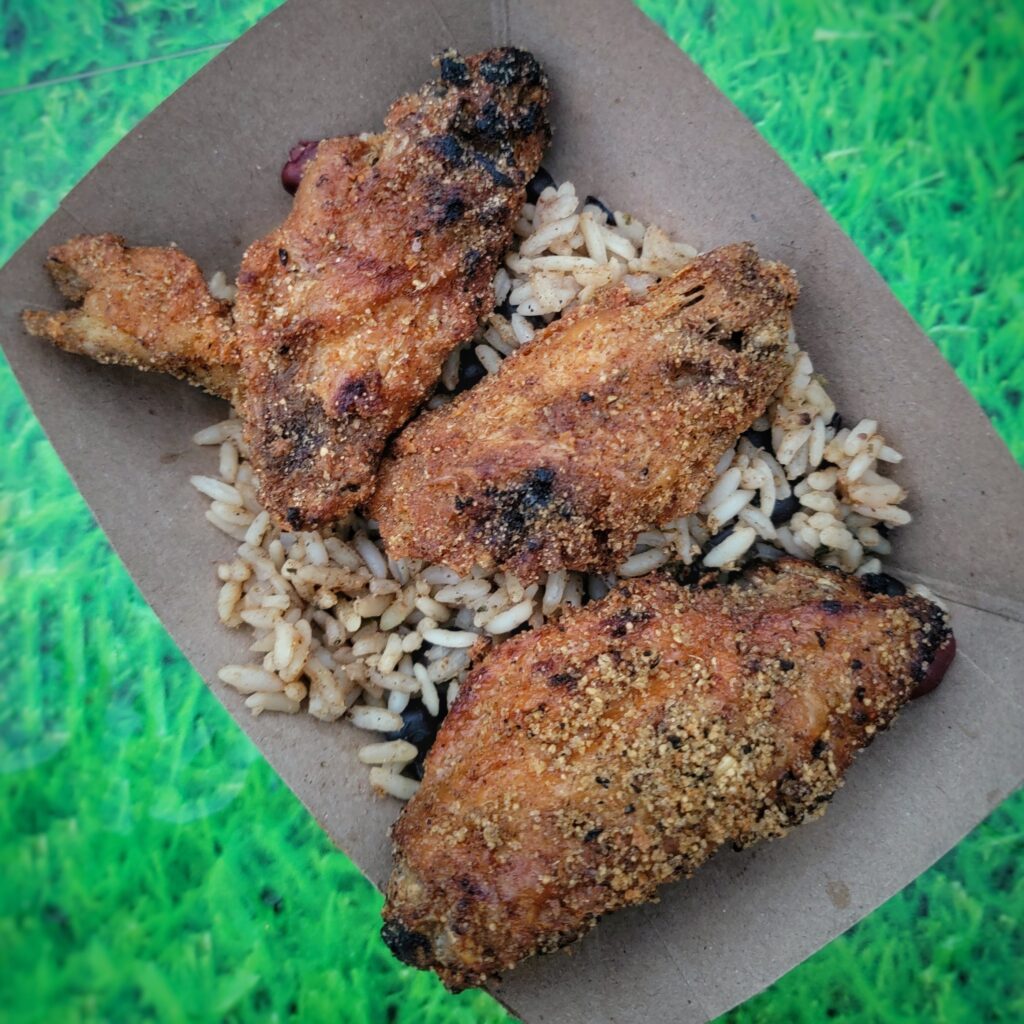 Overall I was very impressed by the food and the menu. There were probably a couple of things I wouldn't get because they weren't of interest. The Bites and Pints Food and Drink Festival is a great and tasty alternative to the typical amusement park food. I like that you can either buy a pass or purchase all food individually.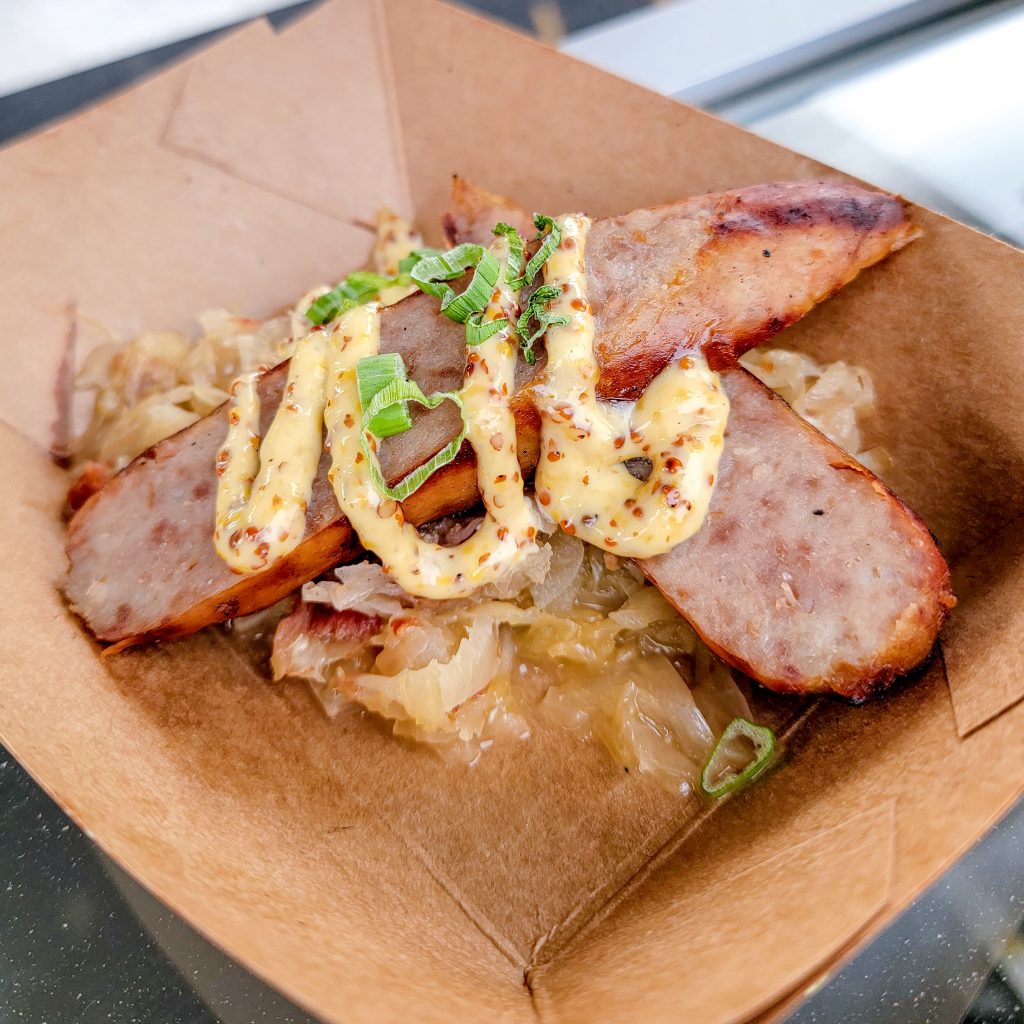 Although I finished my card in one trip, not everyone will be able to eat too much like me. The most rewarding part of my evening was getting my photo with Chef Kenny. I'm excited to add that to my Pittsburgh mascot photos.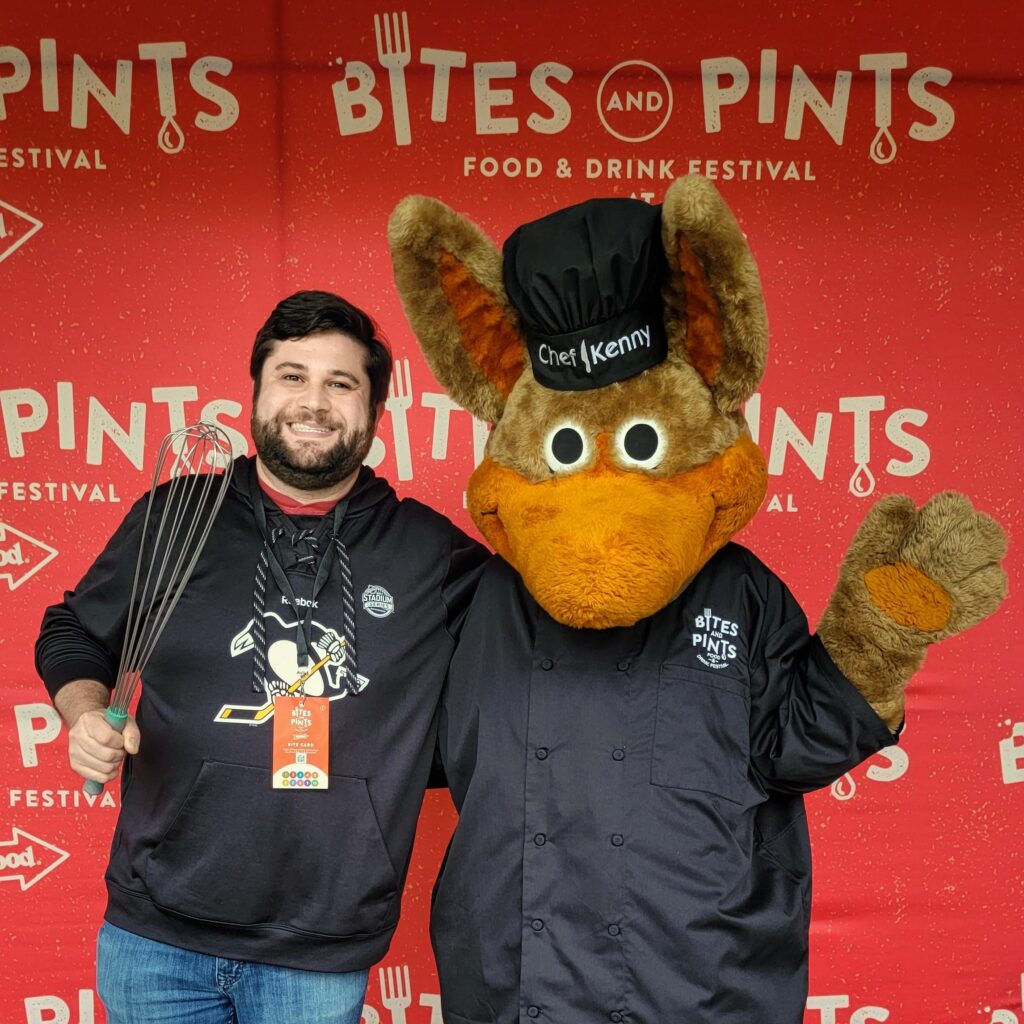 Unfortunately, I didn't get much time to ride the roller coasters that were open for the event. Obviously, I was focused on the food. My brother and I did get to race on Racer as the only riders. I was in the red car and won. I guess that means I'll just have to go back to Kennywood soon.
Learn more about Kennywood Bites and Pints on their website.
Bites from Previous Years
Yakitori – Japanese : 2021
These grilled beef skewers were delicious. They are marinated and grilled and then topped with a dijon glaze. These are a tasty and filling quick bite. Another great shareable as you will get two skewers with 4 or 5 pieces of beef on each. I devoured them quickly and considered getting a second order right away.