Gi-Jin has become one of my favorite restaurants in Pittsburgh over the last year. It's funny because I did not like sushi until sometime halfway through college. I wasn't even getting good sushi then. My common order was spicy tuna from the Panda Express Sushi at The Hub at Penn State. This really dates me since they replaced that years ago. Since then I can gladly say my taste in sushi has greatly improved. Now I'm eating unbelievable sushi at trendy restaurants like Gi-Jin by Richard Deschantz Group in the heart of the Downtown Pittsburgh Cultural District alongside their other restaurants Tako and Butcher and The Rye.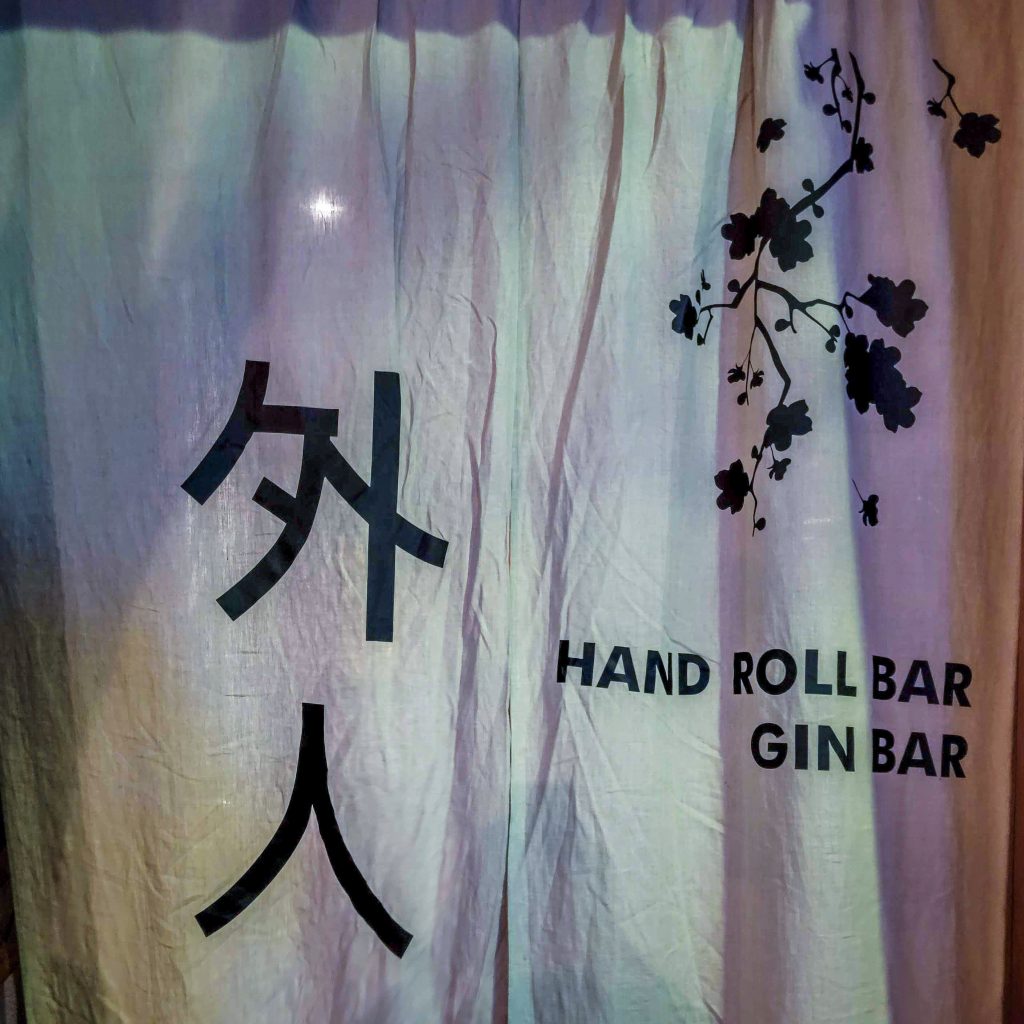 I remember first hearing about the Gi-Jin (pronounced like guy-gin) something like four years ago. The concept of an intimate dining experience with a menu of sushi and gin was not like anything in Pittsburgh. In 2019 it looked close to opening as a massive mural was being painted on the interior wall. Then the pandemic hit and pushed back the anticipated opening from March 2020 to April 2021. Once announced, reservations filled up fast. Luckily, I have a friend that regularly makes sure we have reservations as soon as they are available. Since then, I've eaten there several times now because the food is great. The restaurant has a great vibe and a great staff. Everyone is friendly, helpful, and knowledgeable. The food definitely leans towards the savory side or at least that's how I tend to order. Having now eaten there many times, here are some of the items I think are a must order or great for a large group to try. 
Shishito Peppers: Made with tonkatsu and toasted garlic-panko, it makes these mild sweet peppers very savory. It's also good to have a vegetable and perfect to share.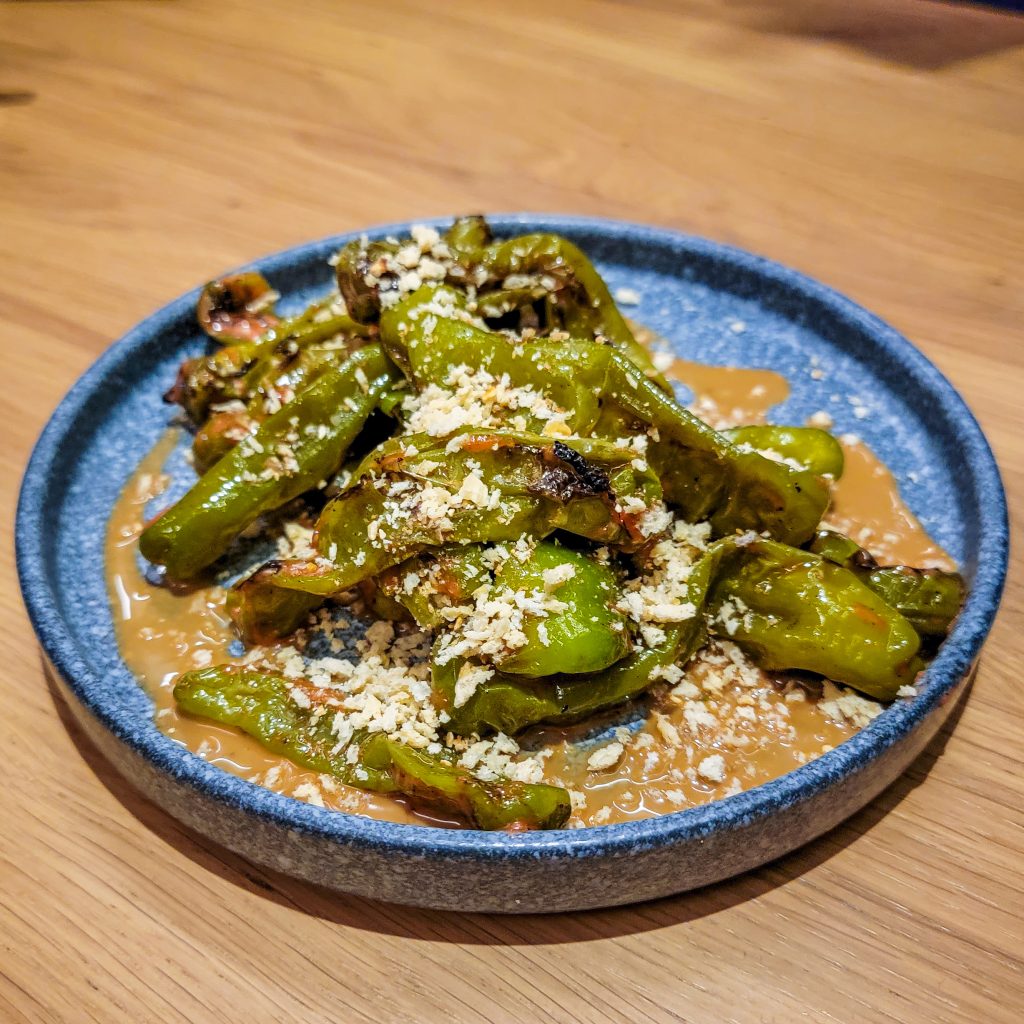 Spicy Tuna Rice Cake: I order this every time I'm there. It's bluefin tuna with sesame mayo and a spicy emulsion on top of a fried rice cake. It's a great mix of spicy and savory. It's a great starter to share with another person.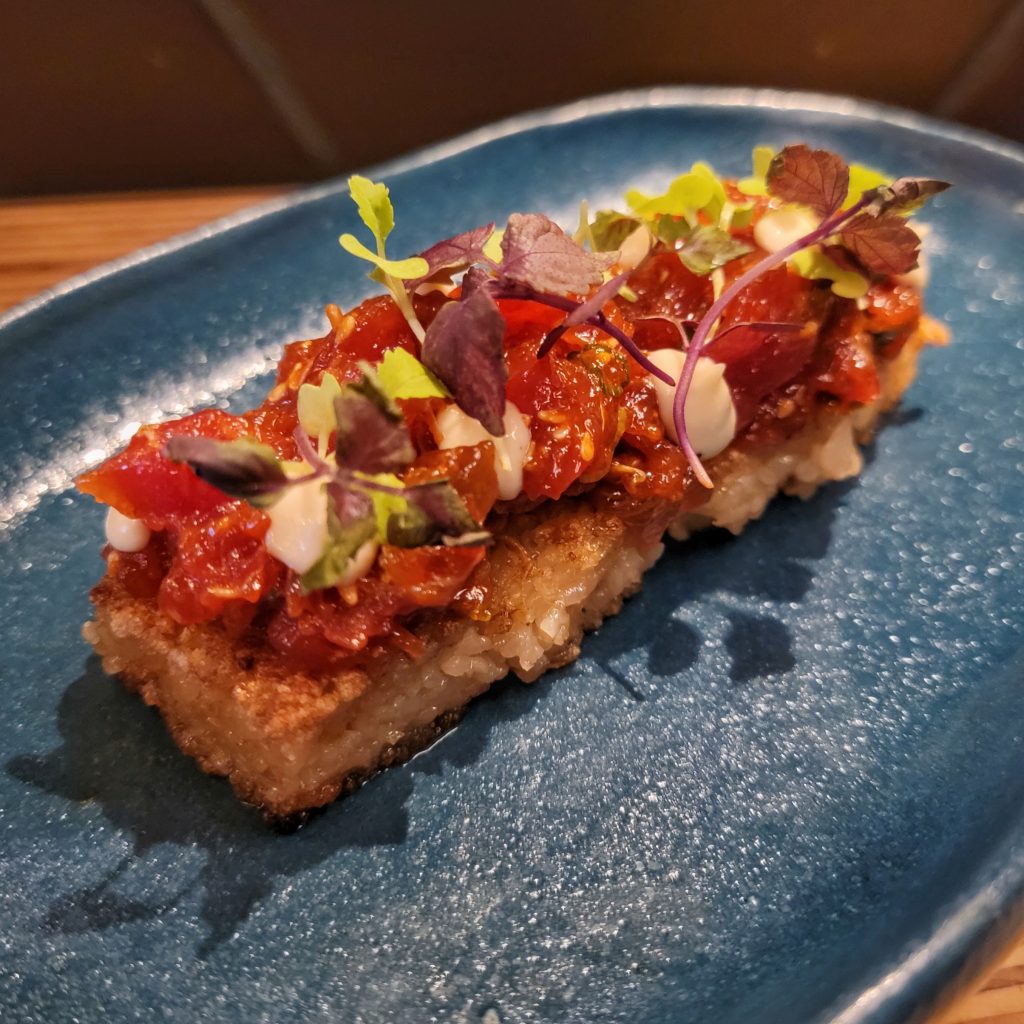 Tuna Pizza: This is incredibly innovative and I've never had anything like it before in a sushi restaurant. It's bluefin tuna on a scallion pancake with pesto, parmesan, and truffle oil. It is delicious but can be a little rich in flavor. I recommend getting it just to experience something you won't get someplace else in Pittsburgh.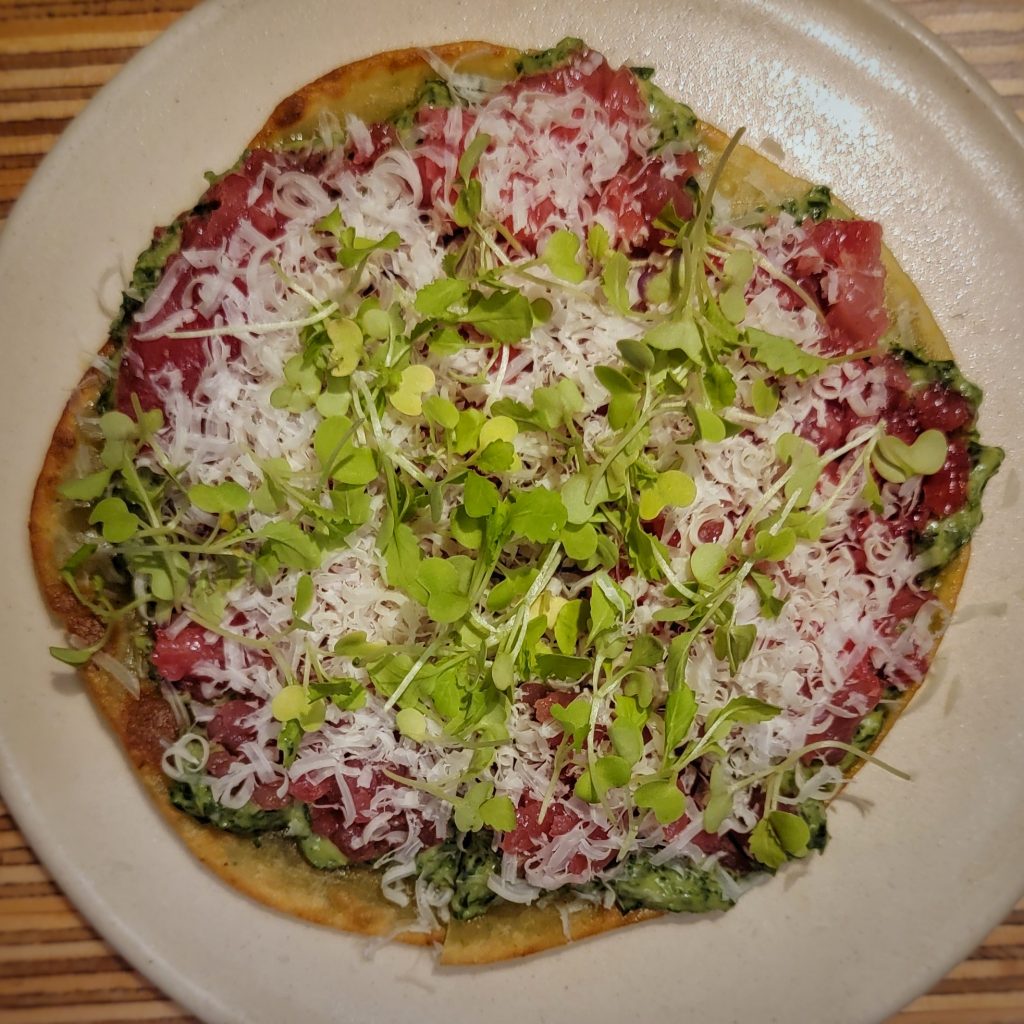 Beef Tataki: This one changes seasonally, but it will always be made with 45-day dry-aged strip steak teriyaki. I love this one because it's always savory with toppings to help make it sweeter or more balanced.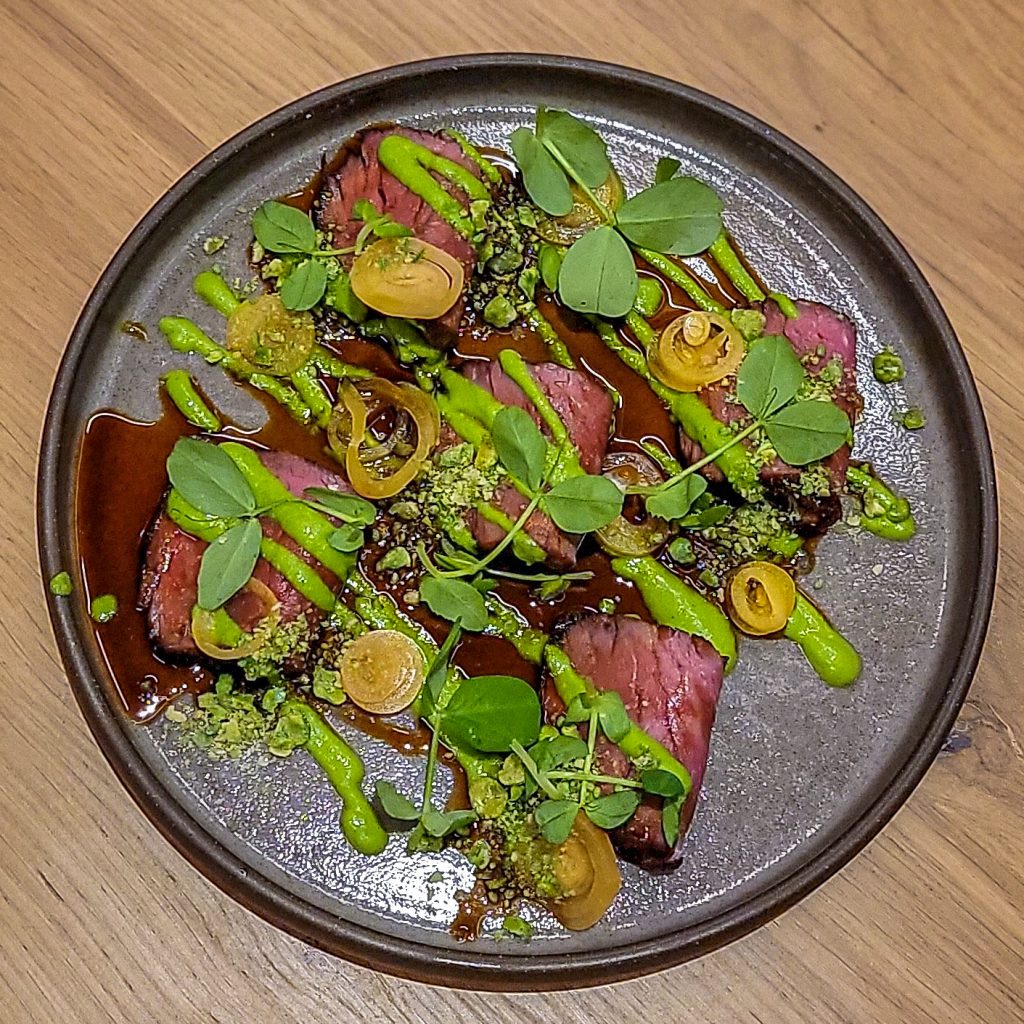 Sashimi Plate: This is a great way to try a little bit of many of the types of fish available. It's a beautifully prepared plate of salmon, tuna, hamachi, madai, tako, ikura and assorted kimchi. You can add on toro, scallops and uni to give a full experience.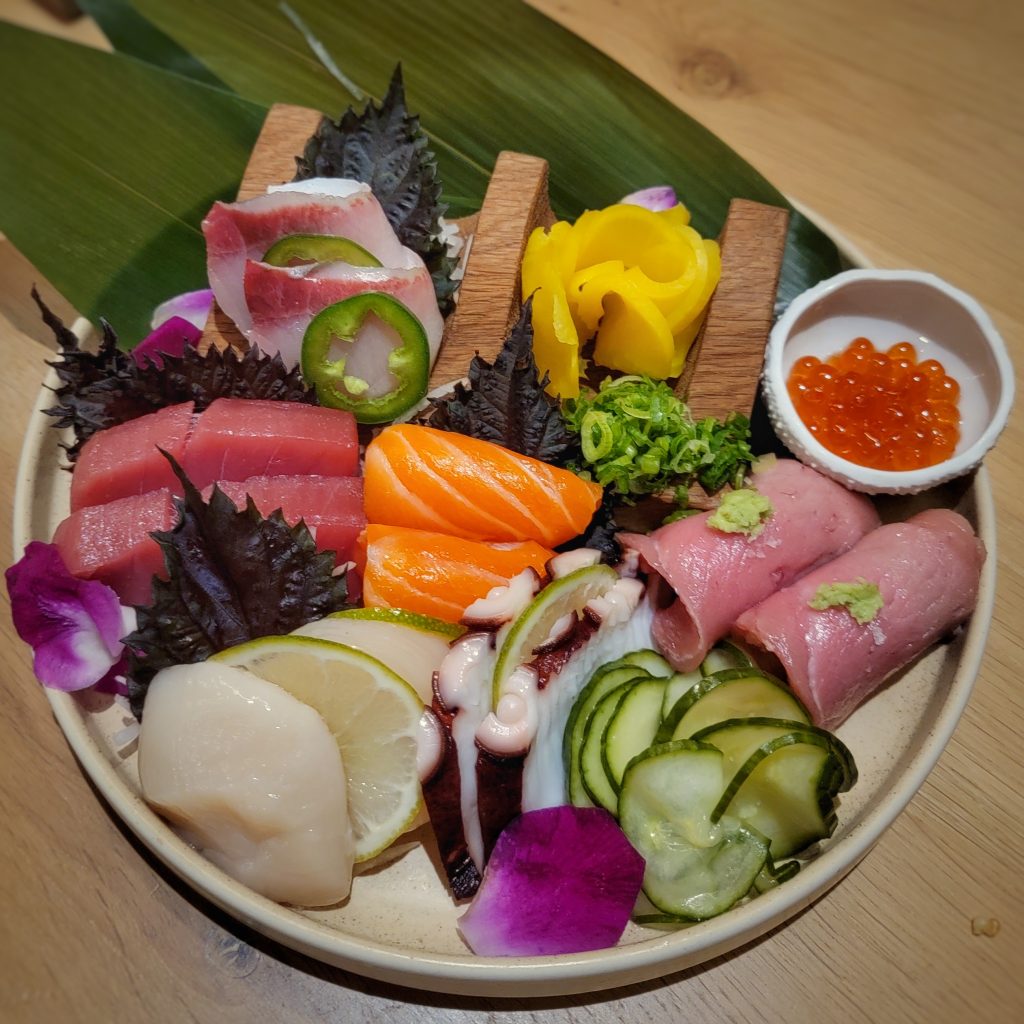 Toro Sashimi: This tuna is going to melt in your mouth. Toro is fatty tuna and delicious. It's perfect with just a little bit of fresh wasabi. Occasionally Kama Toro which is even fattier is available. Splurge and get it.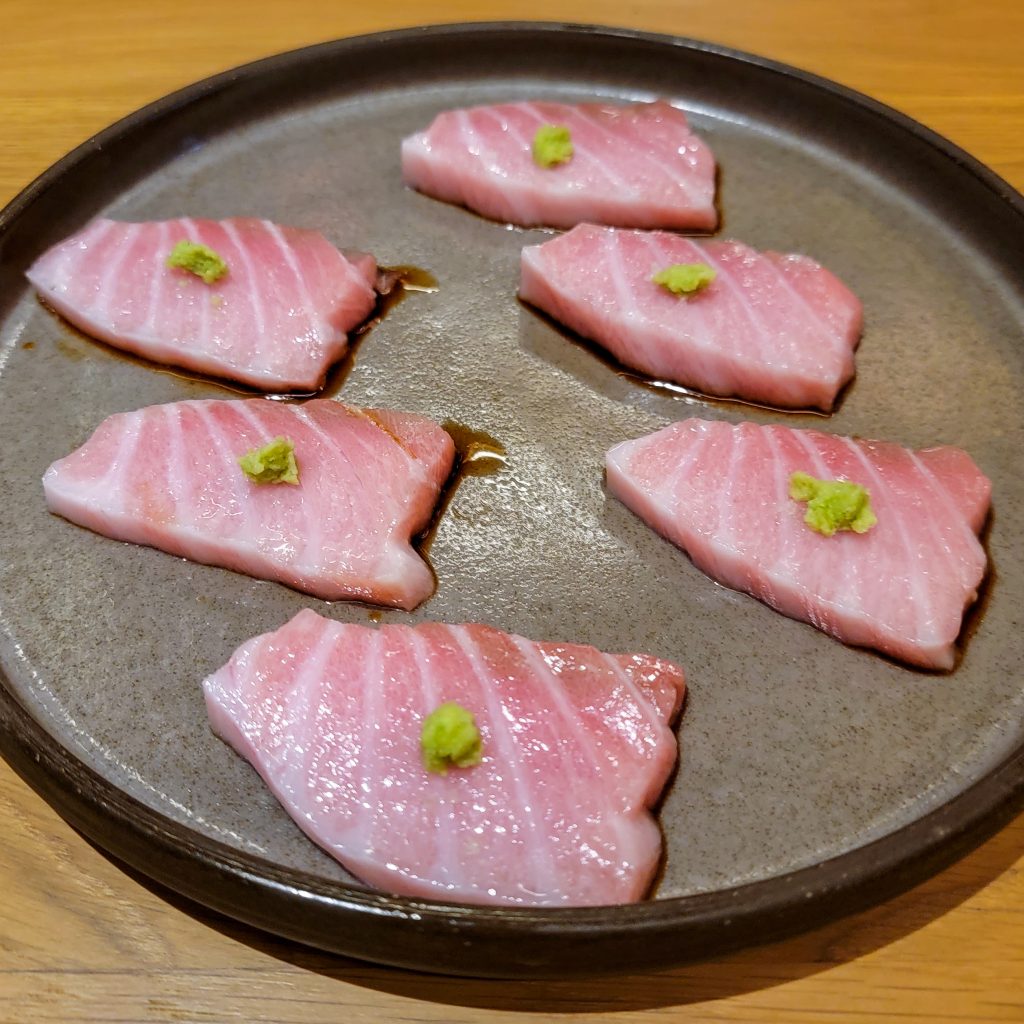 Salmon Hand Roll: This hand roll is made with salmon belly lightly charred with whipped goat cheese and fried onions.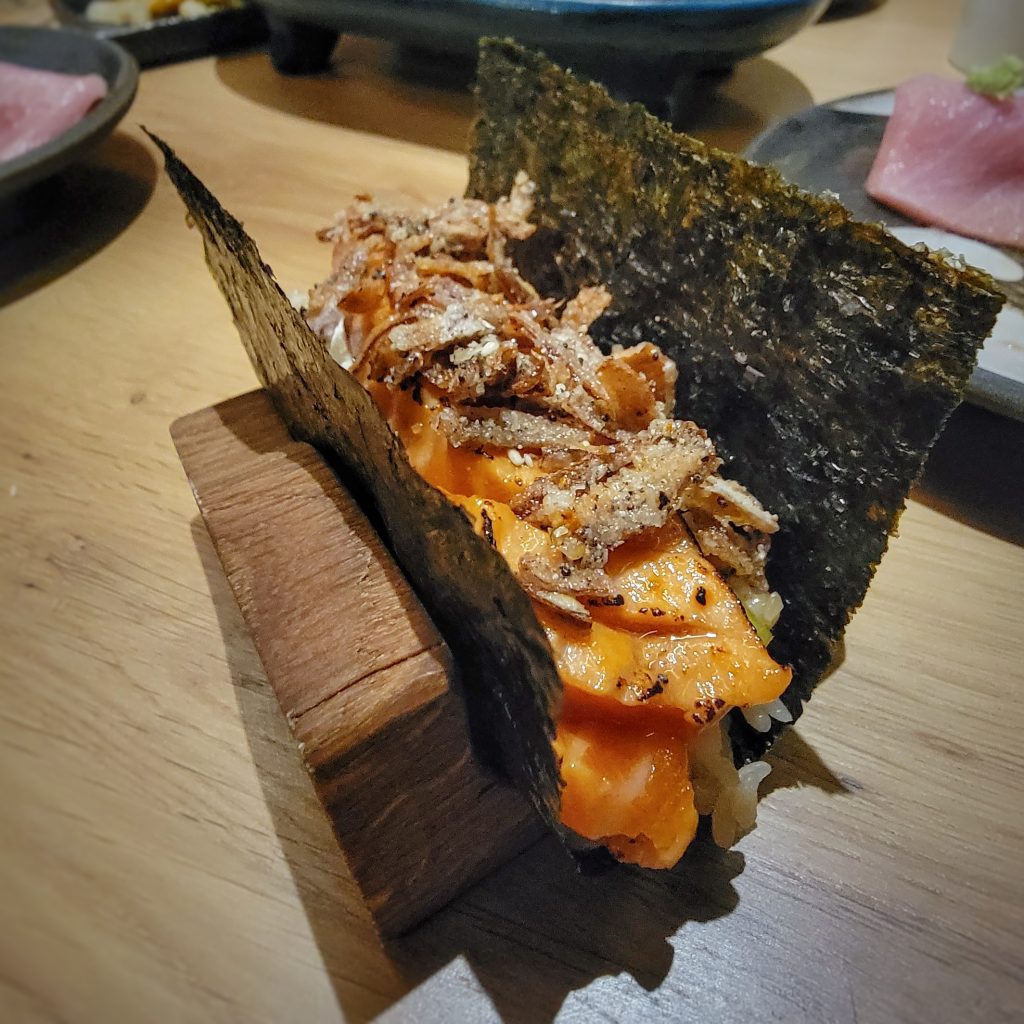 Silk Chocolate Tort: This is one of the best desserts I've ever eaten. It's baked chocolate custard with a soy caramel sauce and cookie crumble on top. It's incredibly rich and decadent. I recommend sharing this as it is difficult to eat on your own due to its richness.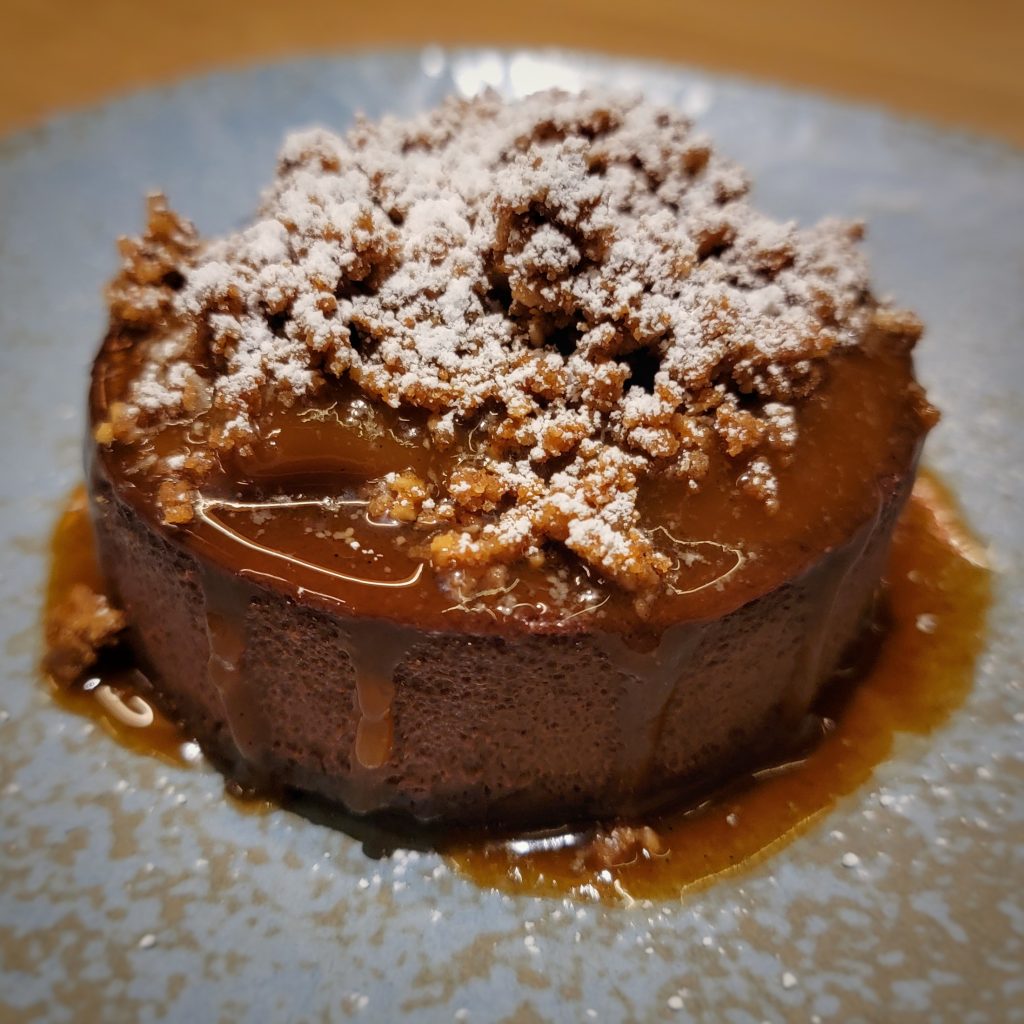 Any Specials: Almost every time I have been there we have ordered at least one special. These have ranged from rare or expensive cuts like the kama toro or A5 Wagyu to creative dishes like a lobster maki roll or char siu pork pizza. These have always been fantastic choices to add tour meal and totally worth it.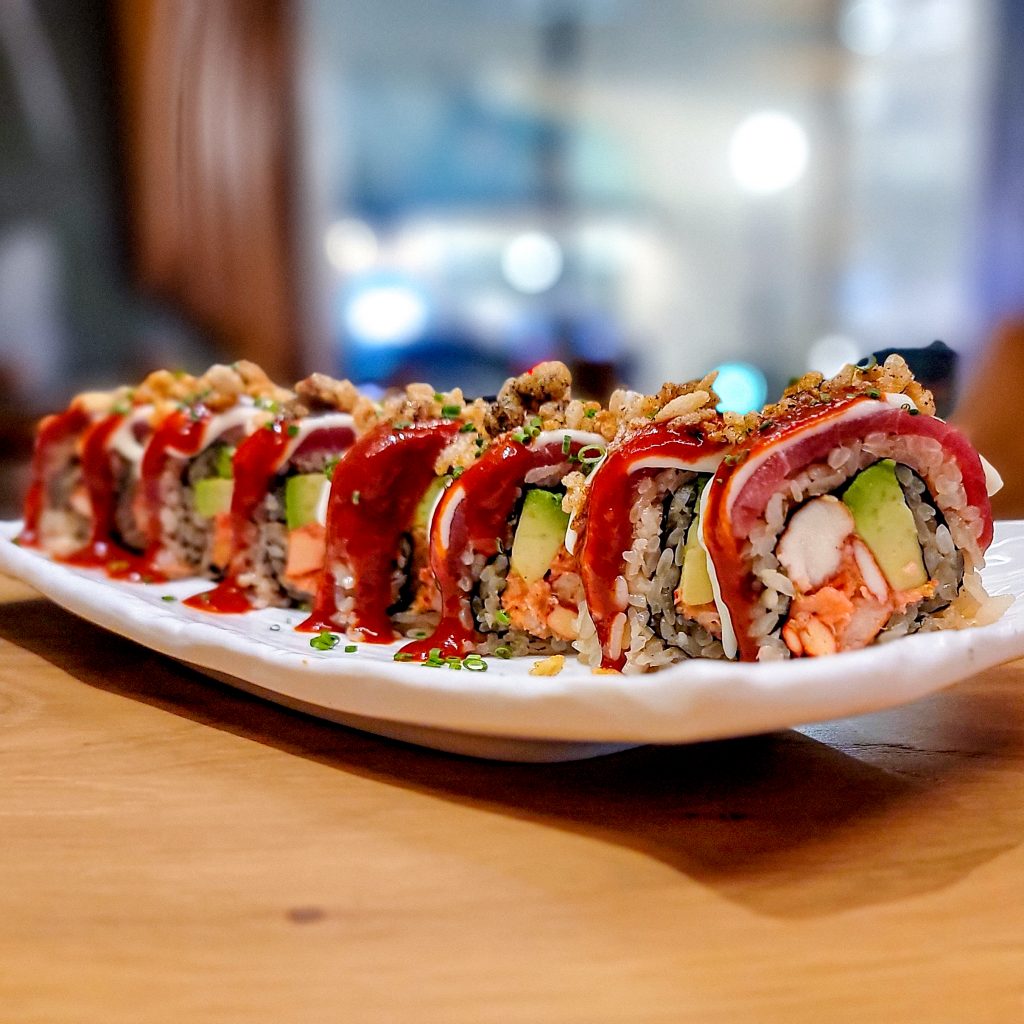 Gin or Japanese Whisky: They have a great selection gin and Japanese whisky. Try something a little different. They will definitely recommend something for you. Likewise for sake and cocktails.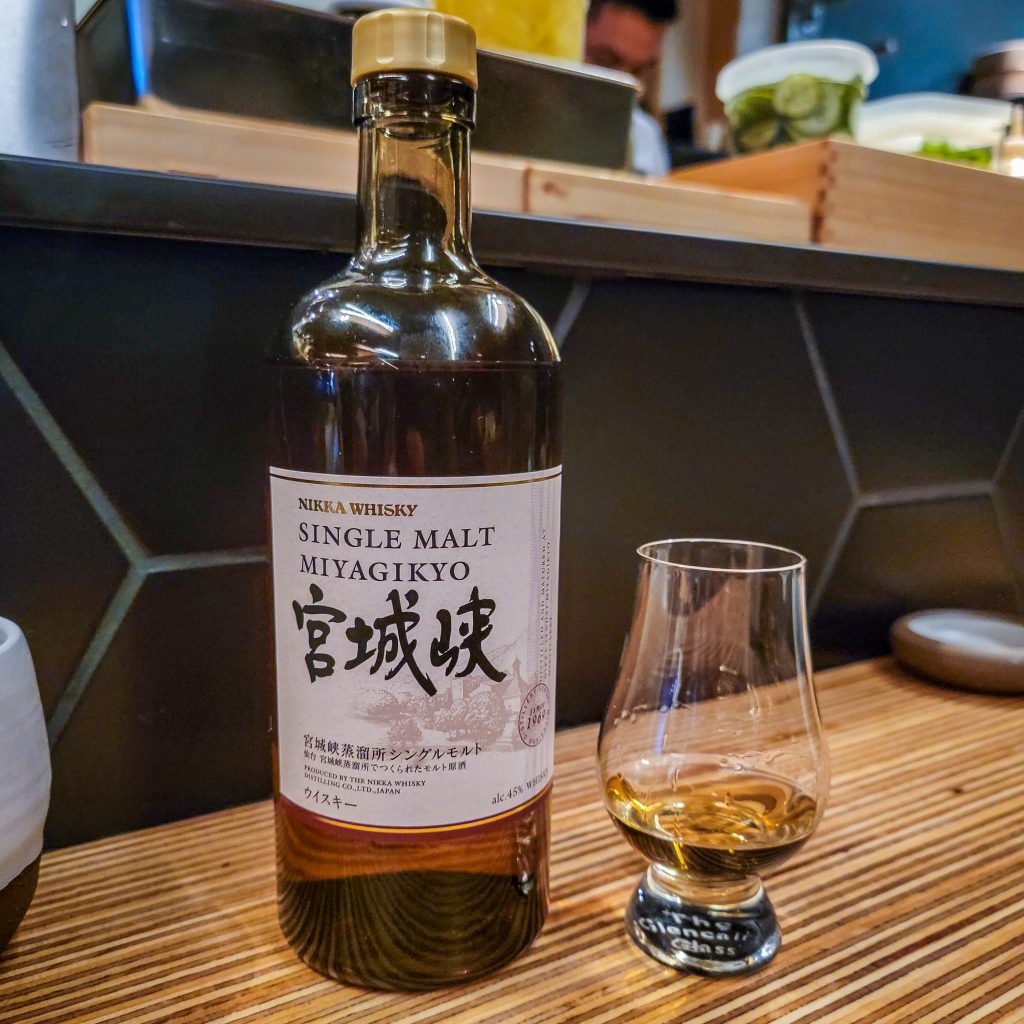 Kitchen Love: This is not food. This is just a way to show additional appreciation to the culinary and dish staff. They deserve it.
I could probably go on and on about the great things to eat at Gi-Jin. I have eaten so many amazing and interesting meals. It can be a little pricy, but it's worth it. If you love sushi, make reservations soon or keep an eye out on Instagram for last minute openings.
Gi-Jin is located in Downtown Pittsburgh at 208 6th Street Pittsburgh, PA, 15222