Working in downtown Pittsburgh, I shouldn't struggle trying to pick a place to go to eat for lunch. However, I do with regularity have trouble thinking of a restaurant to eat. When I do go out for lunch, I have a tendency to eat at the places within a block of my office. This mostly because of time or it's too cold to walk further. Lately though, one of the places I have been making exception to this one block rule is Bae Bae's Kitchen. If you haven't heard of this restaurant, you should make an effort to get there soon.
Bae Bae's Kitchen has quickly become one of my favorite lunch spots in downtown Pittsburgh. Bae Bae's specializes Korean inspired healthy fast casual food. That description is a mouthful, but when eating their food, you'll be having a mouthful too (I promise no more corny wordplay…maybe). Downtown Pittsburgh was really lacking a fast casual option that wasn't a burrito. The ordering concept is very simple. You select a base, a protein and a side and there are extras that can be added on too. I will say so far, I haven't had all of the different combinations, but what I have eaten have been fantastic. It can be a little overwhelming at first to select a meal since everything looks amazing and freshly made. Food is frequently coming out of the kitchen to refill the serving line and with how busy they can get, nothing sits for very long.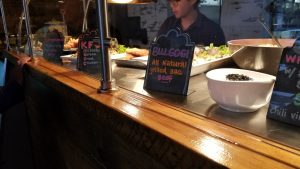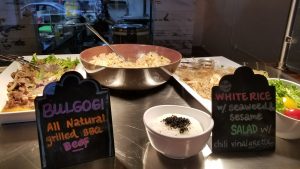 On my first visit, I ordered the combination of bulgogi (beef), stir fried glass noodles and kimchi. It also came with a side salad and a couple pieces of sweet potato tempura. This takeout box was packed. Bae Bae's gives a very generous serving of food. The bulgogi was flavorful and tender. The glass noodles were deliciously stir fried. The kimchi was spicy and sour, but also had a hint of fish sauce. The tempura sweet potato was so crispy on the outside and so soft on the inside. I was sold after this meal that Bae Bae's Kitchen would be a permanent fixture in my lunch rotation.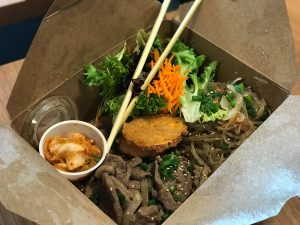 Since the first visit, I usually bring someone new with me to the restaurant because they see my excitement about eating there and want to try it too. I usually change up my proteins and sides, but stick to the glass noodles because I love stir fried noodles. I've eaten their Korean Fried Chicken which is super crispy fried organic white meat chicken. I've also really enjoyed the DaeJi which is roasted pork belly with vegetables and might be some of the best pork belly I've eaten. Friends let me sample their orders of the short rib and tofu and both are amazing.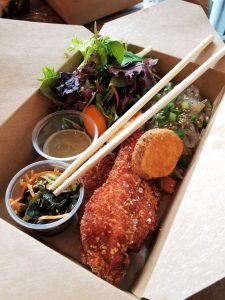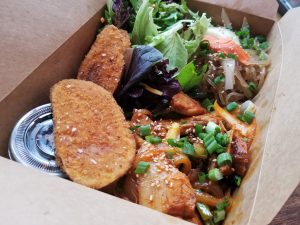 In term of extras, I ordered the crab rangoons and they were great. One of the nice things about Bae Bae's Kitchen is the menu changes a little. The menu get switched out depending on some of the season and availability. So I know there is going to be so much more for me to try as I keep going there.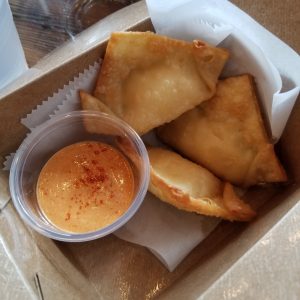 I still also need to try the coffees and teas. Bae Bae's offers an assortment of different beverages including Vietnamese coffee and Boba. These are usually not things I think to get with my lunch so I will need to make a mid afternoon stop back sometime.
I'm very happy to see a restaurant like Bae Bae's Kitchen in downtown Pittsburgh that has brought something different and something fast to the neighborhood. Downtown needed more diverse and delicious options for quick meals and I'm glad Bae Bae's is providing just that combination.
Bae Bae's Kitchen is located at 951 Liberty Ave. in Downtown Pittsburgh.