Dinner parties if executed correctly can be a fantastic experience. I really wish I got a chance to host them more. I'm lucky if I get to host three or four mediocre dinner parties a year. So I was really excited to find out about Duncan Street Dinners. I had heard of a monthly dinner party at a home, which I could reserve a seat, but never got around to attending. A few months back, Matt of @morningafterpgh suggested we do a dinner with local Pittsburgh foodies. I loved the idea and so did Dan and Kendyl who run Duncan Street Dinners.
Upon arriving at the home in North Side, we are warmly greeted and offered a signature cocktail for the evening. This night was a gin and watermelon based cocktail with so many other things in it I cannot remember. It was not too sweet, which can be an issue with many fruity cocktails. I could have probably drank it all night. We continued with small talk in the living room and getting to meet other foodies I did not know until we were ready to start dinner.
The really cool thing about the dinner that night was we all had one main thing in common. We all loved posting our food to the internet. This helped move our conversations along throughout the night. However, Duncan Street Dinners actually encourages strangers to have dinner together and make new friends. The idea is that when you are registering for the dinner, you might know someone who attended with you, but there are a whole group of other people who can potentially be your new best friend.
We all took our seats at the 12 person dinner table eager for our first course of food and our first pours of wine. If you love to drink wine, I would not recommend driving to this dinner. 5 courses meant 5 glasses of wine and the pre dinner cocktail. That adds up. Our first course was a cornbread panzanella topped with surimi (imitation crab), strawberry, avocado, cucumber, charred greens and an herb vinaigrette. What I liked most about this course was the difference in textures. The cornbread gave a crunchier texture combined with the surimi with its softer and stringy feel.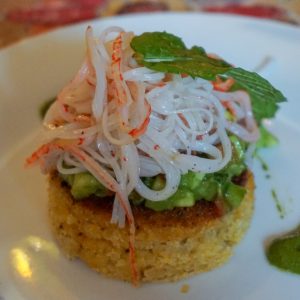 Going back to our common interest, when every item came out from the kitchen, we all pulled out our cameras and phones to snap photos from all different angles before we finally stop to taste the food. And here's the thing, all this food is beautifully plated. Even if we weren't all foodies, it would be hard to resist taking a photo of at least one of these dishes.
My favorite was the second course. Not that it tasted the best of all of them. Because they were all great, but I felt this was the most unlike anything I had eaten before. It was a salmon tempura on a bed of black tea boiled eggs with green apple, beurre blanc (butter sauce) and tarragon. The salmon tempura was so light and the batter stuck to it so well. The eggs had a brown stain to them from the tea and had a light smoked flavor from it. This is the one dish I really want to recreate at home, but I know I will try over and over again and probably not do it anywhere near as well.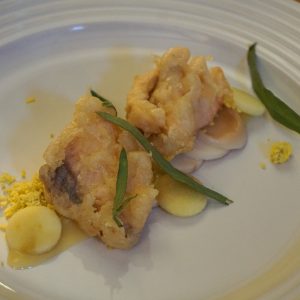 The next course was a caraway-crusted pork belly on a bed of black sticky wild rice and corn pudding and sprinkled with fresh oregano. The pork belly was so tender, but this dish also had competing textures with the caraway seeds. The rice and corn pudding had a subtle sweetness that went well with the savory pork belly and caraway. I keep saying I need to do more pork belly at home. It's like the new bacon, in trend, not in product since it's the same cut of meat.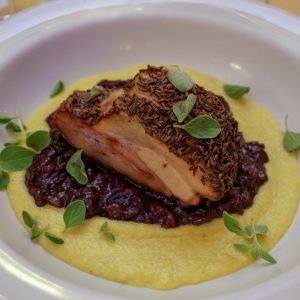 At this point, we have been served three glasses of wine. Conversation is flowing. We are talking about the foods we love. The restaurants we all seem to love. Learning about the foods we cook a home. We even talked about some exciting new restaurants opening in the near future.
Now for the main course. Each plate so far has been small, we joked of needing a second meal after. In reality, we have all already eaten enough to probably be satisfied for the night and yet we still have a main course and dessert. The main course was grilled chicken thigh, potato and romaine lettuce kebabs with chimichurri, grilled red pepper bread, grilled summer squash with goat cheese and pine nuts, and a snow pea salad. I normally do not like dark meat chicken. I was not exactly excited about this dish going into it, but I was blown away. The chicken was so tender and the whole kebab seasoned and grilled to perfection. I ended up eating three kebabs of a type of chicken I don't usually eat, so I must have liked it. Grilled lettuce was also an interesting concept. It gives the lettuce a different texture. I also really like the snow pea salad. It was a really creative way of serving a side vegetable that normally is steamed or boiled way too much.
We finished the dinner with dessert; a kefir lime ice cream with dehydrated watermelon and candied salt pistachio. This was a great palate cleanser for the end of the night. The dehydrated watermelon was so flavorful. Each tiny piece was like a full one inch cube before dehydration. The creamy, salty and sweet together was delicious. It was also paired with a digestif wine tasting very much like licorice. Many people at the table were not fans since it reminded them of Jagermeister and the bad things said liquor brings. I rather enjoyed it.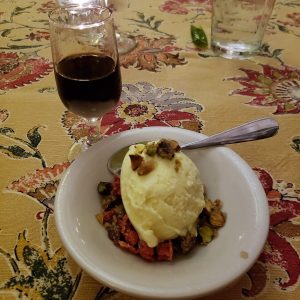 Overall for the evening, Kendyl and Dan did an amazing job with dinner, the atmosphere and staging the dinner experience. I was so glad I got to experience it since it was the last one to take place in a home. Duncan Street Dinners is moving on to bigger things as Duncan Street Sandwich Shop. They will be opening in Millvale on North Ave. very soon. The dinners will come with it in the near future after the shop hits its groove. I look forward to having the sandwiches and hopefully getting to attend another dinner in the future.