It's been months since I wrote about a specific meal at a restaurant. I've been mostly writing about food events and cooking experiences for the last 6 months, at least when I feel like writing. I recently got to eat at Aqueous, a very nice restaurant at Nemacolin Resort in the Laurel Highlands. This dinner was a rather impromptu experience. I was out of town when  Jeremy of Discover the Burgh offered me the opportunity to tag along to dine at and review such a nice restaurant, I moved up my plans to get back to Pittsburgh ASAP. I'm glad I hurried back because this was one of the best meals I've eaten in months.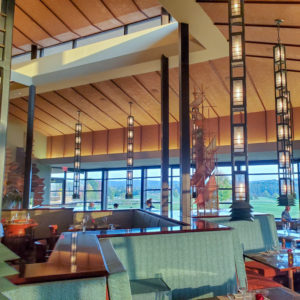 We left Pittsburgh during rush hour to drive out to Nemacolin. The drive is tedious at first but much better the further you get away from the city. We arrive at Nemacolin resort to realize Aqueous is not at the main lodge, but at the Falling Rock at Nemacolin. This is a beautiful Frank Lloyd Wright inspired building that overlooks the golf courses and the mountains in the distance. It is also notable that Aqueous is recognized regularly with both the AAA Four Diamonds Award and Forbes Four Stars Award. We were seated to be able to view the upcoming sunset. It was fantastic getting to watch the day turn to the evening as we ate through our courses.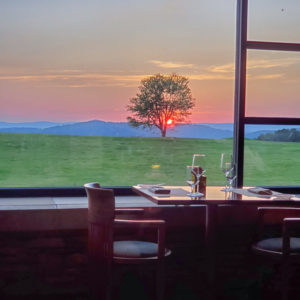 Aqueous has a sommelier on staff to make suggestions about how to pair wine and other drinks with your meal. We started by asking what might pair with our possible meals. Aqueous is primarily a seafood restaurant and she recommended different white wines. We opted to start with cocktails instead. I was happy to see two of the cocktails on the menu were made with locally distilled liquors from Maggie's Farm Rum and Wigle. My first cocktail was the Honey Bourbon Bee, which was a smooth and refreshing whiskey cocktail. It also gave me a chance to get artsy photographing it as the sun went down in the background.

When it came time to order and throughout the evening, our server was fantastic. She was personable and gave great recommendations on what to order. As mentioned, Aqueous is primarily a seafood restaurant. They have fresh seafood flown in daily. We were also told the chef loves to work with scallops. We decided to order a bunch of different seafood dishes as starters and main courses. They do have beef, chicken and vegetarian entrees on the menu as well that sounded pretty great, but we stuck to the recommendations.
I always appreciate a meal with someone else writing a review. Both of us were taking a bunch of photos and no one judging us at our table. We also had lots of questions for the staff and lots of notes to take about the meal and experience.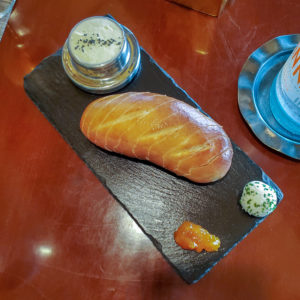 We picked for our starter the Bloody Mary King Prawns with grits, pork belly, and garden salsa. As we were waiting, we were first given bread with butter, marmalade and cheese spreads. It was nice to have something different than just the traditional bread and butter. We were also surprised with a scallop ceviche served on a half-shell compliments of the chef. We were told he liked to work with scallops and this starter shows why. He took a single scallop and thinly sliced it and served with risotto, roe and jalapeno jam. Not only did this show off a combination of flavors, but was an example of great use of texture. The scallop was so soft it hardly needed to be chewed. Then we moved on to our ordered starter, the prawns. They were served with heads and tails still on, which might bother some people. They came off very easily. The prawns sat on a bed of grits with the pork belly mixed in. The prawns were soft and a little spicy with the bloody mary seasoning and garden salsa, but offset so nicely with the savory flavor of the grits and pork belly. I could easily eat a giant bowl of the grits and pork belly.

Our main courses arrived not too long after the starters. We ordered the pan roasted scallops and Seared Ahi Tuna. The Scallops are served in either orders of 4 or 6 and accompanied by herb gnocchi, hummus and black truffle beurre blanc sauce. The scallops were much larger than we expected. However, no complaints that we ordered 6. They had a light crispiness on the outside and soft on the inside. The gnocchi was also pan roasted with the scallops making it crispy which was a nice change from the usual boiled gnocchi. The tuna had a nice sear on the outside and still perfectly rare on the inside. The shiitake mushroom ramen was a nice change from traditional side dishes. This was also when we realized this would be a night of eating too much. We still had dessert coming.

For dessert we opted for the Milk & Cookies. The dish included house made chocolate chip cookies, house made cookie dough ice cream, white chocolate mousse and fudge sauce. I think my favorite part of this dish was small chocolate covered malt poppers topping the ice cream. I probably ate much more of this than I should have, but it was too good not to try to finish it. Jokingly, Jeremy suggested to our fantastic server I deserved an award for eating so much. She returned with our after dinner refreshment with "Good Job" written in chocolate on the plate. This was a nice touch by Aqueous staff.
I generally don't travel far for my food. I tend to keep it to a half hour max. However, I'm glad I made this trip for this meal. Everything was incredible. I would highly recommend Aqueous for a special occasion dinner. I know if I get to Nemacolin for a weekend I would definitely want another meal there.