Most people may not think of food from Eastern Europe as comfort food. However, I do. I grew up eating with a family of Russian and Hungarian descent. Brick Shop is featuring Eastern European style dishes that I was very excited to try out this menu. Brick Shop, the second concept from Chef Brandon Blumenfeld located on the ground floor of the Tryp Hotel in the Lawrenceville neighborhood of Pittsburgh. The restaurant is a little more bespoke with a smaller seating area, dimmed lighting and a fireplace. One thing to note is that Eastern European style dishes are usually on the savory and hearty side. They are heavier on the meats, root vegetables, legumes, and grains. All things that are easier to grow and raise in those regions.
Starting with the bar, I've tried out three of the cocktails. I got a gin drink made with celery, a rum drink with citrus flavors and a vodka drink served up with pear. They were a little different than I was used to drinking, especially the one with celery, but refreshing It was also a nice change from the usual cocktails at so many places.
I've also tried three of the starters. The Black Bread was coated in butter and currant jam for a sweet, savory and salty combo. The fish toast was a nice twist on a bagel with lox being made with toasted bread, lox, trout roe, sour cream, capers, red onion, and watercress. I could sit eating both of these just on their own, but then I wouldn't have gotten to eat everything great to follow. The most amazing one, and possibly one of the most delicious dishes I've ever eaten was the Khachapuri. This is bread with a pool of farmer's cheese, butter and a poached egg in the middle. This is all mixed together at the table and you tear off pieces of bread for dipping. This was as good as you can imagine a cheesy, buttery dish could taste.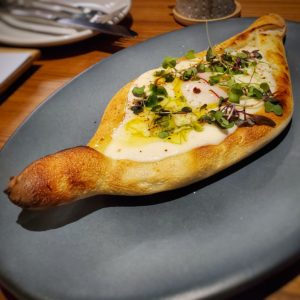 For dinner, I've probably tasted a large portion of the menu at this point. I think the only food item shared from Over Eden is the pickled vegetables. We also tried the sauerkraut which was made with paprika giving it a little spicy kick. One of the most interesting dishes is the Pelmeni Dumplings, which are pockets of pasta filled with mushroom and leek in a red sauce with a sour cream drizzle. I could not stop eating these. They were rich and savory. The Haluski is a perfect Polish dish and if it weren't for the fact it wasn't my dinner I would have eaten it all. The "Romanian" Steak with sunchoke, black garlic and schmaltz was a strong mix of savory flavors. The Brick Chicken is very similar to most roasted chicken recipes and served on a bed of farro grains. The Cholent was a little different than I had in the past but loved that it was made with a giant circle of kishka which is kind of like an Eastern European version of sausage made with meats and grains. I do not know of any other restaurants serving this in Pittsburgh. I was delighted to eat the cholent with the kishka and probably ate a whole plate of it on my own. The final item we tried was the potato kugel. I grew up eating different types of kugel all the time. A kugel is basically like a pie or a casserole. This potato kugel is savory and hearty and a great side to all these other savory dishes. For the vegetables, I tried the golden beets and collard greens. The beets were made with tangerine, shallots, and ricotta creating an earthy and sweet combination.
Brick Shop is one restaurant you must save room for dessert. Casey Renee of Confections PGH is making the desserts here too. We tried the Russian Honey Cake and the Chocolate Rye Caramel Pie. The Russian Honey Cake is a layer cake in which each layer is coated multiple times in honey to allow it to soak it. Between each layer is a sour cream frosting. This is a delightfully sweet finish to this dinner. The Chocolate Pie is perfect for any chocolate lover.
This is quickly becoming one of my favorite restaurants in Pittsburgh. The savory dishes are just incredible. The Eastern European theme is something that is so different for Pittsburgh and I am really enjoying it due to my family background. I definitely recommend giving Brick Shop a visit.
Brick Shop is located at the Tryp Hotel in Lawrenceville at 177 40th Street.