Well, it's the end of 2019. I'm now finishing up two and a half years of eating too much. Just like every year, I'm reflecting on what I've done and eaten this past year and everything I would like to do in 2020. I posted a similar year-end recap at the end of 2017 and 2018.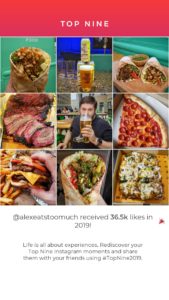 Over the last year, I posted over 200 pictures to Instagram, which is down from last year. You all Liked those posts over 36,100 times, which is also down from last year, but I posted like 80 fewer posts. My top posts for the year mostly contained burgers, pizza, beef, beer, shawarma and me.* I also posted more photos of me in 2019. I hope to do that even more in 2020 so I hope you like seeing my face.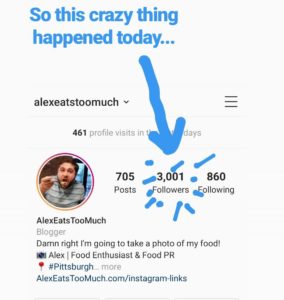 This past year was spent eating at more interesting restaurants, meeting with other foodies and bloggers and attending cool food events. I think I did just OK with my goals this year. Not great, but OK. Let's take a look at those 2019 goals.
More Followers – I had a goal of 3,000 by year-end. I'm just over 3,000 while I'm writing this. Success!

Write More – Nope. I wrote less. I only had 11 blog posts in 2019, not including this recap. I had 12 last year not including my recap. I had a massive gap in writing from Mid April until the beginning of September. I was really consistent in writing at the beginning and end of 2019. Too bad I didn't keep that up over the summer. I had things I could have written about too. Oh well.

Collaborate more – This I definitely accomplished. I think I got dinners and drinks more often with other foodies and bloggers in 2019. Some have become pretty good friends too. We definitely attended a lot of restaurant preview dinners. One of my favorites was a short drive out to Aqueous at Nemacolin with Discover the Burgh. As a foodie group, we also made sure to do a couple of happy hours and other random get-togethers. Some of my favorite get-togethers this year were at Fogo De Chao, Jean Louis organized by Bold Pittsburgh, our farewell happy hour for Michigan and Trumbull Pizza and the networking event I held at The Commoner.
Attend more events – I attended five big food tasting type of events and lots of small events. This year I attended Pittsburgh Magazine Best Restaurants Party, Festa di Limoncello, Picklesburgh, PGH City Paper's Best of PGH Party, One Bite One Day, Pittsburgh Pierogi Festival, Taste of Dormont and PGH City Paper's Brunched.  I really love some of these events because it allows me to try many foods or restaurants at one time. Unfortunately, I also missed out on a bunch of big events too because of timing or I was out of town. So many of these events seem to all take place in September. If anyone is actually reading this and is planning a new event like this, pick another month!!! As for the smaller events, I loved the Very Local PGH Sandwich Series events held with Blue Sparrow and PGH Sandwich Society and with many local breweries.

Cook more at home – I did this a little bit, but basically failed to cook at home this summer. I used my smoker once. Grilled only a handful of times. I made very few dishes that were exciting. I'm working on being more adventurous now.

Reach out to restaurants – Also pretty much failed at this. I made some great connections this year, but it wasn't by reaching out directly to the restaurants. I keep saying I need to do this more. I still have not.

Get behind the counter more – I only really did this twice in 2019. Once with Michigan and Trumbull and once with the class at Macaron Bar. Both fun experiences, but I really hoped to have done so much more.
So what do I plan to do in 2020?
Still gain more Instagram followers – 4,000 is a good goal. Let's get serious though, it should be more than that

(Tell Your Friends)

. However, since it seems to only grow about 1,000 a year, I'll stick to that.

Keep collaborating with other accounts – Everyone getting together allows us to try new restaurants, get new ideas and make new friends.

Write more, cook more at home, reach out to restaurants and get in the kitchen – All are carry-over goals since I basically failed on all those.

Write more – More than 12 blog posts

Cook more – 2 cool meals a month

Contact restaurants – Email/message/call 1 restaurant a week

Get in the kitchen – Along with the above, see if restaurants are interested in having an observer

Plan more events – I like planning events for Foodies. I want to keep that going but also expand. I would love to plan some events anyone could attend. I have ideas. Maybe they are good. The most difficult part is finding a good time of year, a good location and good food and drink.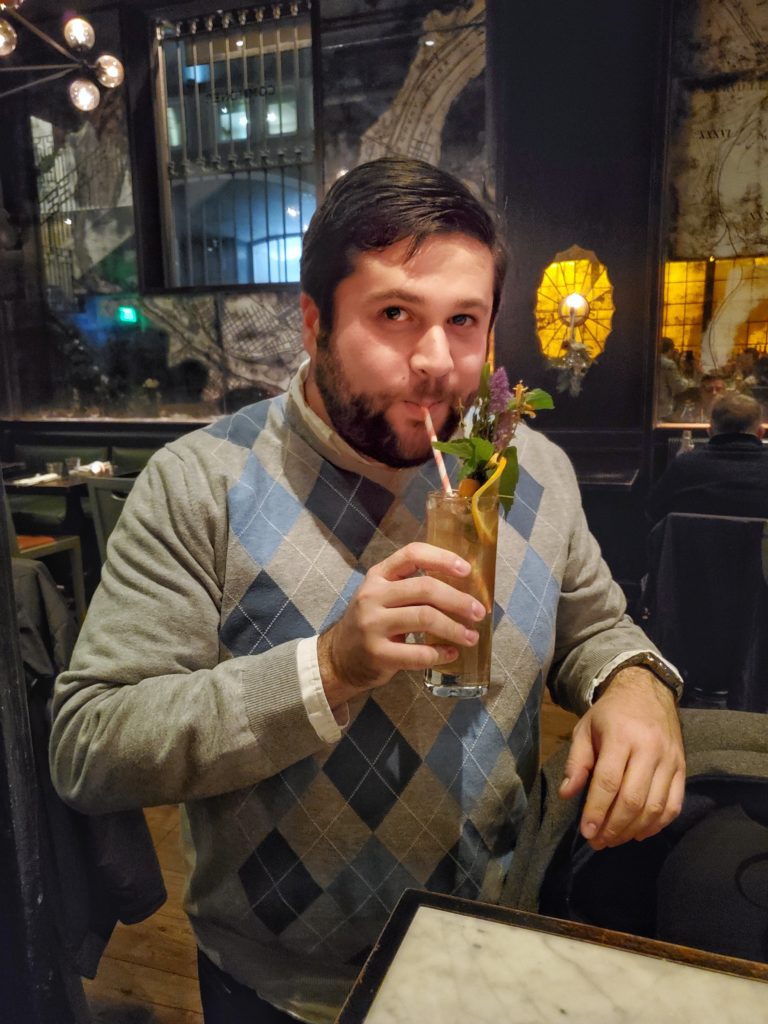 Like last year, thank you to everyone that has supported me this past year on my eating journey. It's the people who follow me, like my posts, encourage me to go out or invite me to eat with them, the other foodies who hang out with me, and the organizations that invite me to events that make a lot of what I do possible. I've seriously met some great people doing this food Instagram and Blog. I really hope to keep meeting people, trying new food and attending some great events. Here's for an amazing 2020.
Footnote:
*Unfortunately, my Top Nine might be a little skewed because of that stupid spam account that bought everyone likes based on specific Pittsburgh hashtags. I had two weeks many of my Instagram Likes came from New Delhi, India, and all my analytics and Explore page stuff was based in India. I basically had to stop posting for a week.