I've been making more of an effort to try more of the restaurants near where I live in the South hills. There are lots of great places to eat in Dormont, Mt. Lebanon, and Brookline. I recently started getting food regularly from Kabab & Curry, an Indian restaurant on Banksville Road just a little past the Ft. Pitt Tunnel. They have quickly become one of my favorite restaurants for a wide range of traditional and modern Punjab Indian and Pakistani cuisine. 
The Kabab & Curry menu offers lots of different dishes to satisfy all interests.
Over the last few months, I have gotten to know Bilal, the owner of Kabab & Curry, learned about how it has been a family effort to open this restaurant and cook the meals. They opened right before the pandemic and I'm disappointed I didn't start getting food from here until near the end. Fortunately, they managed to stay open and we all get to try many of the great dishes they prepare and serve. Luckily I've now had a few different opportunities to try items from the massive menu they offer.
I first tried out the Chicken Tikka Masala. This is one of my favorite Indian dishes. I typically get it since it's pretty traditional. This one had just enough of a spicy kick that was leveled out from the tomato cream. However, I was also really excited to try a less traditional item with a Chicken Tikka Masala Pizza. This was really exciting and delicious. The pizza has a standard pizza crust, masala sauce is used as the base on the pizza and then topped with the chicken tikka and mozzarella cheese. This was fantastic. I loved having a spicier pizza. I knew after this meal I wanted to try more.
Not too long after, I finally was able to visit Kabab & Curry for a dine-in meal with some other local foodies. We ended up feasting family-style on many different dishes on the menu. We started out with glasses of Mango Lassi, which is a mango and yogurt-based drink. This was very sweet and refreshing. While enjoying this drink we also got some appetizers. We got the Aloo Tikka, which is a fried potato fritter with herbs and spices, and the Samosa Chat, which is a tasty combination of fried vegetable samosas instead of the fried wafers, covered in chickpeas, tomatoes, onions, and yogurt sauce. I've always been a fan of chat with the wafers so I really loved this combo with the samosas.
Next, we moved on to some main dishes. We got the lamb korma, chicken jalfrezi, goat biryani, and chicken chili masala. My favorites of these were the Goat Biryani and Chicken Jalfrezi. The Goat Biryani was so tender and flavorful. This happens from the basmati rice and goat meat being layered and slow-fire cooked and then sealed and steamed to bring out the flavors of the meat and the herbs. The Chicken Jalfrezi was the one I only got a few bites of but absolutely loved. It is made with boneless chicken cooked with fresh tomatoes, onions, bell peppers, and sweet peppers. Then came the pizzas. We got a chicken tikka masala pizza and a paneer tikka masala pizza.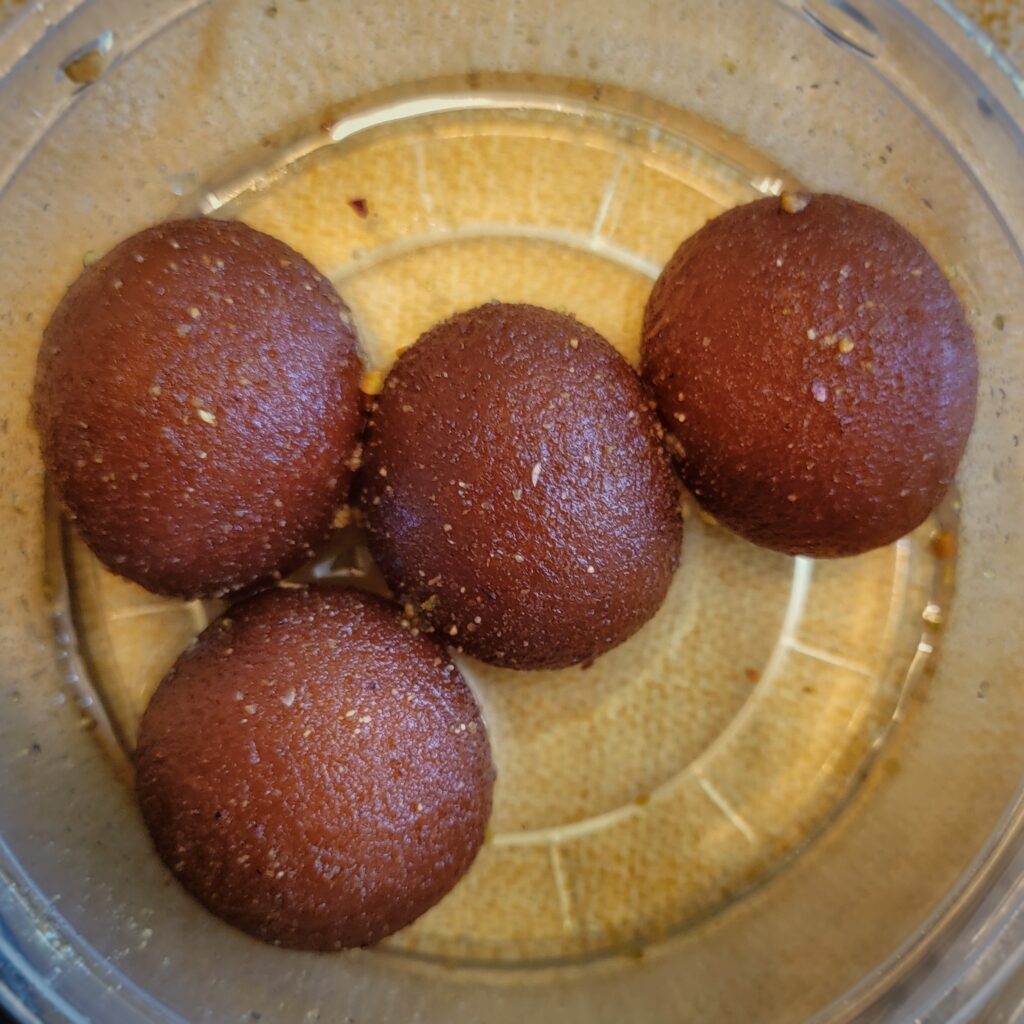 At this point, we were all pretty full but needed to try some dessert. I got the Gulab Jaman and a chai tea. The Gulab Jaman is a fried flour and milk dough ball that is soaked in sweet sugar syrup. These are so tasty.
I keep getting food from Kabab & Curry pretty regularly. A couple of weeks after this giant foodie dinner I did takeout while cooped up at home. I went with the Chicken Jalfrezi and Lamb Vindaloo. I really wanted to get more of the jalfrezi. This really was great. It's a chicken curry with lots of tender chicken tomatoes, onions, and peppers. This also wasn't as spicy as some curries, relying much more on the flavors of the spices and vegetables. The Lamb Vindaloo was full of big tender lamb and potato chunks. I was so happy with this takeout order. I had a ton of food for several meals. More recently I was there with a couple more foodies for a small dinner, but I was still so full after a Chicken Tikka Platter and Samosa Masala Pizza. If looking for some great-tasting Northern Indian food in Pittsburgh, Kabab & Curry is the spot.
Kabab & Curry is located at 2890 Banksville Road.