I'm very excited about Tupelo Honey Cafe opening in Station Square for so many reasons. This small restaurant chain is based out of Asheville, NC and they are bringing more southern style cooking to Pittsburgh for their currently Northernmost location. Give me fried chicken, fried vegetables, grits, and booze to wash it all down I'm happy. I'm also really excited about the Tupelo Honey Cafe opening because it is a great step towards the new transformation of Station Square. Since I have lived in Pittsburgh I saw this restaurant space sit empty or house mediocre nightclubs. This space now sits bright and welcoming and offers great food.
First, I want to quickly talk about the space itself. The restaurant is bright and very open. They painted a fantastic mural on the wall to pay homage to the railroad history of Station Square. There are booths and tables available for all sizes of parties. There is also a sizeable bar and lots of outdoor seating for when the weather is nice.
I got to preview a selection of dishes and cocktails Tupelo Honey is bringing to Pittsburgh. They brought a good mix of classic southern fried foods, a healthier option, and some things a little in between.
The first thing they wanted to show and have us taste was their Biscuits for a Cause. These giant buttermilk biscuits are served with blueberry jam and whipped butter. The proceeds from these biscuits go to the Tupelo Honey Relief & Development Funds that aid Tupelo employees in need. The program was started to create additional COVID relief for their employees and they awarded $300,000 to employees in 2021. These biscuits were dense and delicious. I had to stop myself from filling up on them knowing I had more to try. They paired the biscuit with the Blueberry Lavender Mimosa made with blueberry puree and lavender lemonade. It's a nice twist on the classic mimosa.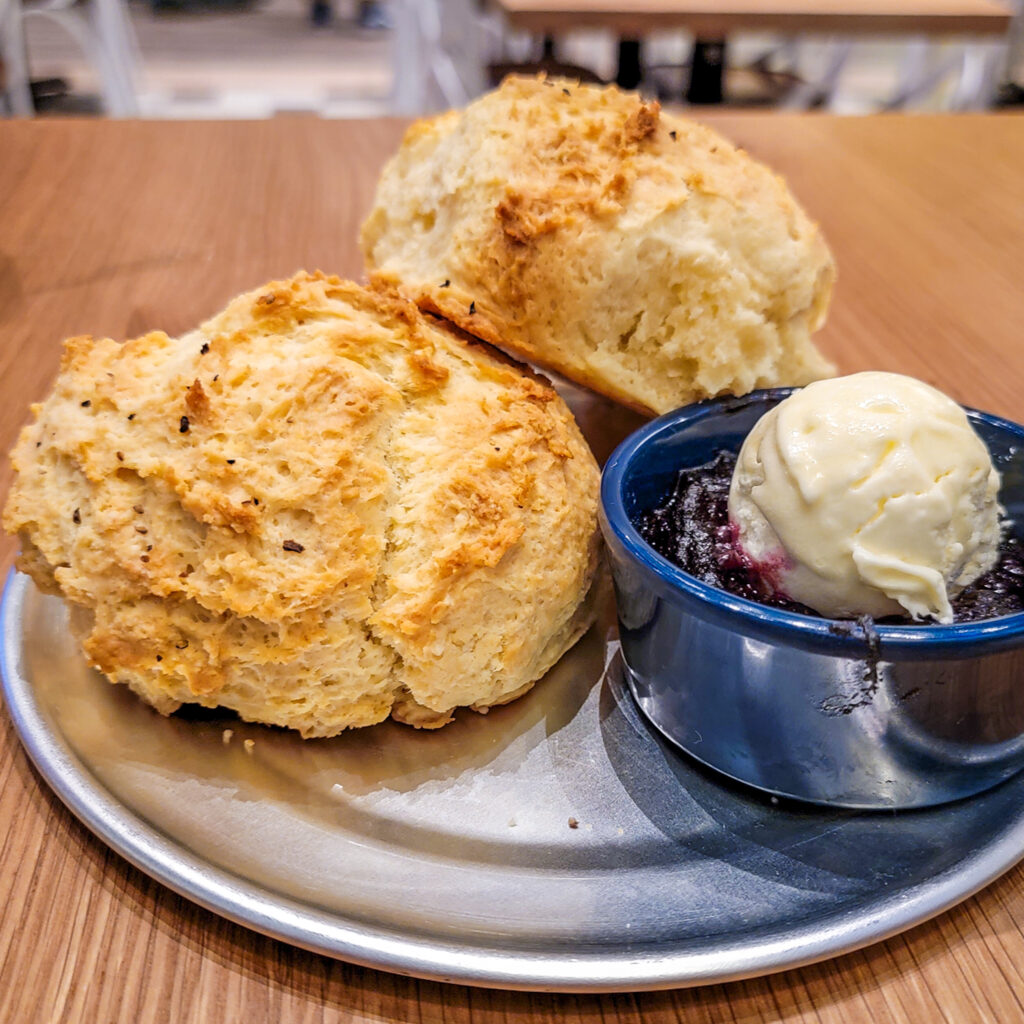 Up next were some of the small plates they are offering. My favorite was also a southern classic, Fried Green Tomatoes. They were served with a roasted red pepper sauce and grits with goat cheese. These were fantastic. The tomato slices were not too hard and not too soft. The grits and sauce went so well with the fried tomatoes. I could eat these all the time. The next was the Spicy Cauliflower Bites, which were panko breaded and fried cauliflower and jalapeno with sriracha honey and green tomato aioli. This was a modern twist on the classic fried vegetables. If a vegetable is fried I'm going to like it. Lastly was a healthier option, the Rainbow Avocado Bowl. This was a bowl of roasted cauliflower and carrots with avocado, beet hummus, garbanzo beans over cauliflower rice. If you like cauliflower this is a great dish. Unfortunately not my favorite. They served these small plates with the Tumeric Ginger Tonic and the Dry-Hopped Sweet Tea. These were two great non-alcoholic drinks on the menu. The tonic was made with the same house-made ginger beer used in their mules. The sweet tea is made with hops to give a little more of a beer flavor. Both were great mocktail options.
By this point, I was actually starting to get a little full, but we were only thru a third of what they wanted us to try. Tupelo Honey then brought out two of their seafood mains, the Shrimp Po'Boy and the Shrimp and Grits. I'm not a big fan of shrimp and people cannot believe that when I tell them. Both of these were great though. They use sustainable and wild-caught white gulf shrimp. The Po'Boy was filled with crispy fried shrimp. The shrimp and grits was one of my favorite dishes of the evening. The chorizo and creole butter sauce the shrimp was tossed in was so good. These were paired with the Boozy Rooster and The Debutante. The Boozy Rooster is their version of an Old Fashioned. The Debutante is a house-made lavender lemonade spiked with vodka.
As someone who takes pride in eating too much, I am not proud to say I was starting to get full by this point and we still had three mains, two desserts, and three more drinks to try. However, as a responsible foodie I knew I had to power thru and keep eating. They brought out our next course of Mac-n-Cheese Waffles with Asheville Hot Fried Chicken, Bone-on Honey Dusted Fried Chicken, and Bourbon Peppercorn Glazed Meatloaf. They also brought out a bunch of sides including Baked Mac & Cheese, Butter & Basil Green Beans, Sweet Potato Casserole w/ Marshmallows & Spiced Pecans, and Collard Greens with Bacon. My favorite of the bunch was the bone-in fried chicken. The chicken was juicy and tender from an 18-hour brining. It was sprinkled in bee dust which is basically dehydrated honey. It was served with a side of pickles. This would be my ideal meal with a side or two. The mac-n-cheese waffle with hot chicken was also fantastic. The waffle is made with mac & cheese and there are bites where you get hit with the cheesiness. The garlic ranch drizzled on top and pickles covering the hot chicken help balance out the heat. I wasn't too crazy about the meatloaf, unfortunately. I thought it was a little too salty for my liking. The sides were all great. I liked the mac & cheese and sweet potato casserole the most. The mac & cheese was especially good when getting a bite heavy with cheese. This course was paired with Tupelo Honey "Tipsy Hen" Red Blend wine.
Finally, we were getting to dessert. They bought us out two Southern classics, Brown Butter Pecan Pie & Heavenly Banana Pudding. Both of these were really good but the banana pudding was the winner for me. They paired it with a Boozy Cold Brew made with Old Forrester and Irish Creme. That went down way too easily.
This was a fantastic preview of Tupelo Honey. The food was great. The drinks were fantastic. The decor is well done. I can't wait to go back to try more of the menu and visit for brunch.