I'm starting something new this month. I will post a monthly roundup of all the Restaurants and Events I've attended of note in the past month. I feel like I do a bad job sharing things on my website and should do more. I plan to share photos of food or links to the Instagram post featuring the food or event. I hope to get back to more detailed posts about restaurants too if there is something to share.
Restaurants
I brought my family to Sullivan's Steakhouse downtown for the first of my Restaurant Week meals. My father and I were excited by the fact we could do an indulgence upgrade to get a 16oz ribeye for the 3-course restaurant week menu. I enjoyed my steak a lot.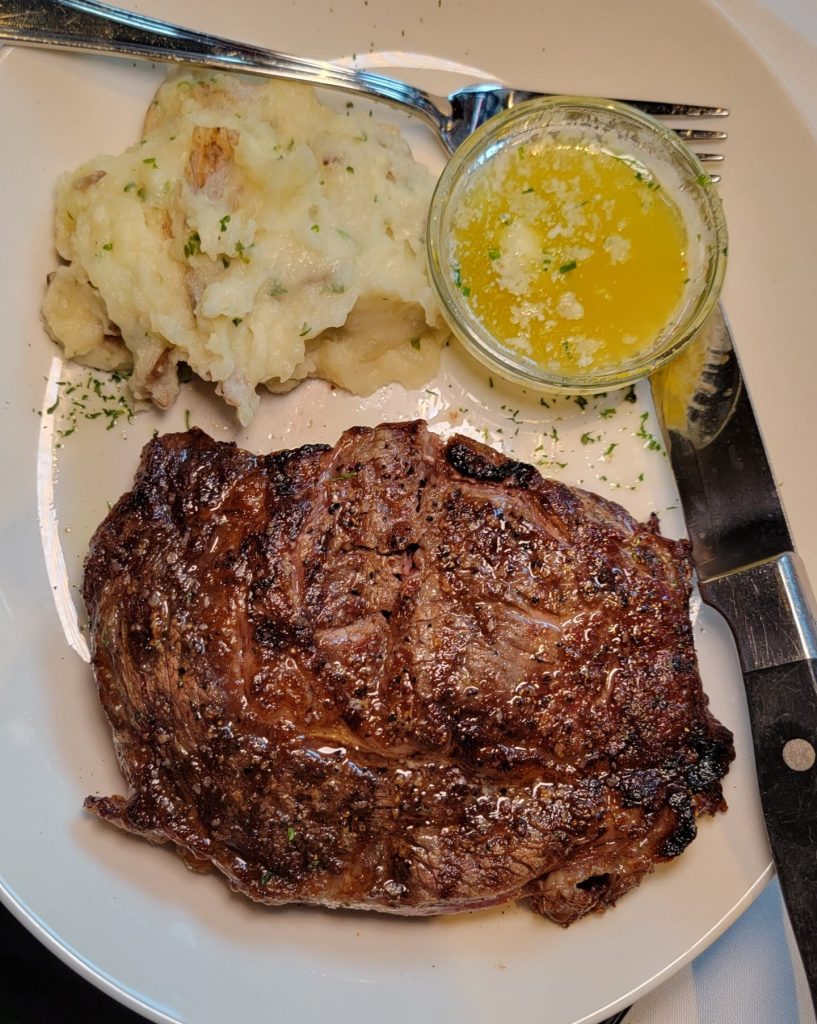 I finally made my way up Rialto St. to Troy Hill to eat at Scratch & Co. This was supposed to be for a Restaurant Week meal but it turns out that night was also Prime Rib night. I couldn't say no to Prime Rib. I got a fantastic 12oz medium rare prime rib with a nice salt and pepper crust. I got it with broccoli rabe and some cocktails. The Restaurant Week menu looked great too. I can't wait to go back for another meal.
I went back to The Parlor Dim Sum in Lawrenceville. They just celebrated 1 Year of being open full-time. I wasn't going to be able to their 1 year celebration but still wanted to celebrate. I got an amazing meal of dim sum and cocktails. I ordered my favorite Siu Mai, which are open faced dumplings with a shrimp and pork filling. I got an incredible duck egg roll that was on special that night. I got a full plate of pork cha siu for myself which was delicious. I could sit there and eat dumplings all day.
I got out of bed early one day to eat at Oak Hill Post in Brookline for breakfast. They were doing their Classic Breakfast Sandwich for $3 as a special in August. It's one of the best breakfast sandwiches in Pittsburgh with a soft buttermilk biscuit, fried egg, American cheese, lettuce, tomato and Duke's Mayo. I added a sausage patty. Absolutely delicious. Oak Hill Post is so close I should be going there more.
I visited Kingfly Spirits in the Strip District for the launch of their Banana Liqueur. I've always loved their Coffee Liqueur so I was interested in trying this one. It has a mild banana flavor, unlike the sweet flavor in banana candy. I liked my boulevardier cocktail with it. I plan to make old-fashioned using it.
I got a smash burger and beer at Cinderlands Warehouse after Kingfly. This is still an amazing burger and my favorite thing on the menu. It has 2 flat patties with crispy edges.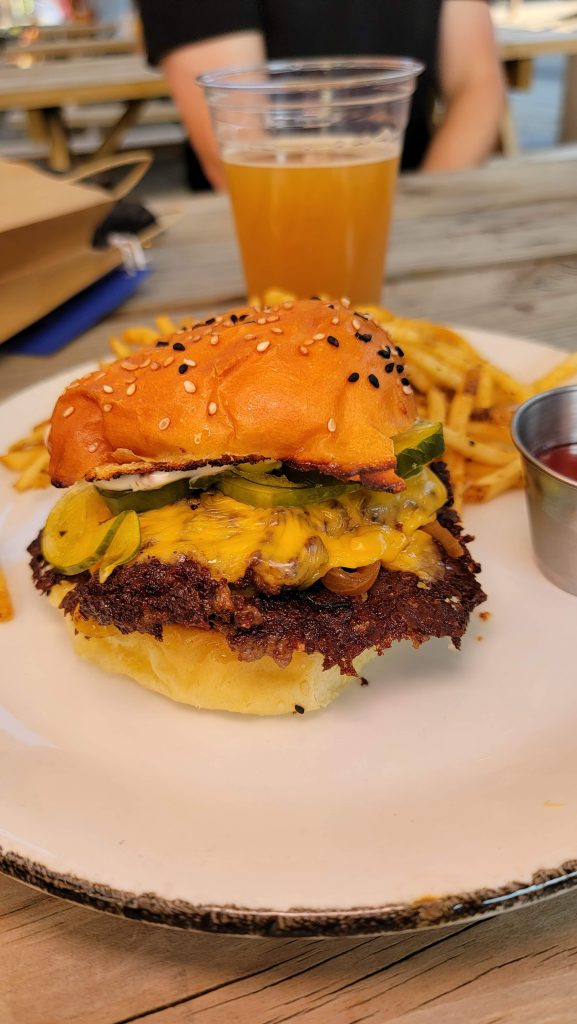 I was invited to City Winery to try their new Brunch. The food and cocktails were ok. I got the steak and eggs. It was all cooked ok. The steak with chimichurri was good, but my potatoes were flavorless. They also seemed a little unorganized while we were there. They blamed short staff, but there were also only like 3 tables seated. They seem to have it much more together on nights when they have an event because I've had great experiences attending those.
I was invited by Sultry F&B in Southside to attend their Sunday Supper family style dinner. This was an incredible 6-course meal served family style. Each dish featured a different protein like scallops, lamb, crab, pancetta, and duck. It finished with an amazing macaron. The normal price was $75, which is pretty reasonable for 6 courses and the event is also BYOB. I attended this one alone and I was taken in for a conversation with the people sitting around me.
I was at Gi-Jin, one of my favorite restaurants, for their special 7 course dinner as part of the Richard Deschantz Restaurant Group dinner series featuring each of their restaurants. This was an amazing dinner. Each course was an impressive and indulgent experience. We ate dishes like a Watermelon Gazpacho with Tuna, Char Siu Pork with Peaches and 3 pieces of savory sushi like Otoro and Wagyu.
I got to check out the new City Kitchen at Bakery Square. This new food hall concept comes from the great people at Somi and Shaka who were at the Galley food halls over the last few years. They want to bring exciting dishes from comfort foods to international flavors. Everything I tried was fantastic. The dishes from places we know well like Spicy Ramen with Pork Belly from Somi was incredible. The really pierogies from Elevate were handmade and delicious. The Sweet, Hot and Bleu burger from Elevate was the most interesting and tasty with deep fried sweet bell peppers and beets on the burger. Shaka is returning soon and I previewed the Trio Poke with black garlic miso tuna, firecracker tuna and black sesame salmon belly.
Food Trucks & Takeout
I tried out the new concept from Hungry Group called The Hungry Siren. They brought us The Hungry Cowgirl last year with amazing Southwest-style bowls. The Hungry Siren is Mediterranean flavors. I got a loaded bowl and added grape leaves and baklava.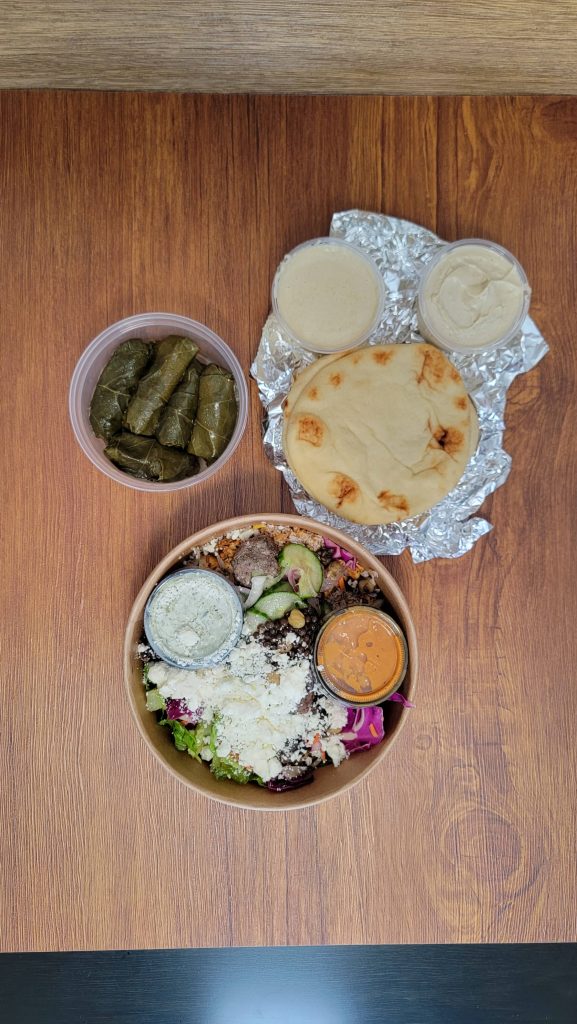 I was invited by Bull River Tacos to try out their tacos one night when their truck was at Hitchhiker Brewing. I got a beef taco and a pork taco. Both were loaded to the top and good. I would eat them again if their truck was at a brewery I'm visiting.
Events
I went to Stage AE to see Queens of the Stone Age. They are one of my favorite bands. They are a rock band out of California who just released their 7th album In Times New Roman. This was my 3rd time seeing them, but my first time not getting up close and in the pit in front of the stage. They put on an incredible show powering through 17 songs in 95 minutes. Probably the tightest performance I've seen of the 3. I was really tempted to buy tickets in another city and travel to see them again but decided against it.
I finally got to go to Barrel and Flow. This Black Arts and Craft Beer Festival has been in Pittsburgh for several years now but I've always been busy or out of town. The goal of this festival is to highlight Black-owned breweries and Black Artists. Local breweries collaborate with Black Artists and Leaders in the community to make special beers for the event. This is one of the best festivals I have attended. I hung out with some amazing people. I tried some great food. I left pretty drunk and I was in bed by 9:45. I can't wait for this one again next year.
I was invited to attend Rock, Reggae & Relief day of music held downtown. The event takes place every year to raise money for local organizations. This year the benefiting organization was Catapult, which works to create economic justice opportunities for individuals seeking generational stability. The concert was a lot of fun. The headliners were Slightly Stupid and Sublime with Rome. I was so excited about Sublime with Rome since I was a big fan of Sublime back in my high school days.
I went with my brother to see Ghost at The Pavilion at Star Lake. Ghost is a metal band that has gotten more popular over the years. I'm not as familiar but they were a lot of fun to see. It rained the whole show and unfortunately got cut about 15 minutes short when the weather took a turn for the worse. Concerts there can be great if done right.
I got the chance to see Live and Fuel perform at Stage AE. A friend got tickets from work for the VIP seating. That is definitely the best place to see a show from at Stage AE because you get chairs! Fuel was pretty good. They have a new lead vocalist. Live was also very good. They have their original vocalist and a new everyone else. They played everything I really wanted to hear. I'm always willing see a 90s band when they come through Pittsburgh.
It was Penn State Day at PNC Park on Aug 27. I started doing social media for the Penn State Alumni Association – Greater Pittsburgh Chapter. This was a lot of fun to watch the Pirates lose with other Penn Staters.