Restaurants
I checked out Fat Cat in North Side with a group of friends. This is a restaurant featuring bites inspired by after school and late night snacks. We ordered almost the entire menu. My favorite dishes were the grilled bologna sandwich and the loaded waffle fries. A must have item is the Elvis Split dessert. It's a deep fried PB&J uncrustable with vanilla ice cream, candied bacon caramel and bruleed banana. It's now one of my favorite desserts in Pittsburgh.
I ended up at The Eagle for some after happy hour fried chicken. The place was nearly empty, but it might have been the best meal I've had there. I got the half chicken and it was fried perfectly and extra juicy. They use a pressure frying method that makes this happen. I've been there when the chicken was dried out, but this time was great.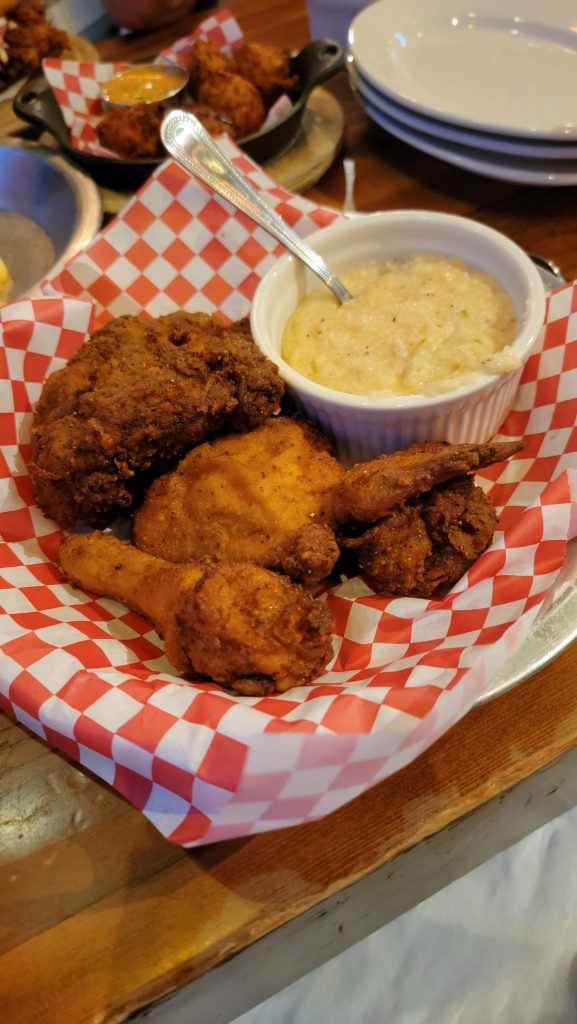 I went to Chinatown Inn for lunch. As I've said many times, this is my favorite restaurant in Pittsburgh. My lunch order is always General Tso Chicken White Meat with Fried Rice and a Chicken Egg Roll. The egg rolls are the best I've eaten.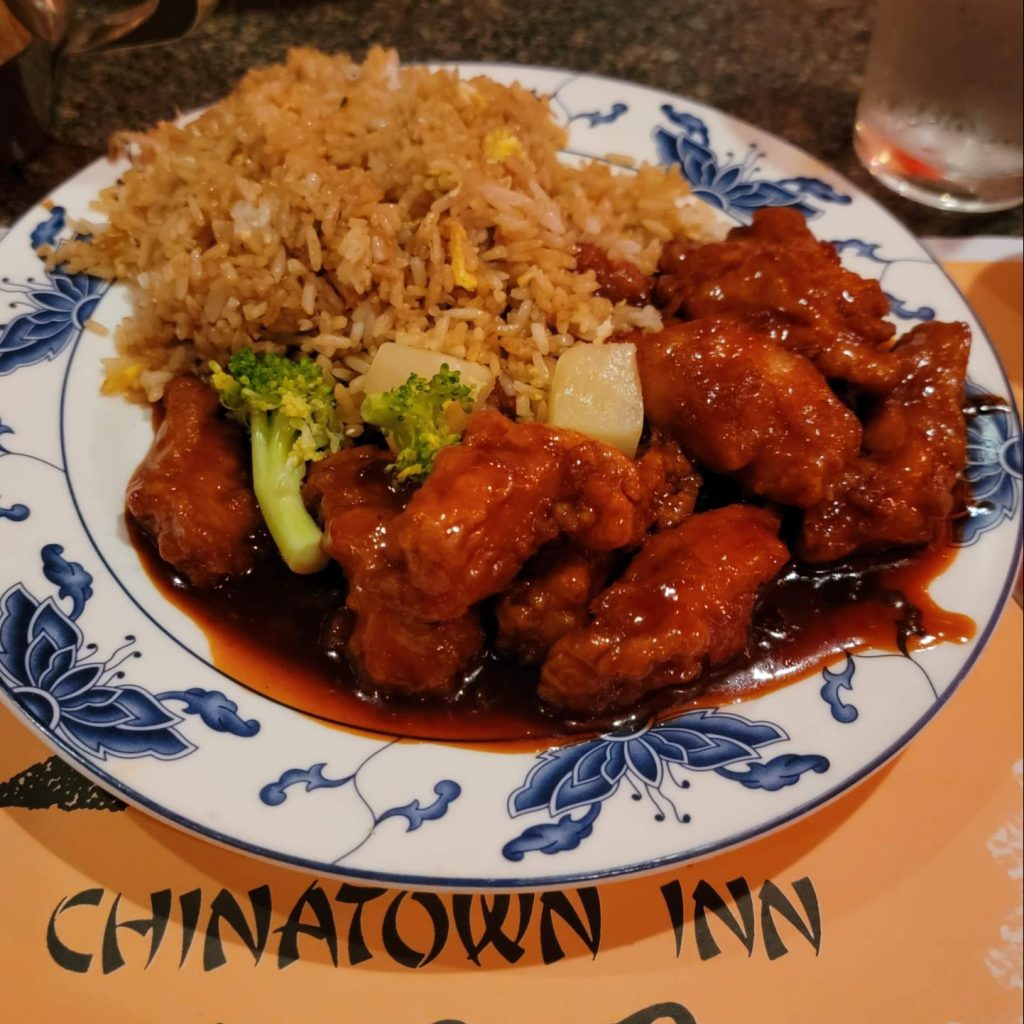 I had a bunch of meals in Bellefonte, PA. See below in the Not in Pittsburgh section.
I got a cheeseburger at Mr. Smalls. It was a perfectly fine cheeseburger. See why I was at Mr. Smalls below.
I had lunch at Scratch & Co in Troy Hill on National Cheeseburger Day. I got their Smash Burger with potatoes. This cheeseburger was amazing.
I did happy hour at Eddie V's and I took no photos. It was actually very good, but I really did not expect it to be. The best thing was the Mini Filet Sandwiches. I might actually add this to a regular happy hour spot for me.
I went to City Kitchen again to try the newly added restaurant concepts Charred and Shaka. Charred is a new gourmet burger concept featuring 8oz burgers. I tried a Cowboy Burger and Asian 5-Spice Burger and both are amazing. They make their own sauces which really highlight the unique flavors of the food. Shaka moved to City Kitchen from their former location to serve Hawaiian style dishes.
Food Trucks and Takeout
I got Boonseek again when they were at Back Alley Brewing in Dormont. I personally like the Cheese Seeker which is the Korean corn dog just filled with mozzarella and the Chi-Bob Korean Fried Chicken.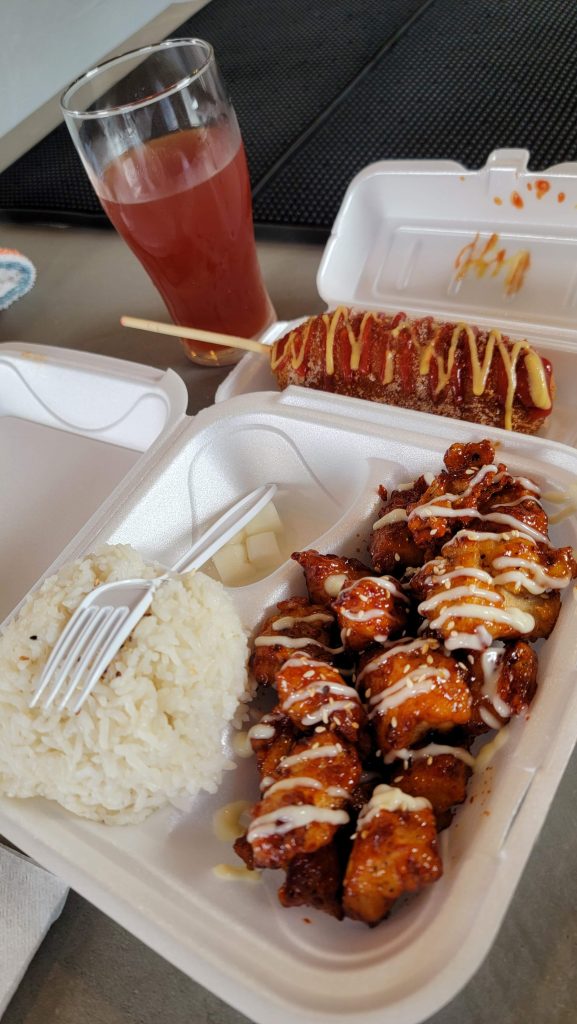 I picked up the sourdough of the month at Pane e Pronto in the Strip District. This month was Caraway Everything Seasoning. This bread was delicious with pastrami and with cream cheese and lox. Each month will be a different flavor. I also got a chocolate croissant and a Nutella bombolini and they were amazing.
I was at Grist House to watch Penn State crush Iowa. I got Taquerito El Pastorcita. I usually get tacos from them but this time I got the burrito. I can't believe I waited this long to get something other than the tacos. This burrito was massive. They melt the cheese to the tortilla and it was filled with carnitas, rice and beans.
I got a fantastic pizza from Pizzeria Davide. I was planning to stay in for a night and make a goofy video for the socials. I got their New Yorker with sweet Italian sausage, ricotta and oregano. Not a topping combo I normally would get but it was so good together.
Events
I attended this year's One Bite One Day, the annual premier food tasting event organized and benefiting One Day to Remember. The charity works to create lasting memories for families with a parent suffering from a life altering cancer diagnosis by providing a special family experience. The families are then provided with a photobook and video is applicable. I look forward to attending and supporting this event every year. This year the event was at the Energy Innovation Center. My favorite bites were by Fat Butcher and Driftwood Oven.
I went to Mr. Smalls to see one of my favorite bands, Death from Above 1979. They are a Punk Rock duo out of Toronto. They put on a wild show featuring lots of songs from their debut album which is regularly on repeat for me. Hopefully, it won't be another 8 years before they play Pittsburgh again. This was the first time I got the balcony upgrade at Mr. Smalls. For an additional fee, you can get seats in the balcony and the fee gets converted to food and drink credit. I was able to get a burger and a few beers. I'll definitely get the balcony upgrade from now on when I can for shows there.
I saw Guster perform with the Pittsburgh Symphony Orchestra at the Benedum. This was a very interesting show. Fun to see Guster perform in a slightly different style, but the show was only about 85 minutes. At many times the sound of some of the orchestra instruments didn't really carry over the sound of Guster.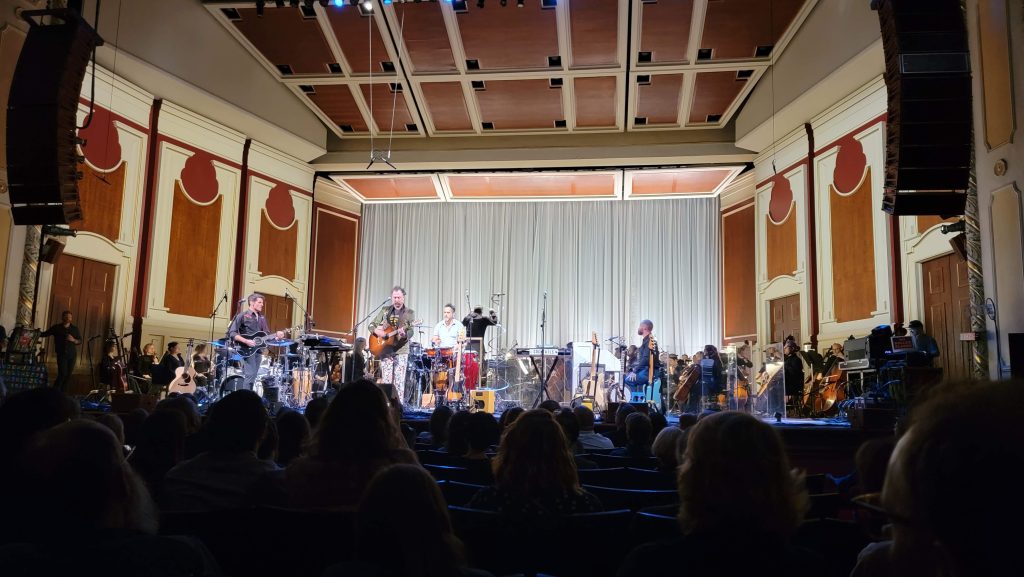 I visited Twin Brook Dairy Farm in Bentleyville, PA with Harvie Farms grocery delivery. Harvie started doing tours of their different farms and food providers for their customers. This was a good opportunity to learn about their dairy production process. I tried some of the chocolate milk and some of the cheeses. They were quite good. A big difference in their milk is they have three different breeds of cow and they pasteurize at the minimum required temperature. This creates a more nutrient filled and tasty milk.
I went to see prog rock band The Mars Volta at Stage AE. I really liked them 20ish years ago when their biggest and most commercial single The Widow was out. It was really cool to see them live, but I forgot about how some of their songs are more experimental and jam band like. They were really energetic and still made for a great time.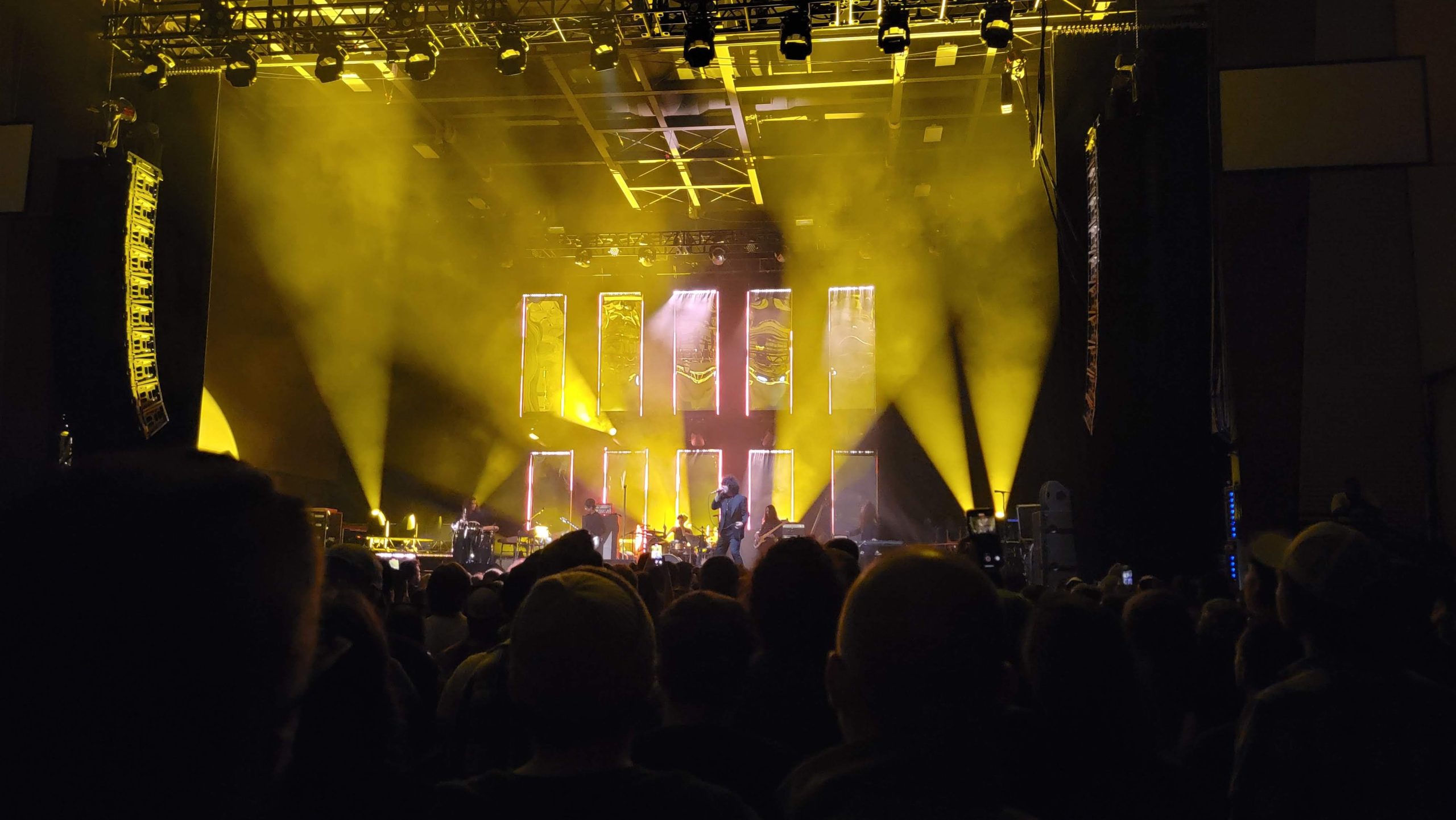 I decided to get one of the last tickets for Eddie (Suzy) Izzard at the Bynam Theater on her Remix Tour. This was my third time seeing her live. I have been a big fan since I was a kid and Dressed to Kill came out. Still one of the best comedy specials of all time. This show remixed old jokes and told them in new ways.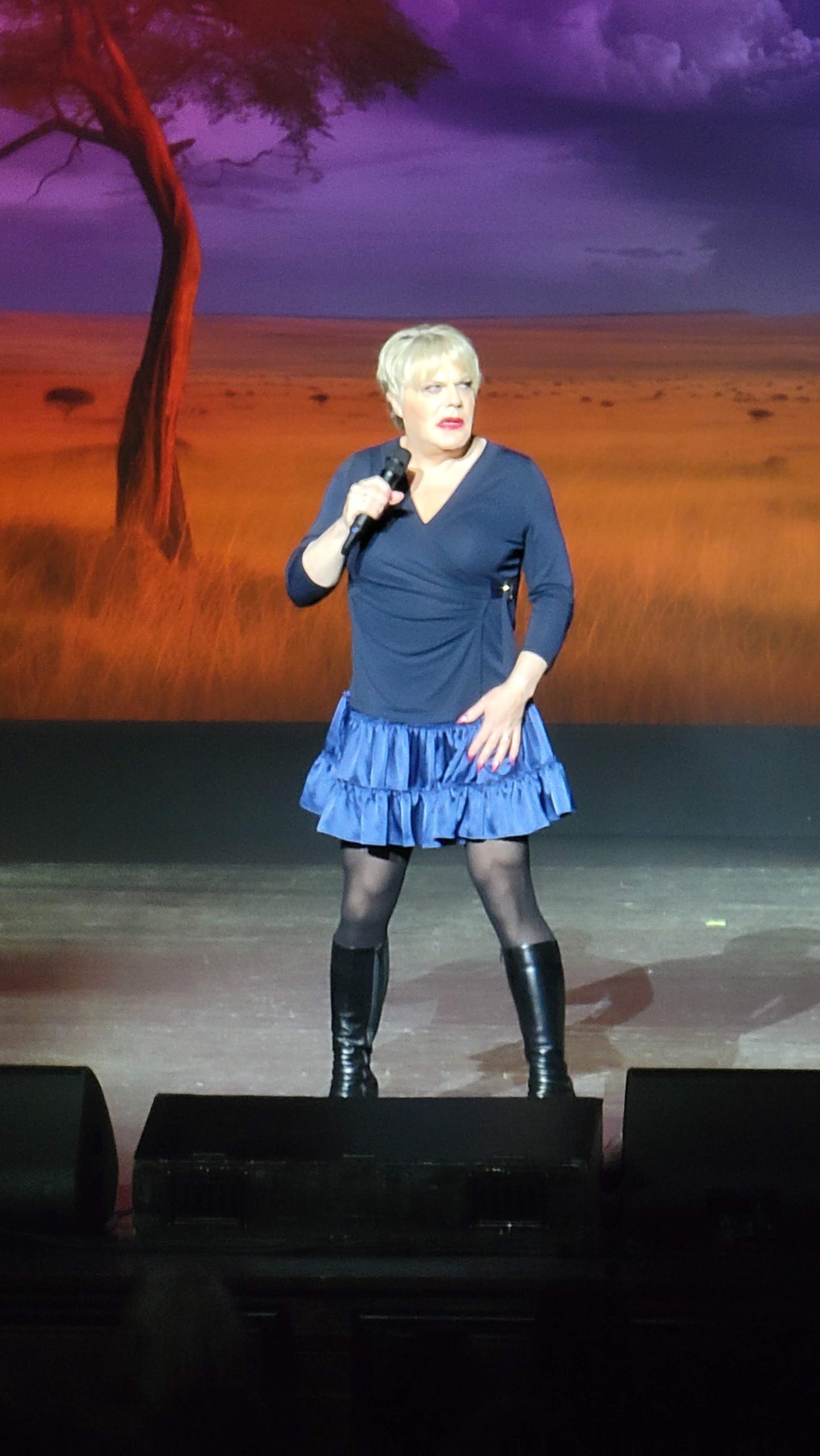 I went to Kennywood for Phantom Fall Fest. This was actually my first time attending this after 6 PM they add all the spooky Fall activities like haunted houses and scare zones. We also ate at their Open Body All You Can Eat Buffet with tons of great food options. Full blog post coming ASAP.
Not in Pittsburgh
I spent two nights in Bellefonte in Happy Valley for the Hello Social Co. Creator Meetup. I stayed at the Gamble Mill Restaurant, Bar and Inn. The Gamble Mill has found a new life since being sold in 2019. Much of the building was renovated into Bed and Breakfast style lodging. I stayed in the smallest room, but it was the perfect accommodation and the bed was very comfortable. I got in late the first night so I grabbed dinner down in the Gamble Mill restaurant. I got a tasty burger with prosciutto, brie cheese and caramelized onion jam. After dinner, I headed downstairs to the Republic Bar, which has a nice speakeasy vibe. They served me one of the best cocktails I had recently. For breakfast the next morning, I walked down the block to Bonfatto's, the small café and Italian Grocery in town. I got a latte and a great croissant breakfast sandwich. My last food stop of the trip was at Axemann Brewery just outside downtown Bellefonte and one of many breweries now in Happy Valley. I got the Hazy Dazy IPA and a Meatball Parm Pizza.