I love that Kennywood Park still has a lot of big rides and attractions, but still has a local amusement park vibe. They have classic rollercoasters, carnival games and great festival style food. I've been to Kennywood more in the last few years since I started this journey sharing local food and events on the internet. Kennywood Park invited me again for the evening to experience Phantom Fall Fest including the rides, the haunted houses, the scare zones and their Open Body Dinner Buffet.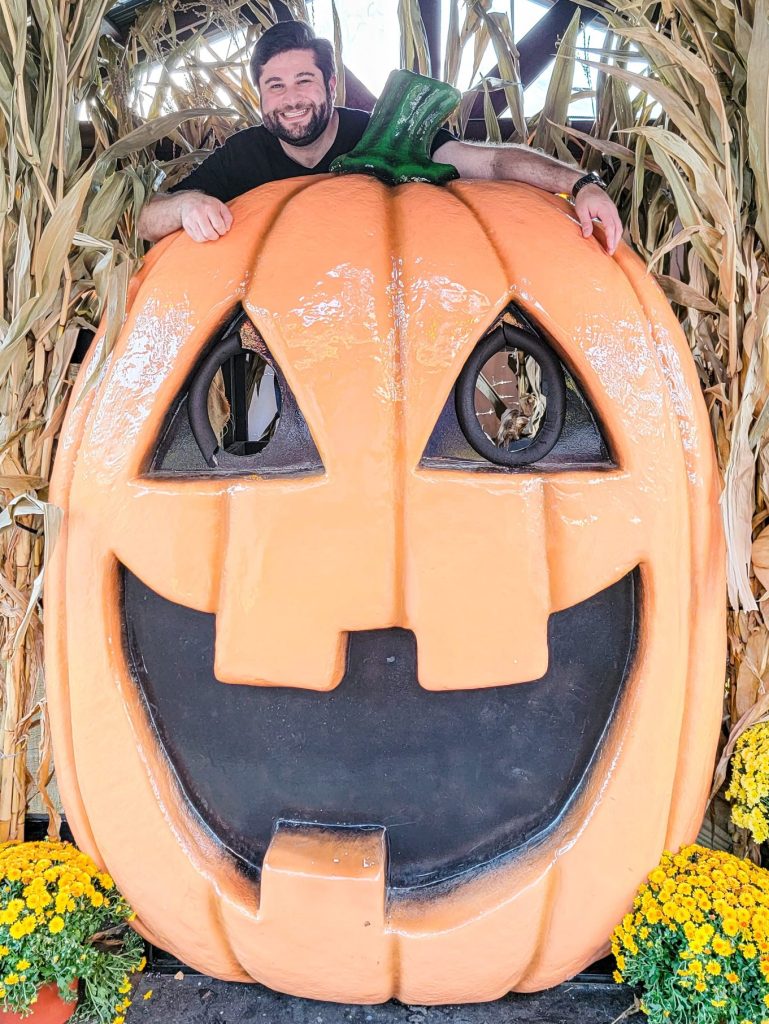 Full disclosure: Kennywood provided me with admission to the park for Phantom Fall Fest, Speedy Pass Elite and tickets for the Open Body Buffet. They did not ask me to create a blog post.
I've never been to Kennywood for their Phantom Fall Fest activities so I was pretty excited to check it out. On Phantom Fall Fest nights, they offer six haunted houses, 4 scare zones and other thrills around the park. We arrived just before Phantom Fall Fest activities started at 6 PM. Many of the rides and attractions stay open all evening, but this is also when the first of the haunted house opens.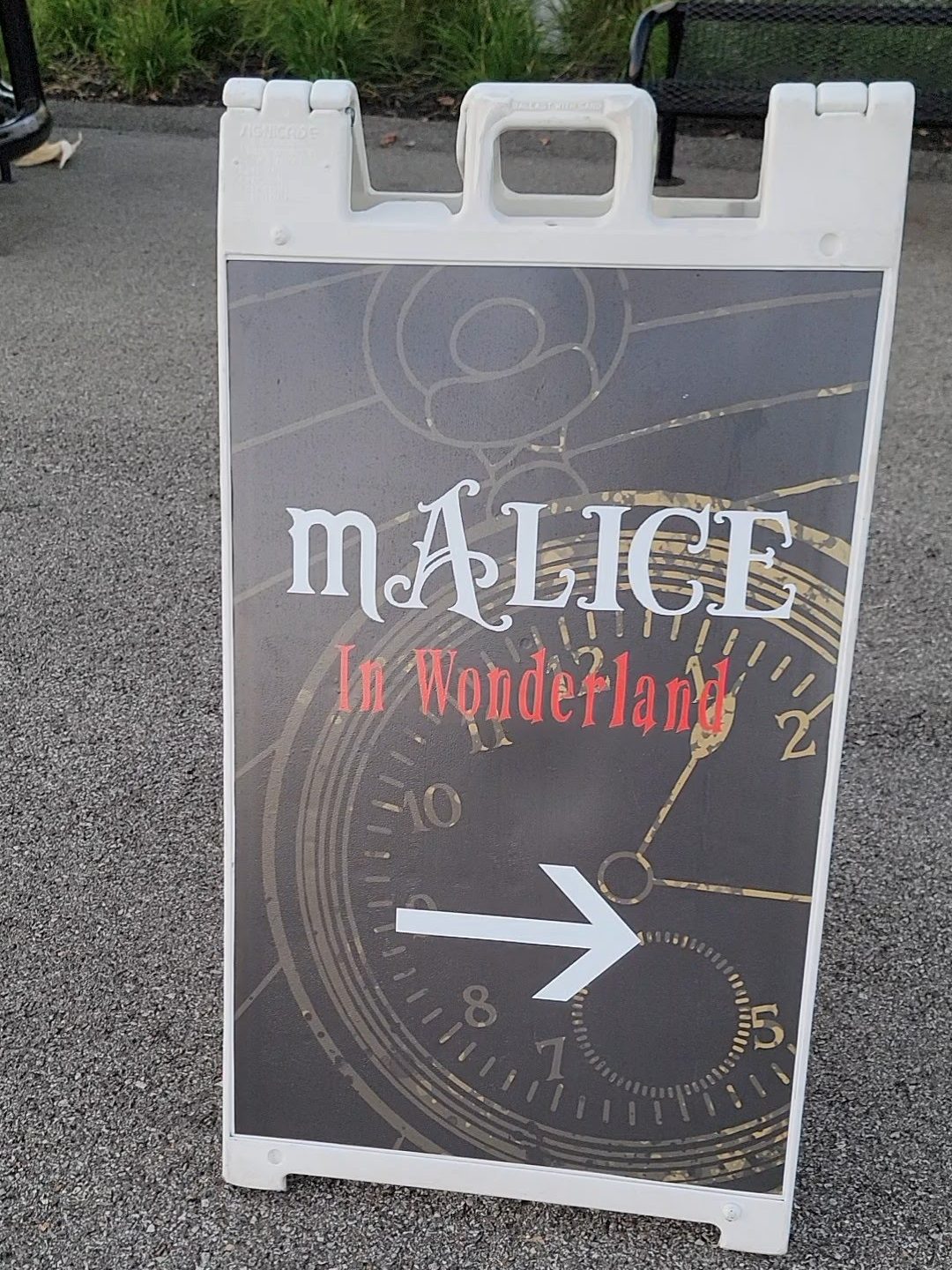 We made it to four of the six haunted houses: Malice in Wonderland, Shady Grove Memorial Hospital, Villa of the Vampire, and Voodoo Bayou. Malice in Wonderland and Villa of the Vampires open at 6 PM and all the others open after dark. My favorite of the ones we got to was Malice in Wonderland. The scares might not have been as strong, but the decoration and costumes were fantastic. They really went into the Alice in Wonderland story. Some of the rooms of the house were also more challenging to get through because it wasn't just about scares but also obstacles. I also liked Shady Grove Hospital based on the set decorations. They did a great job making it look like a hospital with a killer on the loose. Unfortunately, my least favorite was Villa of the Vampire. This one relied heavily on pop-out-from-a-corner and loud noise scares. There was also a confusing part toward the end when it seemed like something was going to happen but really it was just poor acting by the cast member. That said, the group of teenage girls behind my group were scared screaming the whole time through the house.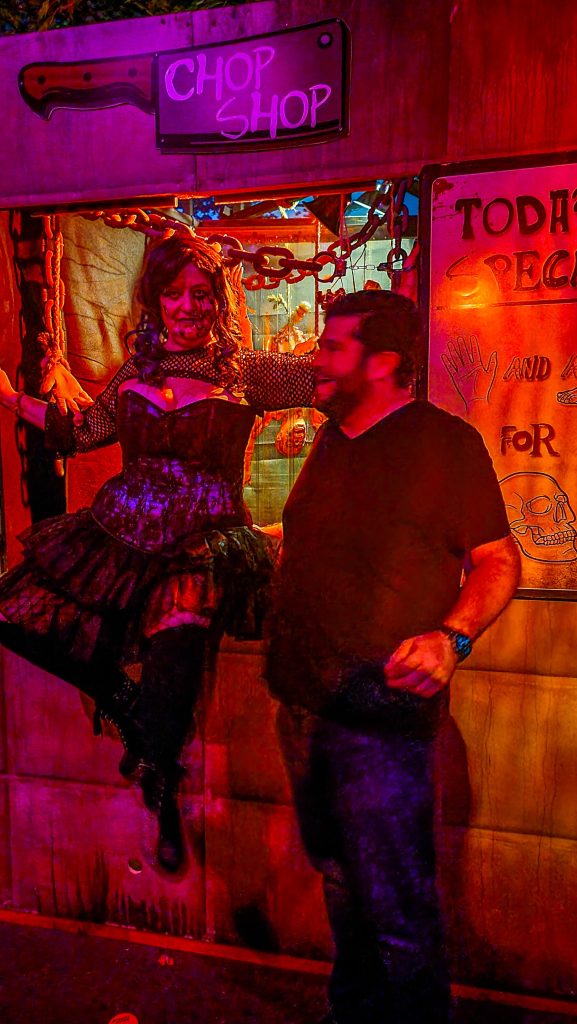 We also spent time going through a couple of the scare zones. These are areas where cast members are purposely there to stalk you, chase you and scare you. They have four scare zones: Dead Light District, Fear Fest, Hillbilly Hollow and The Welcoming/Departing. My favorite of these was the Dead Light District. The theme here was a neighborhood where illicit and sinister activities might occur. A few of the cast members have a butcher theme. My favorite of all of them was the madame who ran the chop shop who told a mix of naughty jokes and allusions to being chopped up. I also tried to get many of the cast members to chase and murder me, but that didn't go as well. All these scare zones did produce a lot of scared screams from teenagers again, especially from some of the better cast members who embraced the opportunity to scare.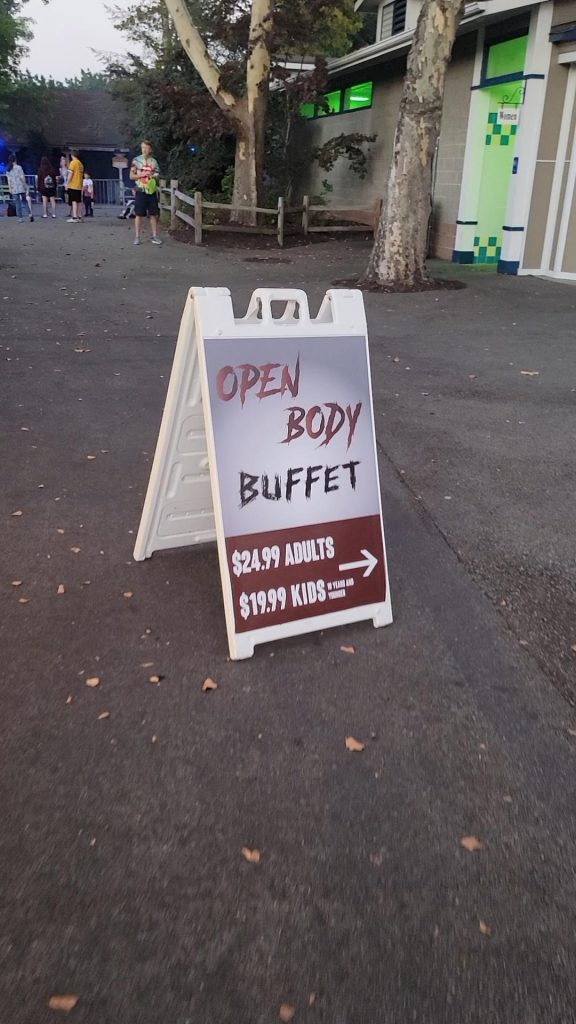 The last special Phantom Fall Fest feature we got to experience was the Open Body Buffet. This buffet is all you can eat and features a lot of different food items. The body parts them was quite present with a skeleton charcuterie table, feetloaf (meatloaf) and foods that fall off the bone like ribs and chicken wings. There was a selection of a lot of other items too. They also had lots of desserts decorated for Halloween. This is a great option if you want to eat a lot of things at a set cost. I got a full plate of food and several soft drinks, which was nice after walking around the park for a couple of hours. That said, you aren't going to find your usual amusement park food here. At $25 for an adult, it's a good option if you want to be well fed, but you might want to skip the buffet if you have specific amusement park foods you want.
We made it on a few rollercoasters during our visit. Always make sure to get on the classics like the Racer, Jack Rabbit, and Thunderbolt. I personally love the old school wooden rollercoasters over the newer ones. Racer is just always a lot of fun competing against the other train on the opposite track. The 4th ride we went on was Exterminator. I'm not sure I have ever been on this one. Most of my visits to Kennywood have been for special events when that side of the park was closed. This one was different from what I was told was the normal experience. It is an indoor rollercoaster and it was pitch black inside. The ride also seemed a little sped up to make it more thrilling for Phantom Fall Fest. I want to do this one again in the daytime.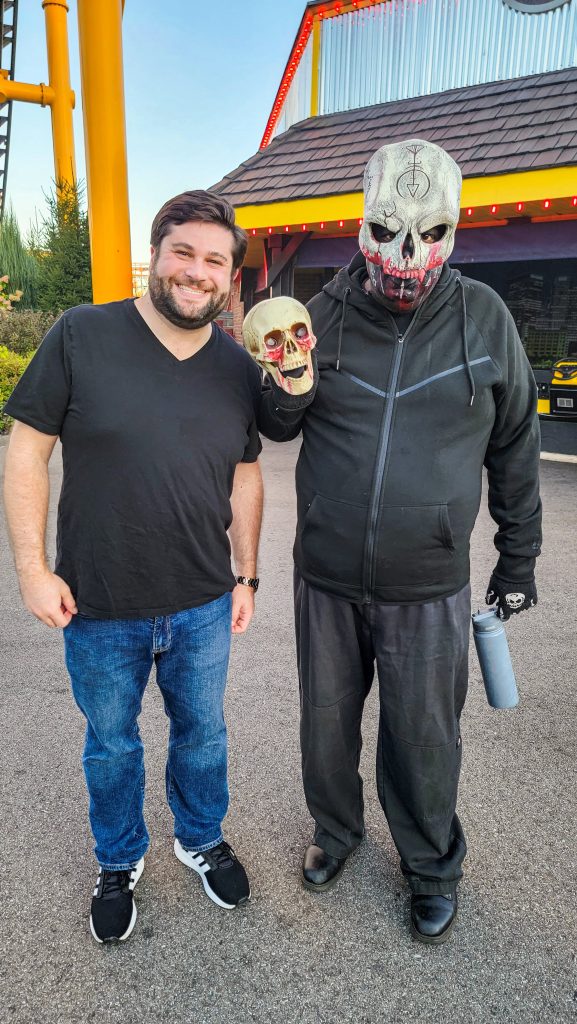 The thing that really helped us experience as much as possible in about 5 hours was the Speedy Pass. I have never used a Speedy Pass so I was excited to try this out. There are different levels of Speedy Passes which you can use to skip lines for rides and attractions. They are an add-on per ticket, which can get pretty expensive. A limited number of Speedy Passes are available per day to ensure that users can skip lines for the rides and attractions. We had their new Speedy Pass Chills which allowed us to skip lines for the haunted houses and the select rides. There is a Speedy Pass Thrills which just allows you to skip the haunted house lines. This was great to have. The Speedy Pass works with a website on your phone where you can make a reservation to go on a ride or to a haunted house. Most reservations were no more than a few minutes wait. The website then tells you when you should get in the special line for that ride or attraction. Once a pass is used for a ride or attraction, it cannot be used again. This allowed us to get to four of the haunted houses and four of the rollercoasters. Getting a Speedy Pass is definitely a decision if your time saved is worth the extra cost. Considering that some of the lines were almost an hour wait, I think it might be worth the cost as we got to do 2 or 3 times as much stuff.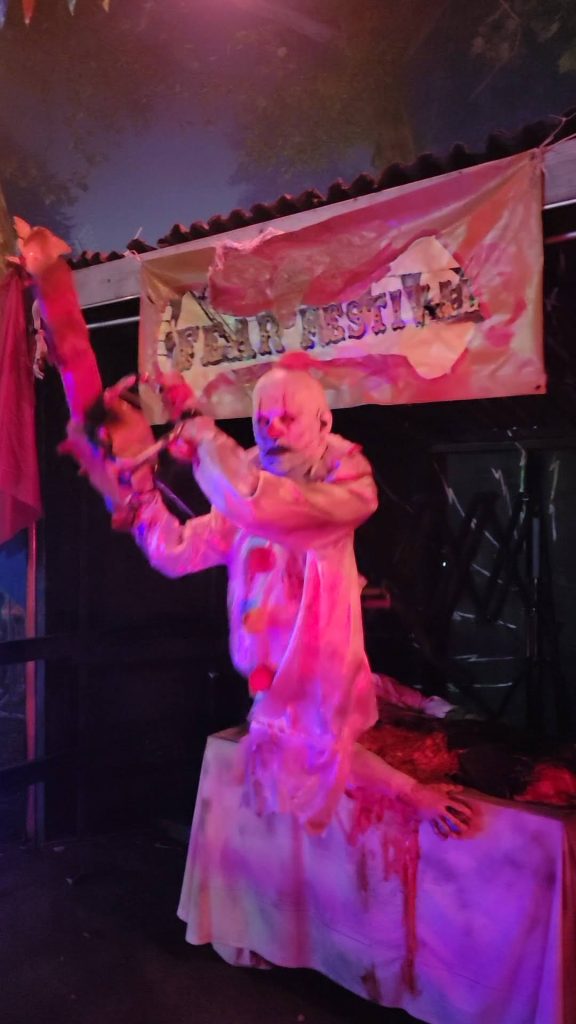 For my first time at Kennywood Phantom Fall Fest, it was a great experience and a lot of fun. It's great if you love the Halloween and horror themes. It's also a different experience just getting to go around the park and experience some of the rollercoasters at night. The ability to go to a bunch of different haunted houses in one evening. If I were to go back again, I think I would definitely consider investing in Speedy Pass Thrills to get to all the haunted houses at a minimum. Phantom Fall Fest is Friday, Saturday and Sunday running through October.