October was a crazy busy month. I didn't think it was until I started writing this post. Suddenly I had 4 1/2 pages in Word.
Restaurants & Bars
I stopped by Cinderlands Warehouse to preview the food and beer of their Cinderfest celebration. Cinderfest is their version of an Octoberfest celebration. They were featuring German food like kielbasa, bratwurst, knockwurst, pierogi, and potato salad and beer like their Danville Train Lager. The food was great and I wish I could have kept eating and drinking all afternoon. I like the food based events at Cinderlands and wish I could have attended the full event this time, but I was still glad I got to try the food.
I went to McDonald's. Typically, I might not add this to my list, but this time I got to see how the burgers are made and it's really impressive. I learned so much about making the Big Mac and the Quarter Pounder with Cheese. McDonald's doesn't flip their burgers but cooks them under special heat capturing hoods. They are promoting Better Burgers and doing little changes like adding onions while the burger is grilling for the Big Mac and using 100% fresh never frozen beef for the Quarter Pounder with Cheese. Most impressive is just how fast they can prepare a burger. It moves down the line in seconds. I got to try a lot of these items and I was pleased eating everything.
I finally ate at Monterey Pub in the Mexican War Streets. I have known the team there for years back when they used to make me great cocktails at Federal Galley. They left the Galley to take over Monterey Pub and it has returned to its glory as a great neighborhood bar. I originally went in for dinner with my friends Discover the Burgh and "accidentally" spent 5 hours there hanging out at the bar after dinner watching playoff baseball and talking to regulars at the bar. I had a great time and definitely shouldn't wait as long to return.
I returned to Alchemy Bar & Kitchen in Market Square to try out their Fall menu and cocktails. I liked Alchemy the first time I ate there in the Spring, but I felt like they were trying to do too much flavor pairing and contrast on each dish. I thought my meal this time was even better. I ordered the Lobster Cognac Pasta. It was delicious and a very large portion.
I went to the latest popup at Butcher and the Rye. This Halloween themed one was lazily decorated with items from the last popup and stuff from Spirit Halloween. It was overcrowded and the drinks so either incredibly sugary, holdovers from the last popup or commonly found on the Tako menu. I was disappointed. I am likely not their target customer as I've grown tired of popups and regularly tell them to just reopen Butcher already.
I got a late night drink at Unspeakable, the new speakeasy at Ineffable Ca Phe. They did a great job truly making it a hidden bar with the entrance behind a bookcase. I got an incredible sesame washed old fashioned. I need to go back earlier in the night to try more cocktails.
I ate at Nicky's Thai Kitchen in North Hills while I was out that way. I usually really like Nicky's Thai Kitchen when downtown. I got the Gaprow Lad Kao with Crispy Pork Belly special. This time my meal was still good, but they added way too many Thai chiles to my dish. Bites without them were delicious. Bites with them made me cry.
I went to Kura Revolving Sushi Bar in South Side Works for lunch. This was a lot of fun and the sushi was pretty good too. I went for lunch on a Monday and it wasn't too busy. I still checked in on the app to make sure I was in line as I was told they can have a long wait. All the plates come to you on a conveyor belt and they are all $3.65 unless otherwise noted. It was great to try a lot of different types at one time. When something didn't come on the conveyor belt or it was already taken, you could order it on a screen and have it sent down to you.
I got a last minute opportunity to attend the American Bourbon Trail tasting dinner at Eddie Merlot's Pittsburgh. I love these multiple course dinners at steakhouses. I think Eddie Merlot's might do it best. They did four courses with four cocktails featuring different bourbons. The chef gets to create off-menu dishes to serve and the creativity is apparent. The courses were delicious and large. I don't know if the salmon or filet pinwheel was my favorite.
I went to a Pittsburgh Young Professionals Happy Hour at Blue Sky in East Liberty. I got some cocktails and we had a spread of appetizers. This is a nice spot with good food and good cocktails.
I brought my parents to the soft opening of Alta Via in Market Square. This is their second location. I have never eaten at the first location in Fox Chapel, but I always heard good things. This meal was fantastic. I got sea scallops with polenta, a filet mignon with leak butter and potatoes, and a chocolate torta. I'll likely be there a lot if I have to be downtown.
I was at Spirit in Lawrenceville for Nerd Night. While there I got a pizza during happy hour for $9. I got a pepperoni and mushrooms. It was a pretty good 12-inch pie. I'd get it again on happy hour.
I went for an untraditional brunch to Udipi Indian Café in Monroeville. They feature South Indian cuisine and feature a vegetarian menu. We ordered a bunch of different breads and appetizers. It was all very good and a lot of stuff I wouldn't normally order. I do want to try some of their main dishes next time.
I went back to Smokey Bones Bar in Robinson for a Ribfeast. They asked me to check out their latest promotion which is the Robert's Ribfeast in which a portion of sales are being donated to the Robert Irvine Foundation to support Veterans. I like Smokey Bones. The ribs are always fall off the bone soft and the smoked wings are really good.
Takeout & Food Trucks
I don't think I have done justice talking about Mad Chicken downtown as I usually get it as takeout after drinking or on the go. This time I was eating these delicious chicken fingers in my car at 11:45 PM after not having a true dinner. It hit the spot. One of these days I need to take photos when I'm eating these chicken fingers.
I got Jet's Pizza for dinner. This is one of my favorite chain pizza places. I like having them just down the hill from me. Many times I will walk to pick up my pizza so I can get a little workout in climbing back up the hill before eating. This time I did not.
I tried a new taco place downtown Beto's Tacos. They are in the space below The Yard in Market Square in the old Yovi's Hot Dogs spot. These were pretty good. I got carnitas, chorizo and chicken tacos. The meat had great flavor but could have used some hot sauce. The downside was we waited almost 20 minutes for tacos. We had to ask what was going on when they skipped right over our numbers.
I went for a day hike at Laurel Hill State Park. The best hiking food for a day hike is a sandwich from Sheetz. I'd like someone to prove me wrong.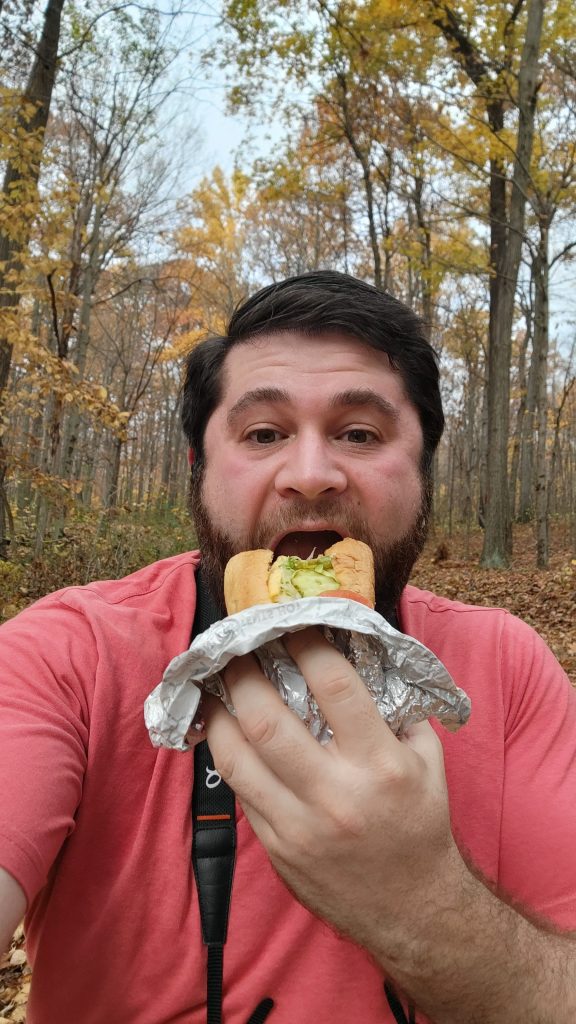 At Home
I made eggplant parmesan because I needed to use up an eggplant. I think it turned out pretty great. However, I prefer chicken or veal parmesan.
I made a sandwich using a skirt steak. I marinated it in olive oil, salt, pepper, onion powder, garlic powder, oregano and crushed red pepper. I mostly made this to make a stupid video to experiment with a trend. The sandwich happened to also taste good too.
Events and Locations
I started October by attending the Row House Hollywood Theater Open House in Dormont. For those who don't know, Row House Theater, which is a well known independent movie theater in Row House purchased the Hollywood Theater in Dormont. They have great plans to renovate and restore the theater. I'm incredibly excited for this as a Row House Film Club member and as a resident of Dormont. The open house showed off the theater by presenting Pittsburgh themed movies all day, a movie poster sale and tours of the building. Row House will close again at the end of the year to renovate to tentatively reopen in October 2024.
I saw Moulin Rouge at the Benedum Theater. I always loved the movie, especially for the soundtrack. This was a very enjoyable show based on the movie. Lots of updates to the music including many hits that have come out since the movie. It was a great show. However, I still liked the movie more. I didn't feel like a lot of the whimsy of the movie came through in this performance.
I attended the Color Theory Art Exhibition at the Museum Lab. The show was created by Devon Colebank who does a lot of photography and promotions for many local restaurants and businesses. This event was to show off how the use of color can change a photo. He used different filters and expired film to create these photos. This was a fun exhibition with lots of opportunities for those of us attending to take photos of our own with the different color themes.
I hit up Eleventh Hour Brewing on the last night of their Octoberfest celebration. They converted the warehouse into a full German village theme with lots of backdrops for photos and a scavenger hunt to find things in the décor. I had a lot of fun and look forward to this one again next year.
I took the tour at McLaughin Distillery near Sewickley. They specialize in small batch spirits, specifically whiskey, bourbon and moonshine. I turned off the Steelers game since it looked like a terrible loss, only for them to come back in the 4th quarter and pull out the win. Regardless, this distillery tour and tasting was a lot of fun. They do a quick overview of the distilling and barrel making process. There was a lot of tasting done too. I am not much of a moonshine person but I Ieft with two bottles of flavored moonshine.
Fat Head's Brewery has partnered with Bulleit Frontier Whiskey to create Barrel Aged Doppelbock beers. Fat Head's is aging the beers in Bulleit bourbon and rye barrels. They held an event at PNC Park to introduce the beers. I liked the old fashioned bourbon barrel aged one more, but both were good. I love barrel aged beers. The event was also great for lots of photo taking as the night was beautiful and PNC Park was purposely empty. These beers will be available for purchase soon.
I attended the Pittsburgh Magazine Fall Wine & Spirits Festival at Rivers Casino. This is the latest iteration of the Whiskey Festival that I have been attending for years. Unfortunately, they can't get as many whiskey vendors to attend anymore so they have expanded to other spirit types and wine. I still had a great time and got to try many spirits. It was a lot of fun to take silly photos with friends. The biggest downside is Rivers Casino no longer has its buffet, you have to get food at the restaurants. We went to the Asian themed one and it was a letdown.
I attended my first Nerd Night in Pittsburgh. This is an educational comedy night where speakers teach you about topics but with a humorous twist. This one had speakers on puzzles, spotted lanternflies, and avoiding hangovers. This was a lot of fun and interesting.
I took a day off of work to do a day hike at Laurel Hill State Park out near Seven Springs. I did just under 6 miles. It was a pretty nice set of trails, but the nicest part was the Jones Mill Run Dam. This is a great photo spot. Unfortunately, it was the tail end of Fall foliage season so most leaves were on the ground and not on the trees.
Not in Pittsburgh
In Cleveland, I received a couple of recommendations to go to Li Wah Chinese Restaurant in Asiatown. It's just outside downtown in an Asia Plaza mall. This was the best meal I had in Cleveland the weekend I was there. We ordered a bunch of food. They have a large dim sum menu at lunch, but limited at dinner. The Siu Mai was some of the best I've ever eaten. The same goes for the Mongolian Beef I got for my meal. I would definitely go back here.
I went to the Rock and Roll Hall of Fame. It was my second time at this museum and it is one of my favorites. I went up to see The Beatles Let It Be exhibit which was really just a recap of some of the details shown in the Disney+ docuseries. It was also awesome to see the Hip Hop at 50 exhibit, the set from Pink Floyd's The Wall concert tour, and all the great memorabilia. I plan to go back in the Spring to see the exhibits for the latest inductees.
We ate dinner the second night in Cleveland at Cibreo Italian Kitchen in the theater district. Unfortunately, this meal was just ok. It wasn't bad, but not great. My lasagna was kind of dry and other members of my family didn't have anything very positive to say about their meals.
On the way out of Cleveland, we stopped at Corky and Lenny's, a Jewish-style deli. There isn't a Jewish-style deli in Pittsburgh so it was worth the stop. Sadly, I left a little disappointed here too. My pastrami sandwich wasn't very good. The corned beef did seem to be better. The matzo ball soup and kreplach soup were supposedly good too.